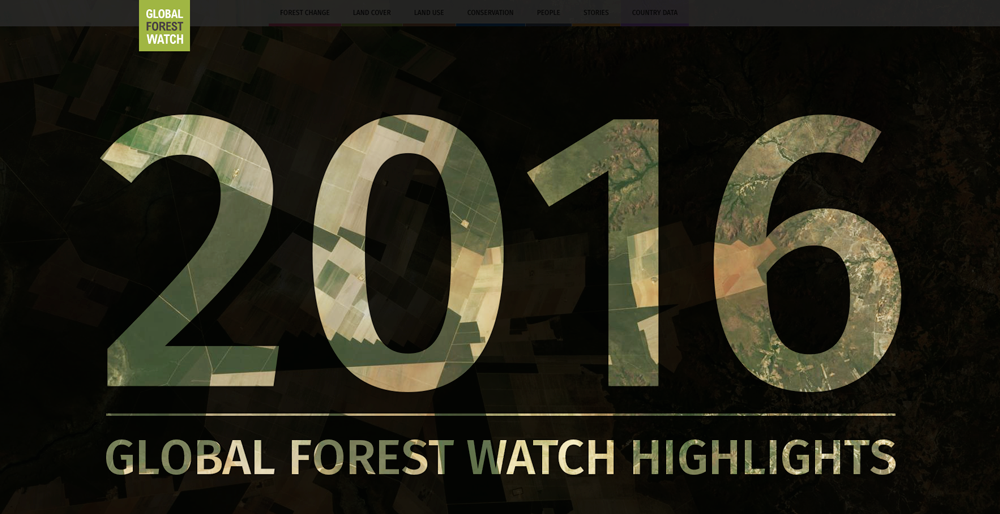 A Year in Review: Global Forest Watch Highlights from 2016
By Octavia Payne 2016 has been a busy year for Global Forest Watch! From the launch of new web applications to the addition of new data sets and features, Global Forest Watch is becoming an ever more powerful, customizable platform that meets our users' needs. As we wrap up the year, let's look back at all the exciting things we've accomplished.
New Apps and Tools
PALM Risk Tool The new tool on Global Forest Watch Commodities helps companies that that source palm oil spot deforestation in their supply chain. They can use the insights to reduce and eventually eliminate their contribution to deforestation. Read more about the tool and how to use it.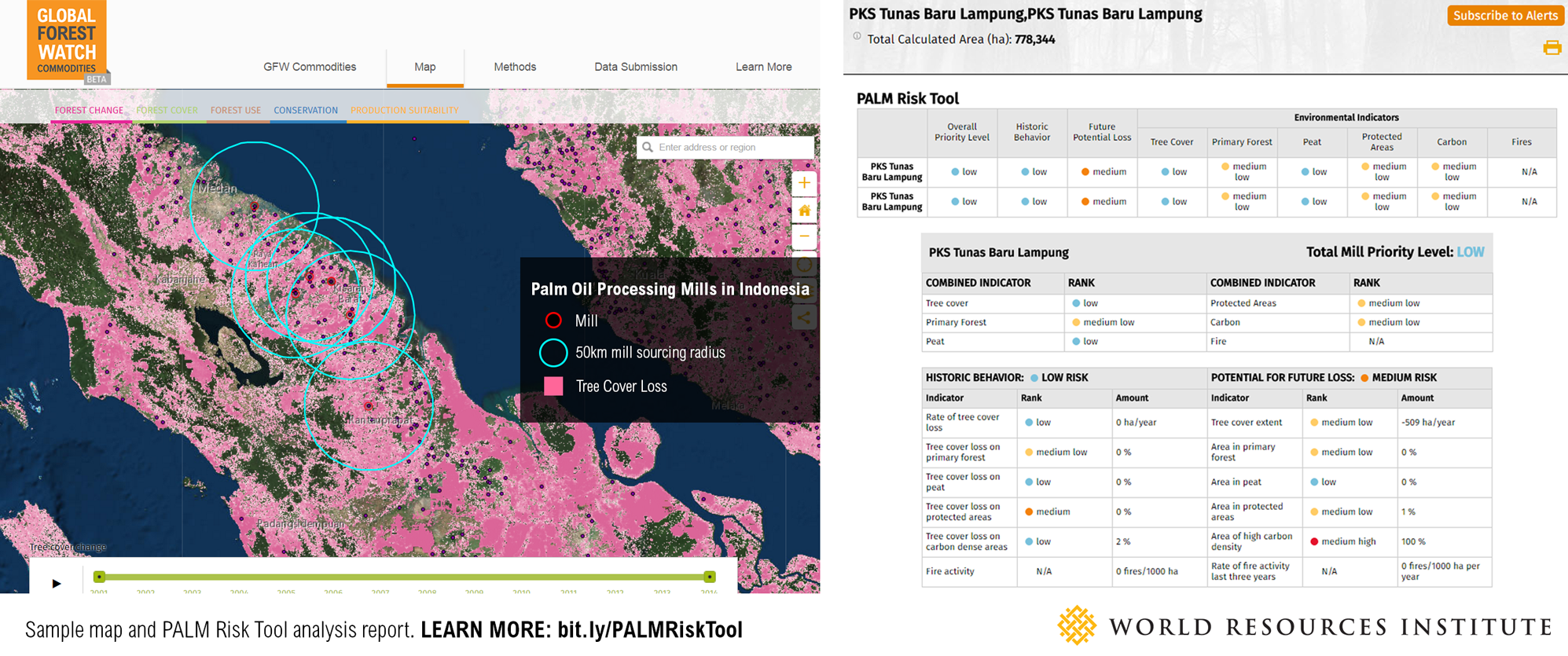 ---
Forest Watcher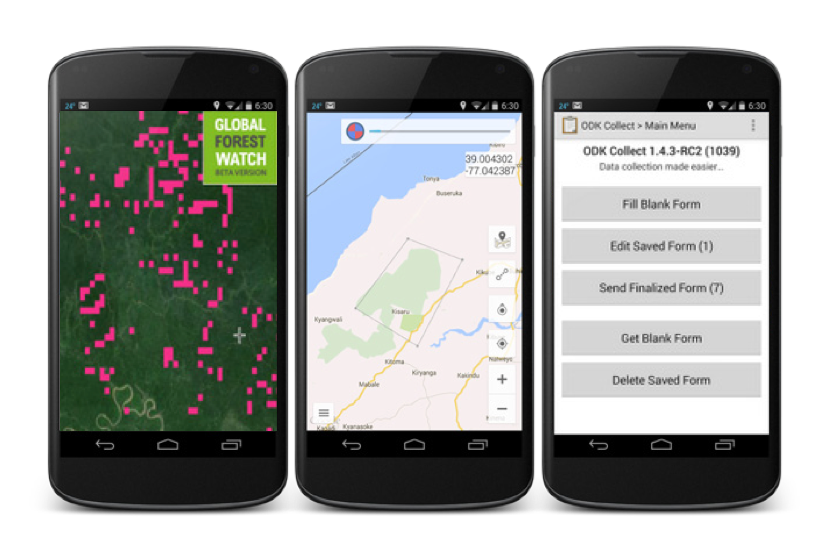 Forest Watcher is a new mobile app GFW developed in partnership with Jane Goodall Institute and Google Earth Outreach to put information on how forests are changing into the hands of those on the ground. It was piloted in Uganda throughout 2016 and will be available globally in 2017. Communities, protected area managers and private forest owners around the world often lack reliable Internet access of the capacity to use web-based tools like GFW. With Forest Watcher, users can access GFW's powerful forest change data offline as well as document forest change and illegal activities from the ground to upload later to the cloud.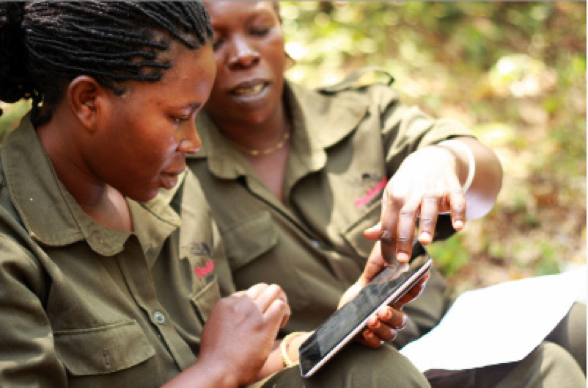 ---
Global Forest Watch Water The newest addition to the GFW suite of web apps, Global Forest Watch Water tracks how forest loss, fires, erosion and unsustainable land use affect water security throughout the world. The app makes a clear case for protecting natural infrastructure, like forests, to improve the health of watersheds. Read more about how the app works.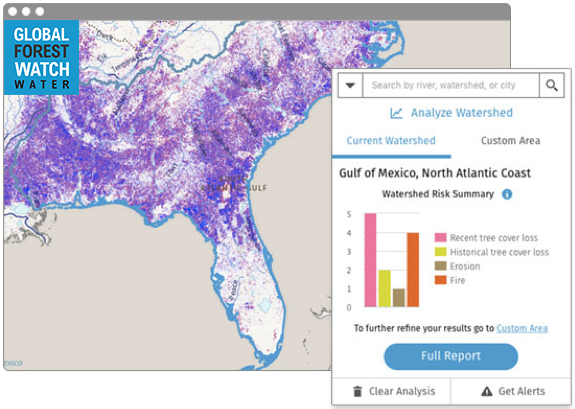 ---
Map Builder Imagine the impact you could make if you had access to a tool like GFW that was customized with data that's important to your local cause and environment. Map Builder lets users do just that—combine GFW's geospatial analysis features with their own data to create highly customized tools that let them monitor the forests and habitats that matter to them. Read more about the tool and watch our webinar to learn how to use it.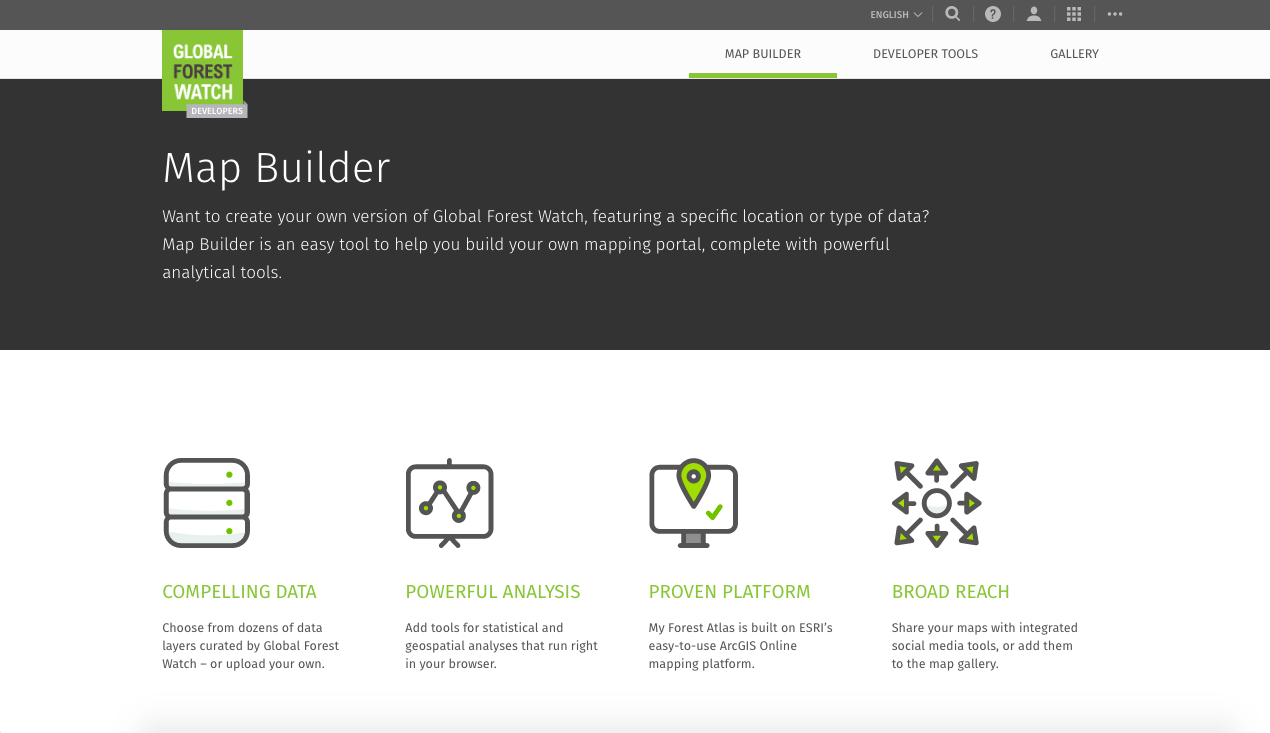 New Data
Global Forest Watch added 133 datasets in 2016. They ranged from the global scale down to national and regional scales, and focused on a variety of topics, including tropical deforestation, biodiversity and peat degradation. Others were major upgrades to our near real-time monitoring capabilities. Here are some highlights: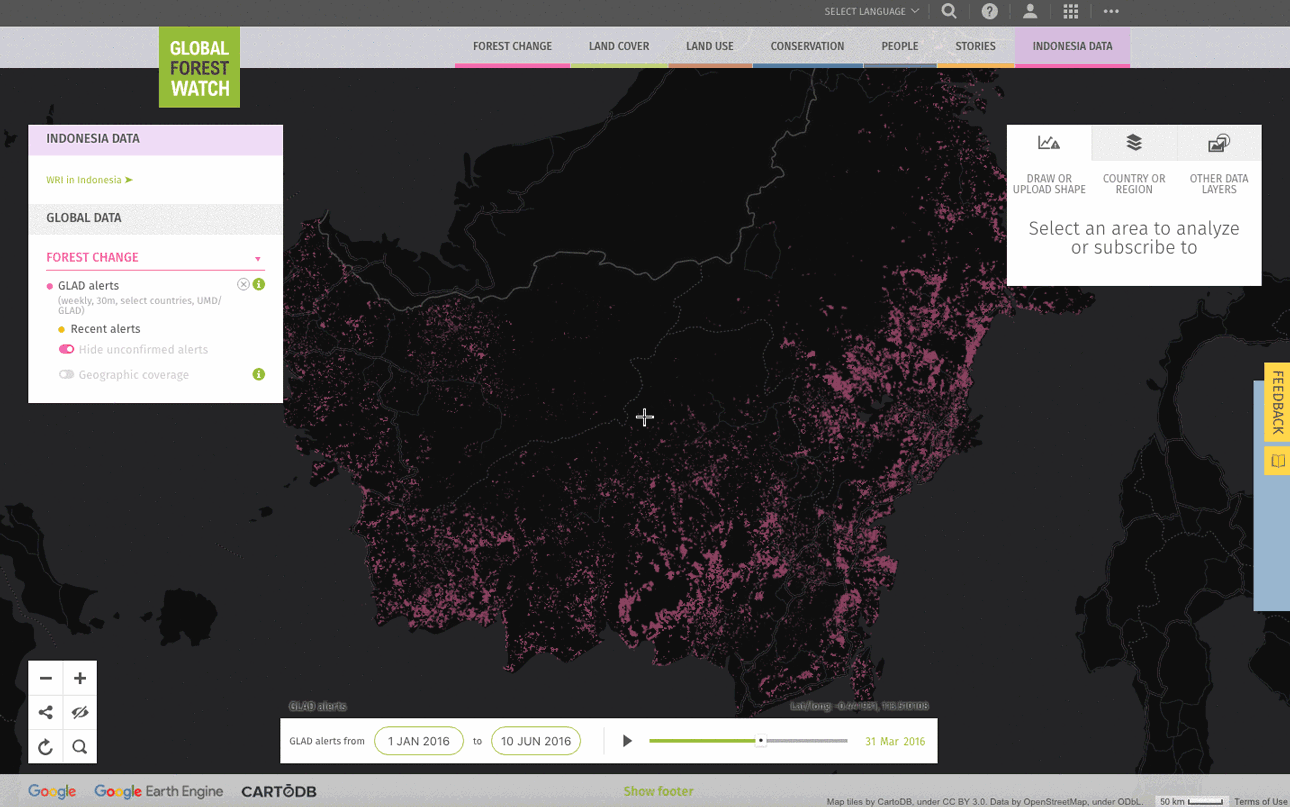 GLAD weekly alerts show recent loss in Indonesia.
View on interactive map
.
Are we still missing important data sets? Tell us which data we should add next year or add your own!
New Features
Global Forest Watch is much more than an interactive map—though we do love visualizing our many data sets! Check out the host of new features we rolled out to enhance your experience on our platform.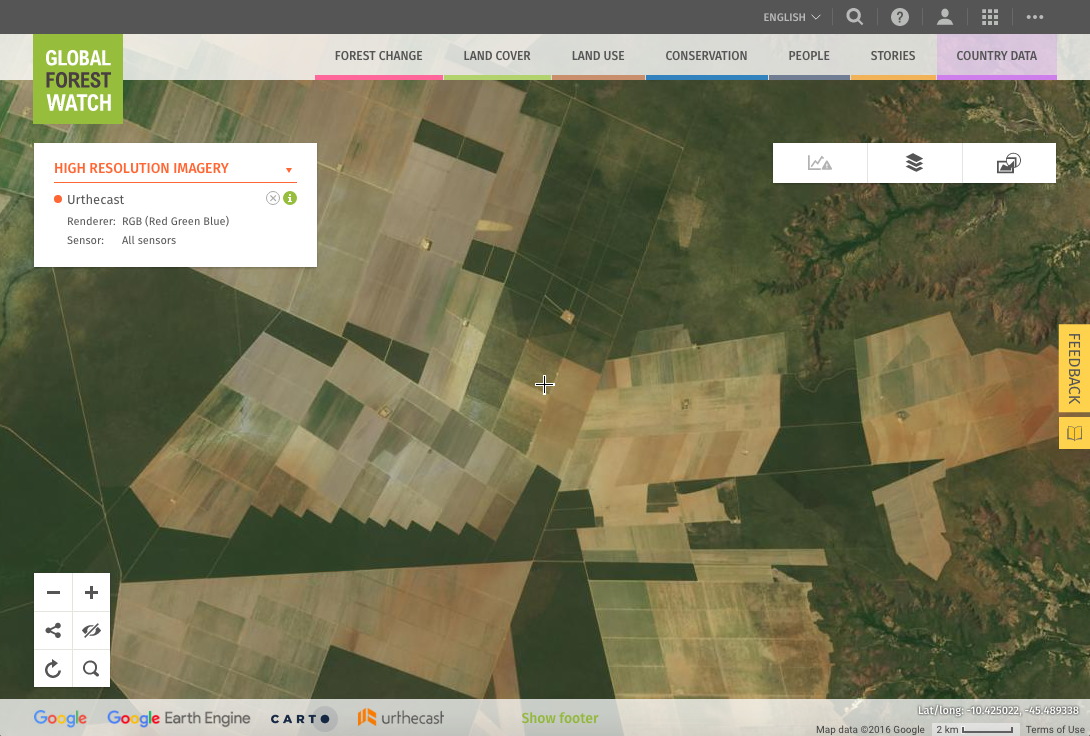 UrtheCast imagery captures soy fields in the Matopiba region in Brazil's Cerrado.
View on map
.
Growing User Community
These new data, features and products have helped grow and support our user community. In fact, we've nearly doubled the number of GFW users during 2016. And nearly 800 of you created My GFW Profiles to customize your experience on our platform and access special features like subscribing to alerts. But we're always looking for input on how we can make GFW even better! For example, most of our users still come from the US, Brazil, Indonesia, Canada and the UK. Do you live in another country and work on forest-related issues? How can we improve our platform to meet your needs? Only about 4 percent of our users are from the media. Are there features or insights that would help you write better forest-related stories? Roughly one in four users come to GFW to use our country pages. How can we improve those to give you what you're looking for? What kinds of blog posts would you like to read from our experts? We work hard to meet your needs! Tell us how we can improve in the coming year.
Thank You!
Global Forest Watch has evolved and improved so much in just one year and we can't wait to show you what 2017 has in store. Thank you to our user community and our partners for making GFW what it is today. We hope you all have a happy holiday season and we'll see you next year!