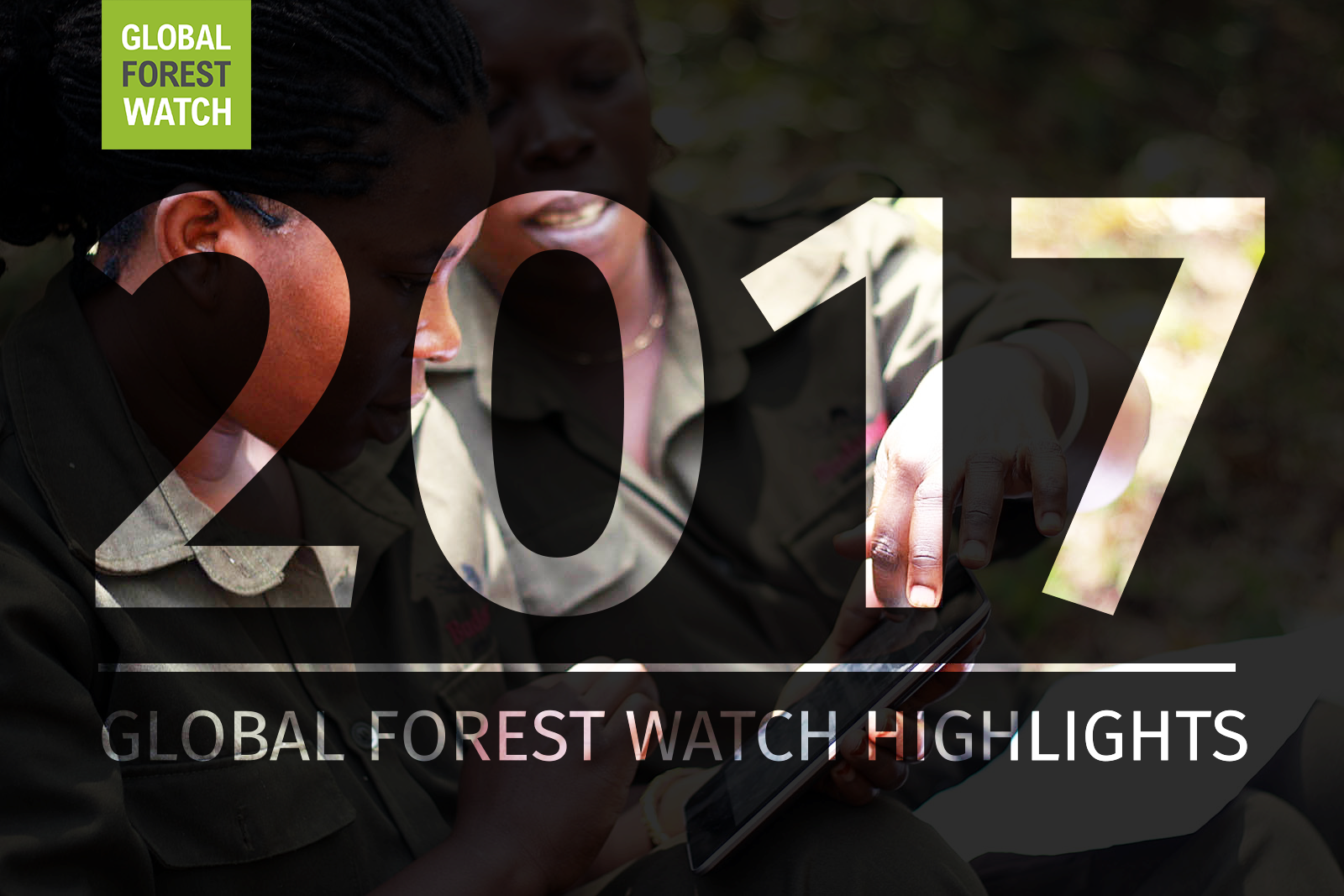 A Year in Review: Global Forest Watch Highlights from 2017
It's been another busy year for Global Forest Watch! This year we focused on putting the right data into the hands of our users to support action on the ground. We added more local data and made it easier than ever for decision-makers and on-the-ground forest monitors to access the information they need through national forest atlases and our new mobile app. Here's a look at the highlights from 2017.
What's New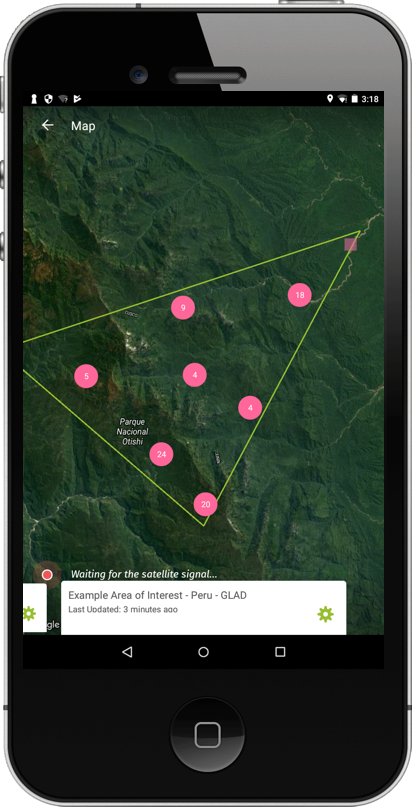 Forest Watcher launches globally Forest Watcher is a new mobile app that puts Global Forest Watch's forest change data straight into the hands of forest managers, indigenous communities and law enforcement anywhere in the world, regardless of connectivity. Launched in September, more than 2,000 users have already begun using the app. You too can download Forest Watcher for free on Android and iOS devices today!
---
GLAD Alerts in 22 countries GLAD deforestation alerts expanded to 22 countries in the Amazon, Congo Basin, Southeast Asia, and the Russian Far East. Users in these countries can now track how forests change in a matter of weeks.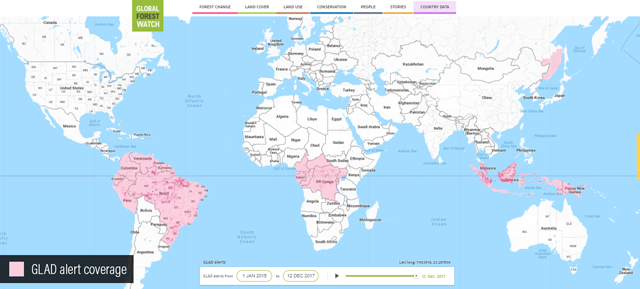 View on GFW's interactive map
.
Look for coverage to expand to countries in Central America, West Africa, and the Mekong basin in 2018!
---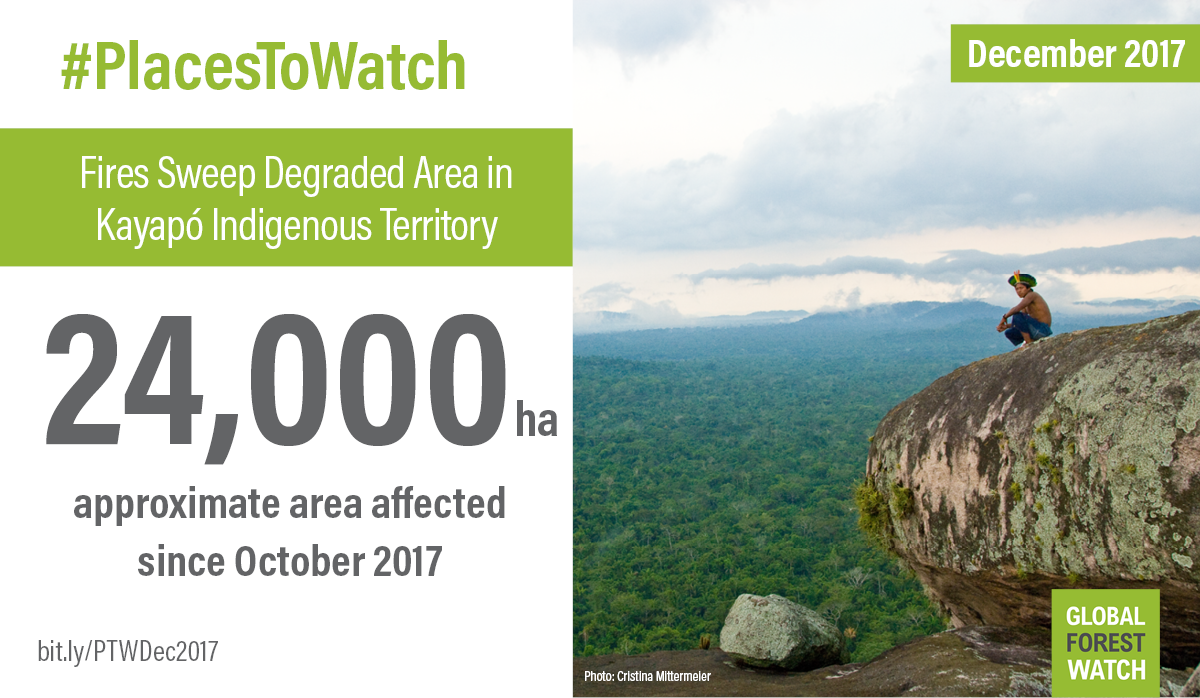 Places to Watch Launched in 2017, Places to Watch is a data-driven storytelling initiative that combines deforestation alerts with satellite imagery, and intel on what is happening on the ground to spotlight areas of recent loss that pose the biggest threat to the world's remaining forests. Read the first ever December 2017 curation. You can find Places to Watch in three simple ways:
Subscribe to the Places to Watch newsletter.
Read the Places to Watch section of the GFW blog.
Find the latest Places to Watch, labeled by an exclamation point on the GFW map.
---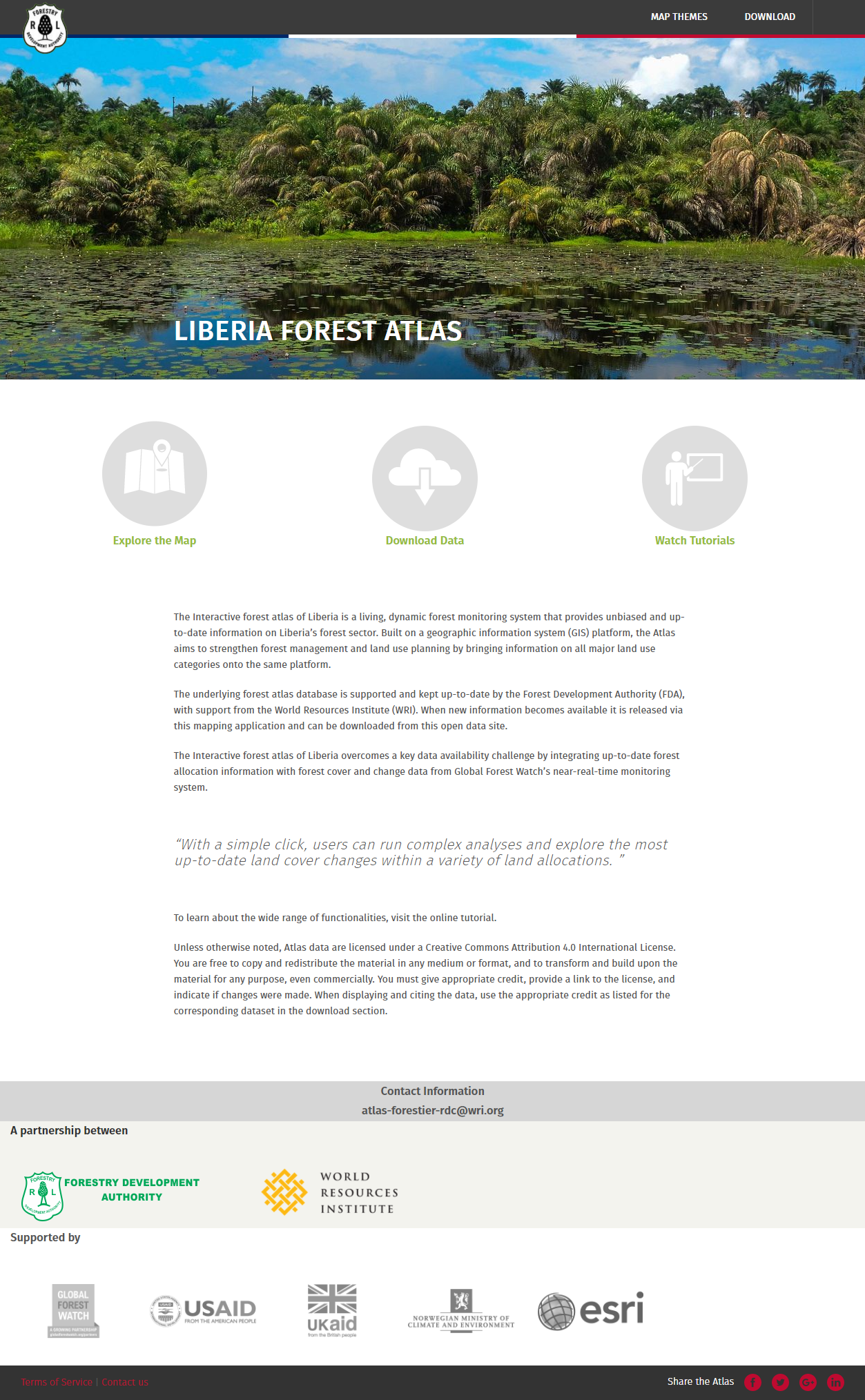 Map Builder Map Builder was created to help Global Forest Watch users build their own custom monitoring platforms. Since launching in 2016, Map Builder has helped communities and governments around the world better monitor forests.
Forest Atlas Liberia – The Forest Development Authority of Liberia created the National Forest Atlas to increase transparency around forest resource management.
Forest Atlas Georgia – The Ministry of Environment and Natural Resources Protection of Georgia developed a National Forest Atlas to improve forest monitoring and land-use decision-making.
Tierras Indígenas – Indigenous groups in Paraguay created the first online map of their territories to improve transparency around private sector and government activities and reduce land conflicts.
---
New Data Global Forest Watch added 25 datasets in 2017. From the global land cover to high-resolution satellite imagery, areas for sustainable commodity production and country data, you can find more information on forests and land use than ever before. Highlights include: Global
Commodities
Palm Oil Mills – Previously only available on the Commodities app, you can now see where palm oil mills are located on Global Forest Watch.
WRI Oil Palm Suitability Standard – These data from World Resources Institute's project POTICO show potentially suitable areas for sustainable oil palm cultivation in Indonesia.
Country Data
---
GFW by the Numbers
425,000+ new users 1,000+ media hits, including in top tier outlets like The Guardian, The Los Angeles Times, National Geographic, Nature, NPR, Reuters and The Washington Post. 14,000+ followers on Twitter and 4,900+ followers on Facebook 600+ people learned how to use GFW through trainings and webinars 2000+ users downloaded Forest Watcher
---
User Stories
Nearly half a million new users from almost every country on Earth used Global Forest Watch to create impact.
In Argentina, the General Division of Forests and Fauna in Santiago del Estero used GFW to monitor authorized and illegal deforestation activity.
In Tanzania, the Grumetti Fund used GFW to teach their visiting scholars about environmental change.
In Northern Sumatra, the Leuser Ecosystem is the last place on Earth where Sumatran elephant, rhinoceros, tiger and orangutan are found together. HAkA, a grass-roots NGO, used GLAD alerts to validate monthly deforestation data and Forest Watcher to improve patrols, document and illegal activity and report it to authorities.
Monitors with African Parks, the NGO responsible for protecting Chinko Nature Reserve in Central African Republic, used GFW's real-time fire alerts to find and stop poachers.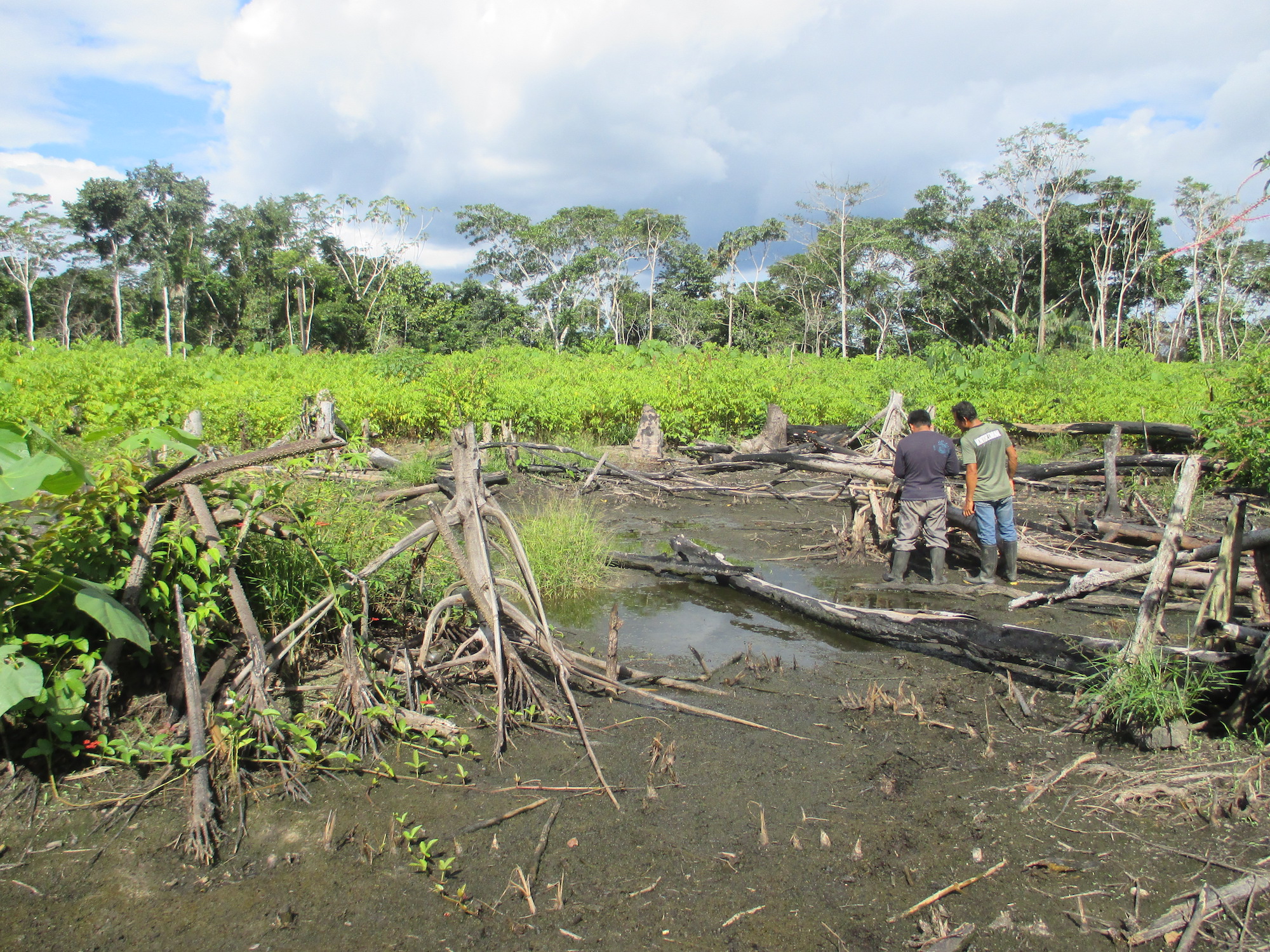 Monitors from Nuevo Saposoa, a Shipibo-Conibo community in Peru, stand in a patch of recently cleared land. Photo by Mikaela Weisse.
Greenpeace and Global Witness both used GFW data in their reports and campaigns against unsustainable timber extraction.
Mongabay used GFW Fires to report on fires in Otishi National Park in Peru as soon as they struck. The story got the attention of officials who responded immediately to address the fires.
Rainforest Foundation US trained Peru's indigenous Shipibo-Conibo people to use GLAD alerts to investigate and document sites of recent, likely deforestation.
---
Research
Global Forest Watch data and experts in peer-reviewed research papers. The last frontiers of wilderness: Tracking loss of intact forest landscapes from 2000 to 2013 (Science Magazine) Environmental consequences of oil production from oil sands (Earth's Future) Sensing Reality? New Monitoring Technologies for Global Sustainability Standards (Global Environmental Politics) The extent of forest in dryland biomes (Science) Predicting Future Forest Loss in the Democratic Republic of the Congo's CARPE Landscapes (World Resources Institute) Expansion of Industrial Plantations Continues to Threaten Malayan Tiger Habitat (Remote Sensing) How Effective Have Thirty Years of Internationally Driven Conservation and Development Efforts Been in Madagascar? (PLOS One) Quantification of land cover and land use within the rural complex of the Democratic Republic of Congo (Environmental Research Letters) Tropical forest reserves slow down global warming (Science Daily) Natural Climate Solutions (PNAS)
---
Thank You!
To our partners and user community, thank you for helping us accomplish all that we have in 2017. We can't wait to see what 2018 has in store!