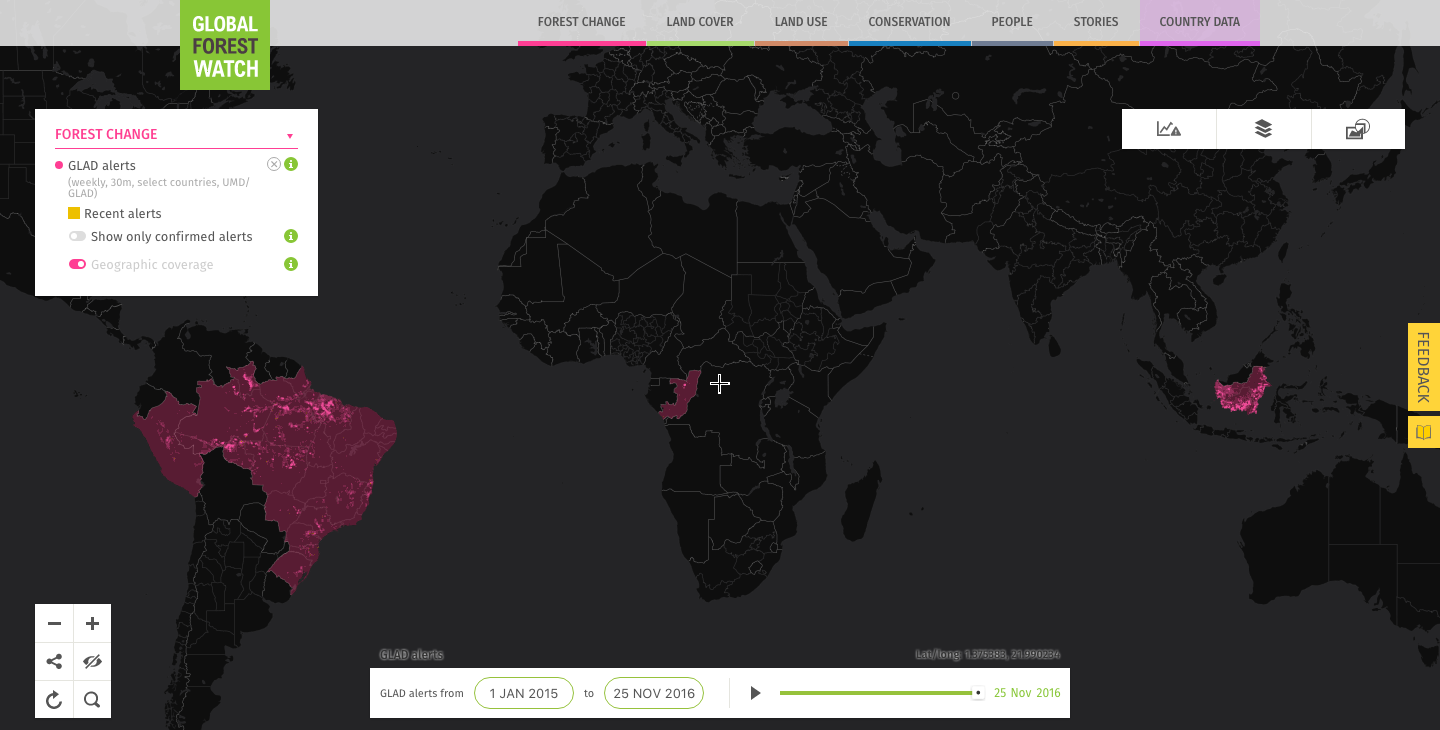 Coming Soon: 2015 annual tree cover loss data to be released early 2017 with new upgrades
By Mikaela Weisse and Matt Hansen Every year, the GLAD group at the University of Maryland works to update the annual tree cover loss data on Global Forest Watch. But with the huge volume of satellite imagery input and computing power needed to process it all, this is not yet a smooth process. On top of that, we're constantly striving to improve and optimize the data processing and this year was no exception. We've made two major changes that have pushed back the release of the 2015 tree cover loss data more than anticipated—we now expect an early 2017 release. Despite the delay, these updates will ultimately help us make the annual data more reliable, timely and consistent in the future, which is critical as Global Forest Watch becomes a more widely-used source of independent forest and land use data. Here's what we've changed:
We invested in a new high-performance computing system that can process the data four times faster than before. What used to take two months to process will now be completed in a matter of weeks. That means that once we finish switching to the new system we will be able to release the 2015 data swiftly, and the 2016 data will follow soon thereafter.
We refined the methodology for greater accuracy. Our improved algorithm produces data that more closely matches our validation results—often produced by human analysts who visually verify tree cover loss in satellite images. We will be re-processing all of our data, starting with the year 2000, using the new algorithm to not only improve the map, but also provide more accurate estimates of tree cover loss area at different scales.
We're excited to implement these updates, which will allow us to deliver better data more quickly moving forward, making Global Forest Watch an even more powerful tool to help monitor and protect the world's forests. In the meantime, you can use other forest change data to fill the gap. For example, weekly GLAD alerts and monthly Terra-i alerts show recent forest changes in tropical areas. Want to get notified when we release the 2015 data? Sign up for our newsletter or follow Global Forest Watch on Twitter and Facebook!