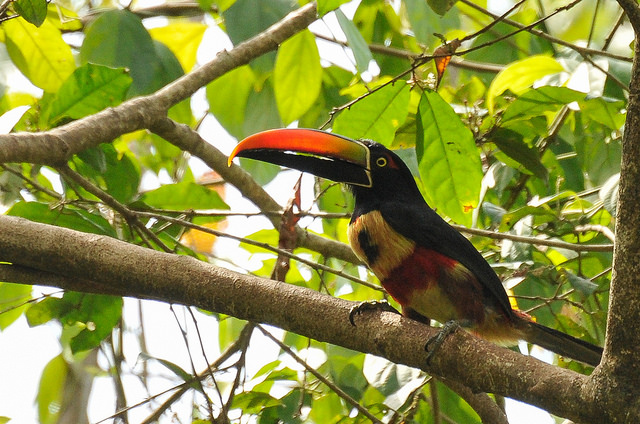 GLAD Alerts Now Available for Entire Pantropical Region
Stretching 30 degrees north and south from the equator and encircling the globe, the band of tropical forests —both wet and dry — boasts more biodiversity and species endemism than almost any other place on earth. Yet these forests suffer under threat of deforestation as logging, agriculture, grazing and development take a toll on their unique biomes.
Because of the threats facing tropical forests, Global Forest Watch has paid special attention to this region as we monitor tree cover loss from above. Our latest update enables the entire tropical region to view weekly updates on changing forest conditions using GLAD Alerts.
The GLAD alert system — named for the Global Land Analysis and Discovery lab at the University of Maryland — examines 30m x 30m Landsat images taken from satellites orbiting the globe. Each week, as the satellites relay the images back to earth, they are compared to past data, assessed for tree cover loss and added to Global Forest Watch.
The recent expansion of this analysis means that all countries between the latitudes 30 degrees north and 30 degrees south now have access to near-real-time tree cover loss data. Forest stewards in places like Madagascar, Mexico, Vietnam, Paraguay and Cambodia can see how their forests are rapidly changing around them.
In countries where they were previously available, GLAD alerts have already helped groups take action to protect their forests. Rangers in Uganda used GLAD to detect deforestation along park boundaries and stop the loss before it entered the park, the Amazon Conservation Association used GLAD in Peru to detect access roads leading to illegal clearing in primary forests and a civil society group in Indonesia now uses GLAD to prioritize where to direct their limited resources within the Leuser Rainforest.
With this new update, individuals across the entire tropics will be able to keep a trained eye on their forests and take quick, targeted actions when they spot tree cover loss.  Since January 1, 2018, the alerts have already picked up on loss in a few crucial forest areas.
In Western Paraguay, for example, a geometric pattern indicative of forest clearing for cow pasture is visible. The addition of GLAD alerts will help the private sector, NGOs and the government of Paraguay determine whether or not new clearing is in accordance with existing environmental licensing, or if the area cleared overlaps with indigenous land or protected areas.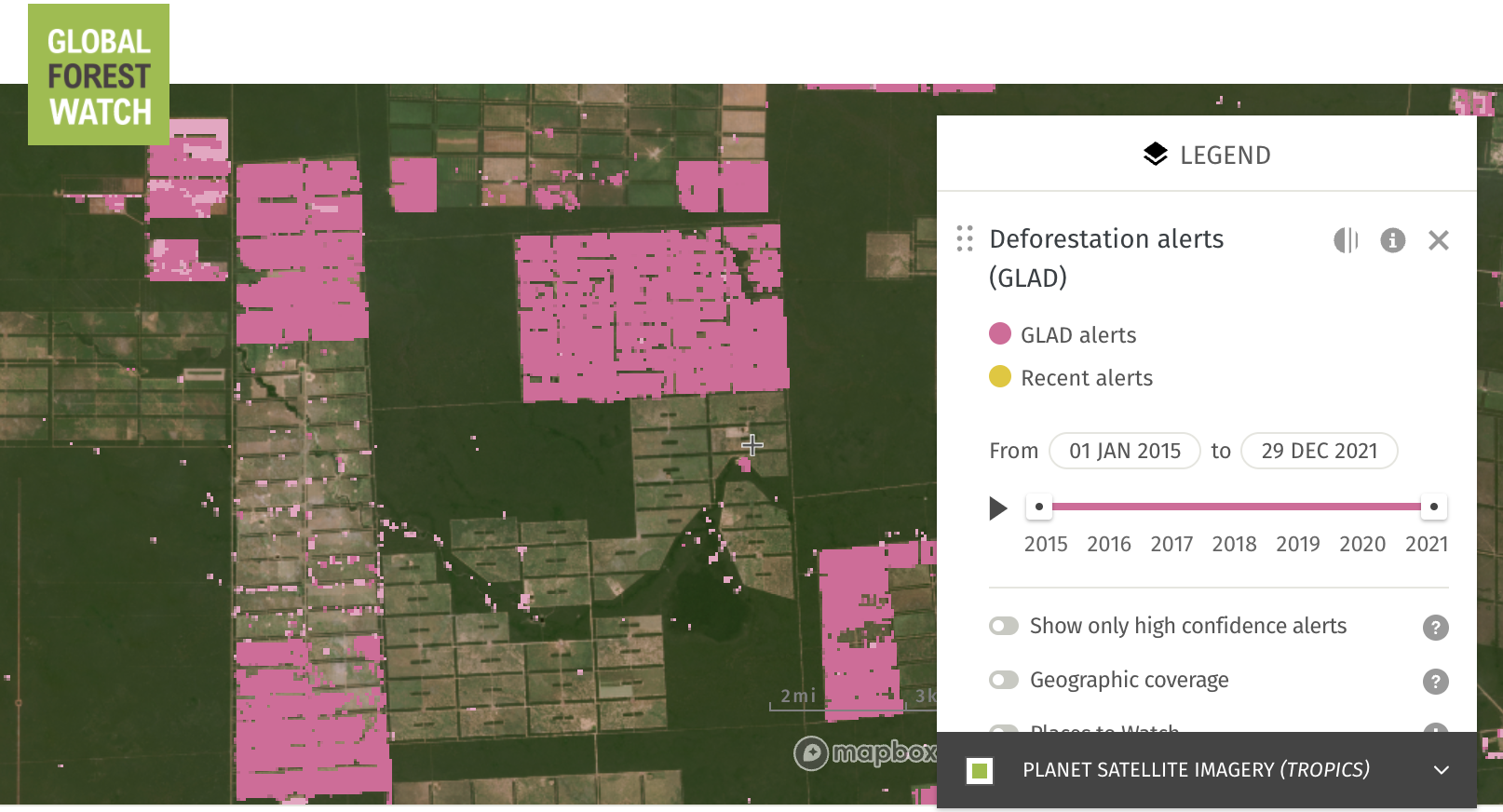 Between February and March of this year, a large cluster of GLAD alerts appeared in a forested area in Liberia. By examining the Planet imagery beneath the pink patches, we can see a swath of forest has been lost along a roadway, most likely due to industrial clearing for the expansion of palm oil.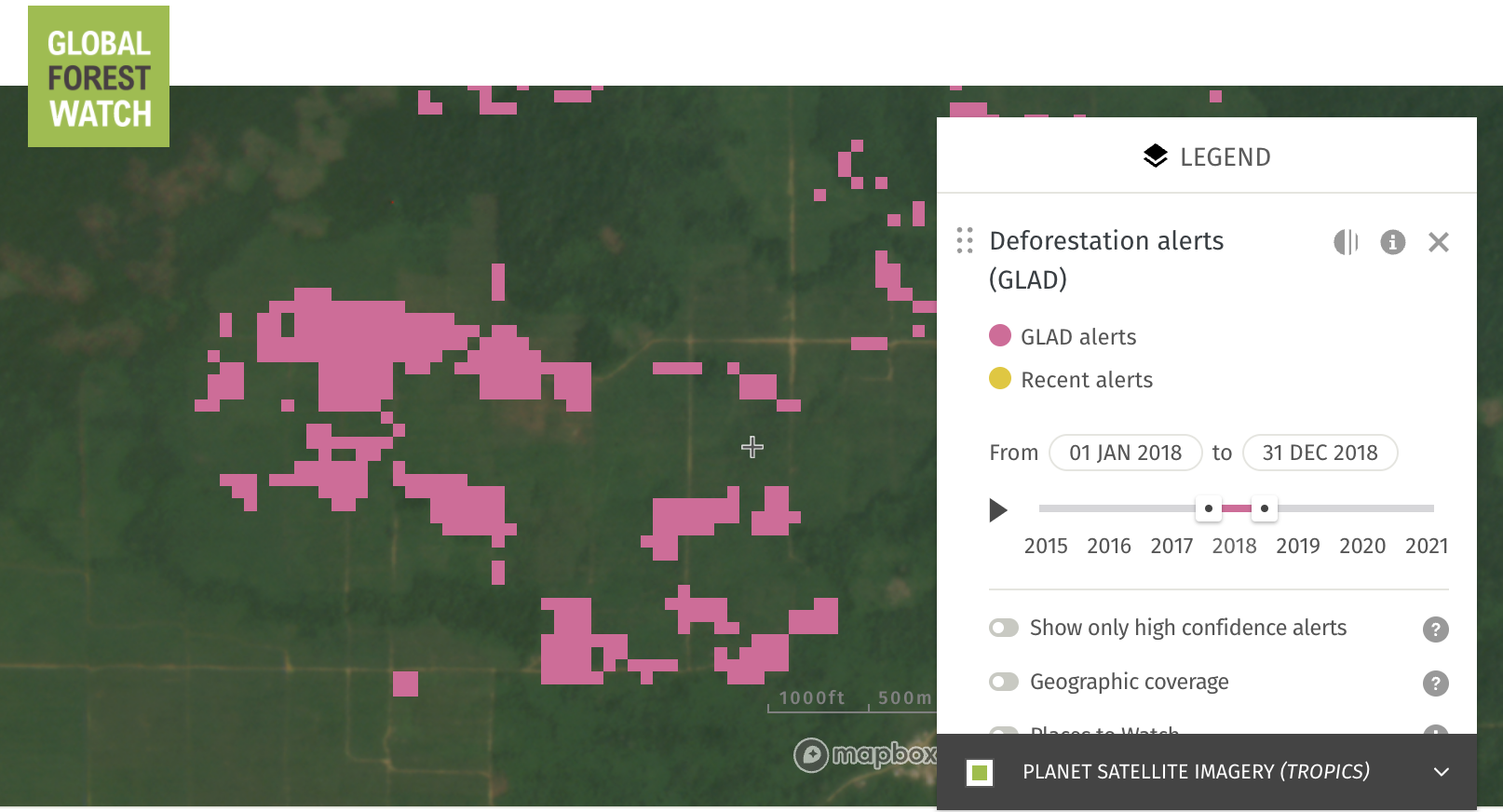 GLAD alerts in Cambodia have picked up large scale clearing that indicates the conversion of fragmented forest into an agricultural plantation. As of now, the alerts have picked up and confirmed only segments of the clearing but as coverage of these new areas continues, more and more of the area will show up in pink.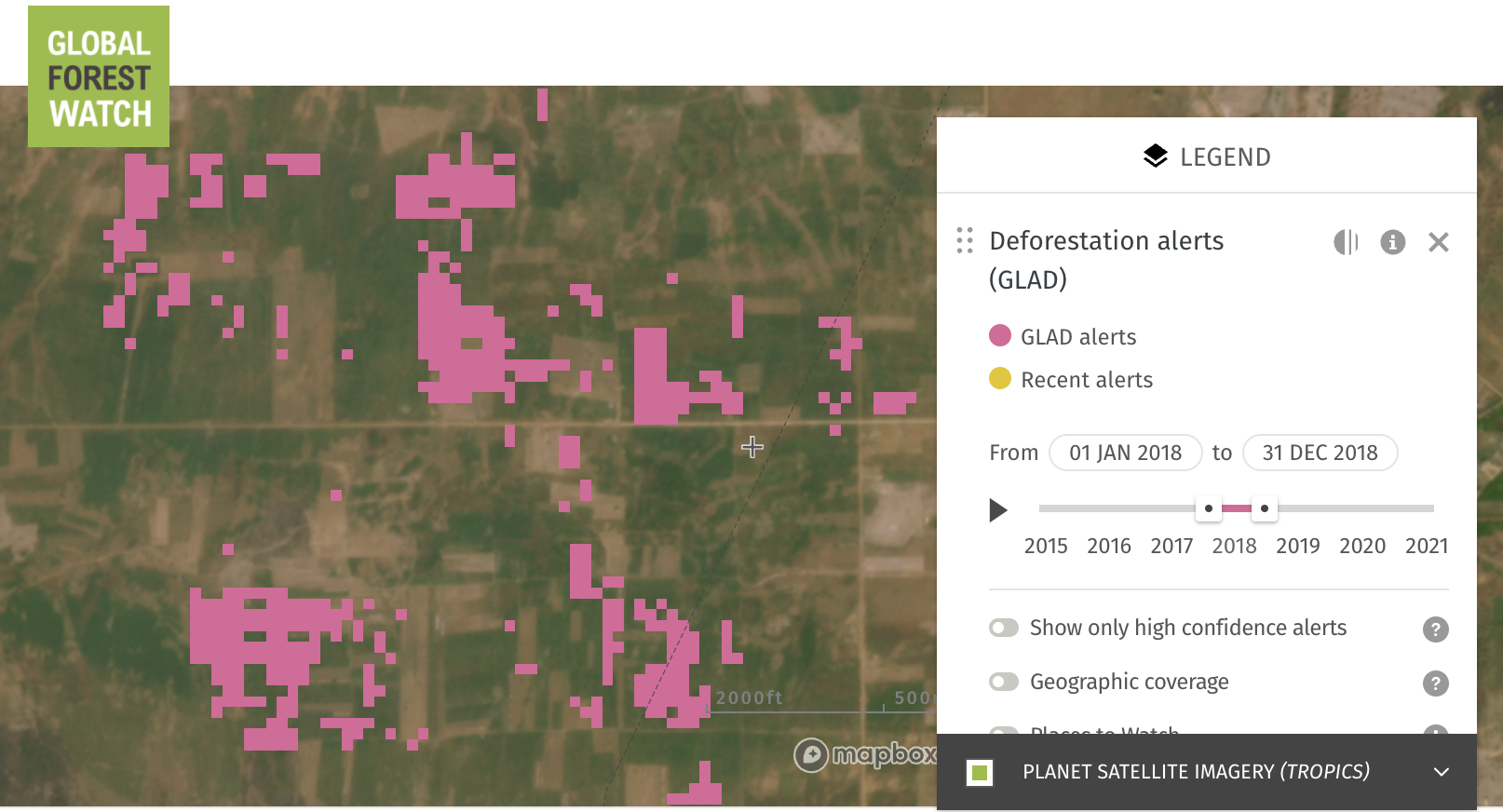 Now armed with GLAD alerts, the tropics can better detect and investigate these and other instances of likely deforestation in their regions.
---
BANNER PHOTO: Firey-Billed Aracari. Manuel Antonio National Park, Costa Rica. Aaron Minnick/WRI.
---