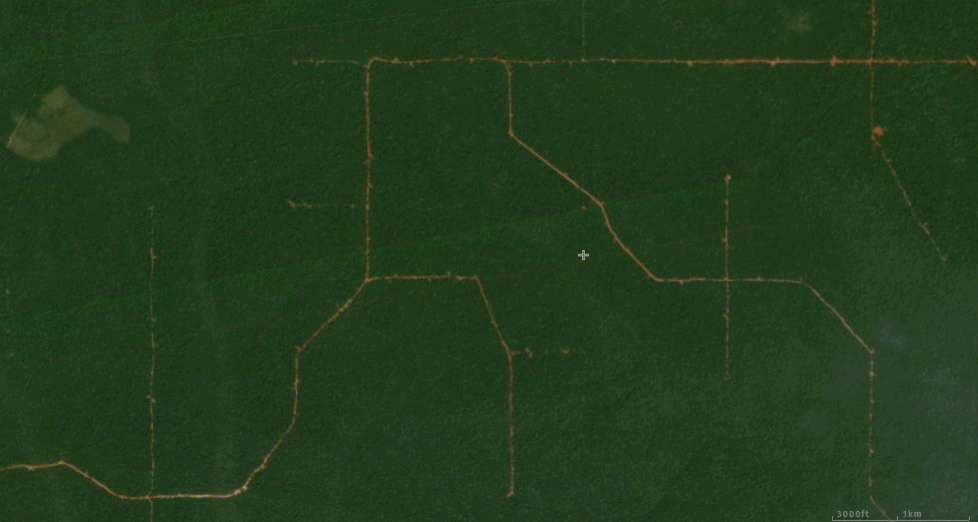 Radar Alerts in in the Central African Republic.
New Radar Alerts Monitor Forests Through the Clouds
Rainforests, as the name suggests, are often rainy— which means they are also frequently cloudy. This has long presented an issue for forest monitoring, since traditional satellite technology is unable to "see" through obstructions like clouds, smoke and haze. However, the new Radar for Detecting Deforestation (RADD) alerts on Global Forest Watch, detect forest disturbances rain or shine using satellite-based radar data.
The RADD alerts are built from the world's first global, freely available radar data from the European Space Agency's Sentinel-1 satellites. These radar-based alerts will serve as another tool to quickly uncover recent deforestation and take action. Here are some key things to know about GFW's newest alert system:
1. RADD alerts can detect changes faster than ever
 "Optical" sensors, like those on NASA's Landsat satellites, can only capture images of the ground on cloud-free days. If clouds get in between the satellite and the ground, we have to wait at least eight days until the satellite makes a full orbit to try again at that location. In many rainforests, we may only get a cloud-free satellite image a few times a year, and those often only during the dry season.
While GFW's existing alerts (based on optical data) report changes as soon as they are detected, it can sometimes take months before a cloud-free image is acquired and the change detected. Delays in alerts make it harder to respond to instances of illegal deforestation – in some cases, the people deforesting may have already gone.
The radio waves emitted by radar satellites are not hampered by cloud cover; their longer wavelengths allow them to penetrate through clouds to reach the ground. Thanks to Sentinel-1, the public now has access to free radar data that covers the tropics every 6 to 12 days. As a result, the RADD alerts based on this data can reliably detect deforestation and other forest disturbances with minimal delays. Using RADD alerts, forest monitors will be able to react to deforestation sooner than ever, which will give them an edge in preventing further loss.
RADD alerts detect the expansion of a plantation in Indonesian Papua in 2020.
2. RADD alerts capture forest change in high resolution
The RADD alerts make use of Sentinel-1's high level of spatial detail to detect changes within 10-meter pixels. This is nine times more detailed than current products based on Landsat data which measures change at 30-meter resolution. This means that even tiny changes on the scale of just a few trees are detectable with the RADD alerts.
For example, most timber extraction from tropical forests is done through the selective harvesting of individual, valuable trees like teak or mahogany. The increased detail of the RADD alerts means that we can now see the impact of that harvesting more clearly, which is critical information for those working to combat illegal logging.
RADD alerts detect patches of selective logging around a new road in the Central African Republic.
3. RADD alerts cover 44 countries
The RADD alert system recently expanded to include the Amazon Basin. The coverage now covers humid forests in South America, insular Southeast Asia and Africa, including those in Indonesia, Malaysia, Democratic Republic of the Congo, Republic of the Congo, Cameroon, Madagascar, Brazil, Colombia, Peru, and others. The RADD system is detecting changes only within primary humid tropical forests at this time, though we hope to improve detection on other forest types in the future.
The system is well suited to expand to the rest of the tropical region in the future as well. Sentinel-1 data is readily available for the entire globe, and the RADD alerts are operating within Google Earth Engine, with sufficient computing power to perform global analyses.

RADD radar alerts cover humid tropical forests in South America, Central Africa and Southeast Asia.
4. Early adopters leverage RADD alerts for supply chain sustainability
The development of the RADD alerts was initiated by ten of the world's largest palm oil producers and buyers keen to advance a system of deforestation monitoring that was uninhibited by cloud cover in order to more reliably detect and address changes within their supply chains. Bunge, Cargill, Golden Agri-Resources (GAR), Mondelēz International, Musim Mas, Nestlé, PepsiCo, Sime Darby Plantation, Unilever and Wilmar have financed the initiative for company use while also making the system openly available as a shared public resource for good.
Facilitated by the World Resources Institute, the project was a collaboration between Wageningen University and Research, which developed the detection method, and Satelligence which first scaled the system in Indonesia and Malaysia and provided additional prioritization of the alerts in order to identify the most important areas for on-the-ground follow up. The ten companies will continue to be critical users of the RADD alert system.
The new RADD alerts are now available to view on Forest Watcher, in addition to the Global Forest Watch map and will be added to other GFW tools in the coming months.
*Editor's Note: This blog was updated 11/8/2021 to reflect increased geographic coverage of RADD alerts.  
---
The RADD alerts are available on Global Forest Watch
here
; you can learn more about the the new system
here
. Let us know how you are using RADD data, or any feedback you have about the alert system by emailing gfw@wri.org.
---