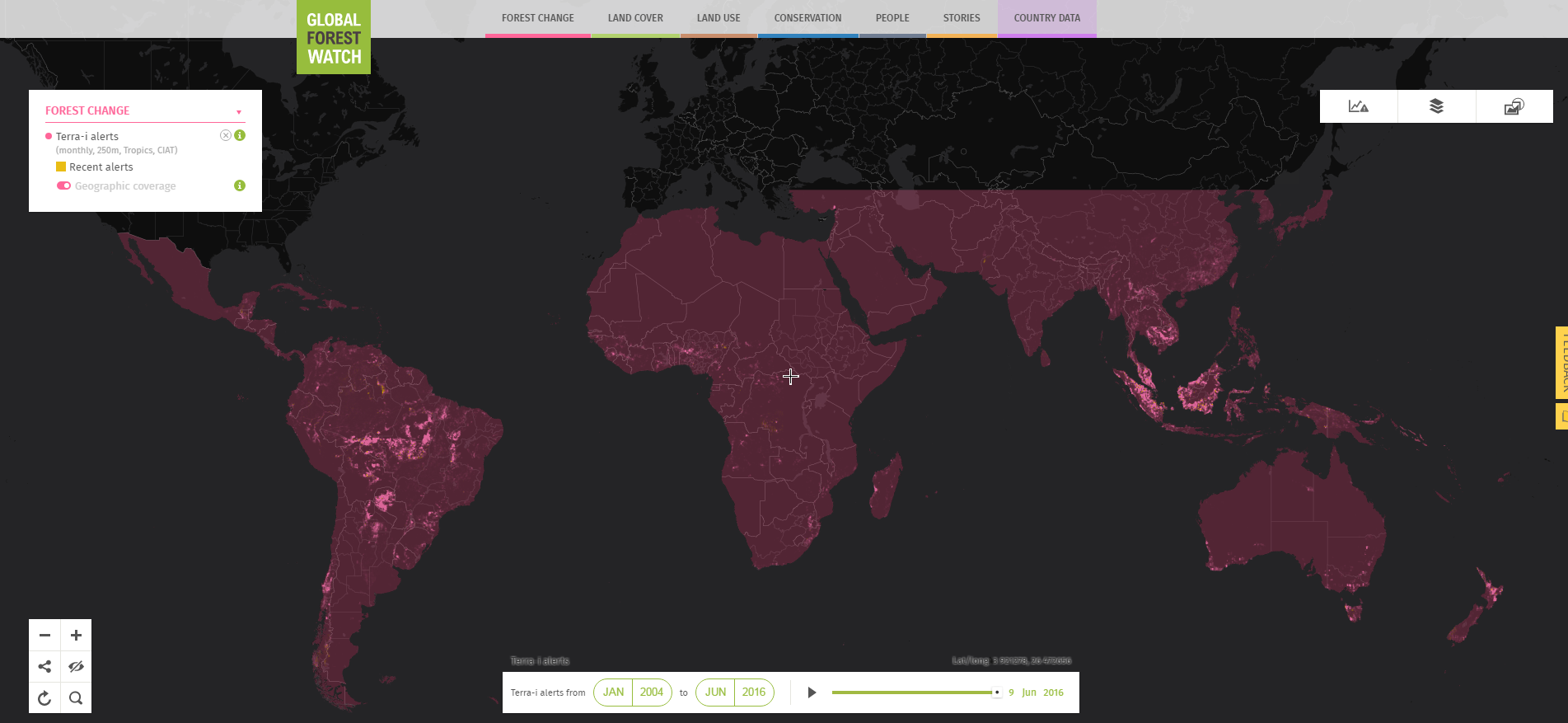 Terra-i expansion fills important gap in near real-time forest monitoring
By Mikaela Weisse It is crucial to learn about tree cover loss as early as possible if we wish to stop it. However, when we took down the monthly FORMA alert system in April, we were left with only annually updated information for all but a few countries. Today, Global Forest Watch is closing the gap with the release of the newly expanded Terra-i alert system.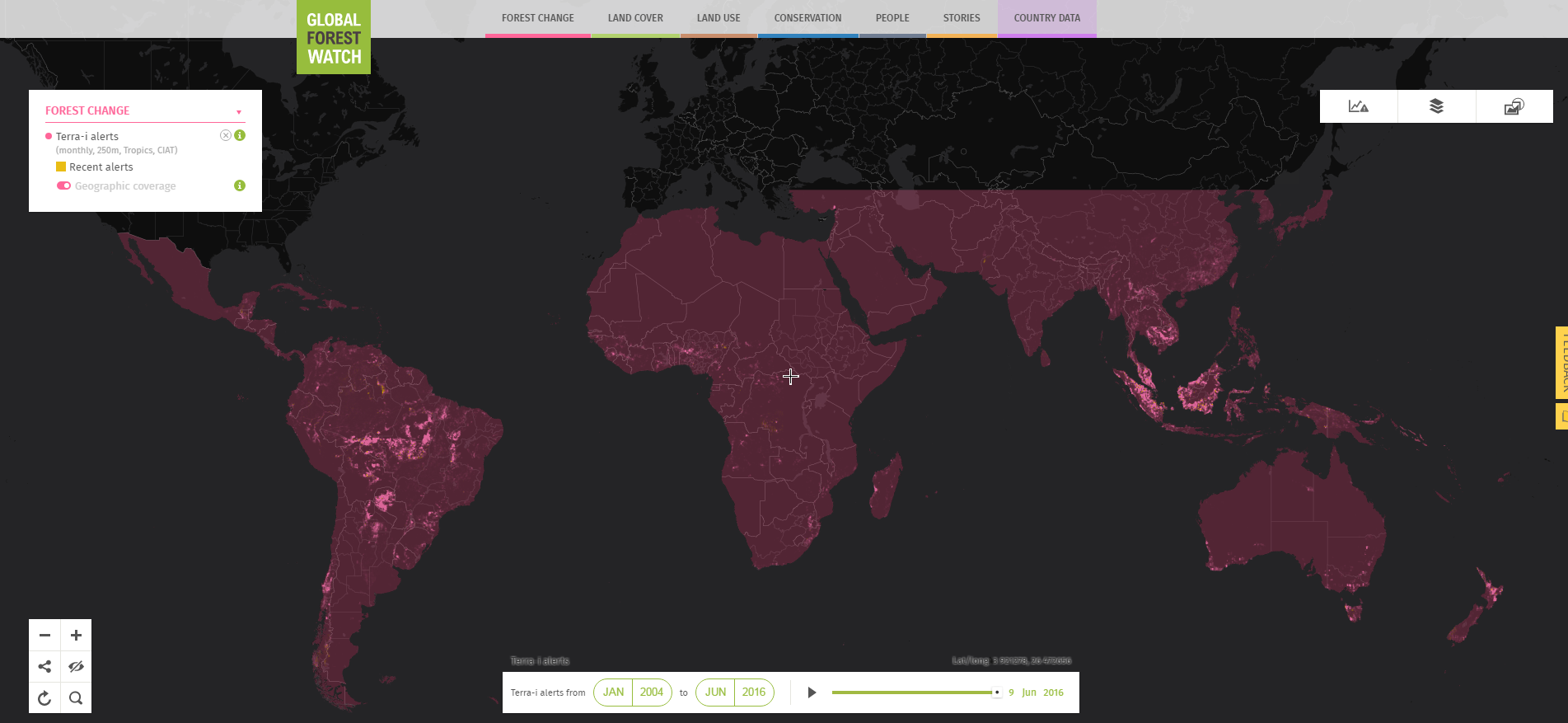 Newly expanded Terra-i alerts now cover all of the tropics.
Terra-i, created by the International Center for Tropical Agriculture (CIAT) together with the University of Applied Sciences Western Switzerland (HES-SO) and King's College London (KCL), is a monthly monitoring system that detects tree cover loss at 250 meter resolution. The system was originally released just for Latin America in June 2012, but now covers the entire tropics.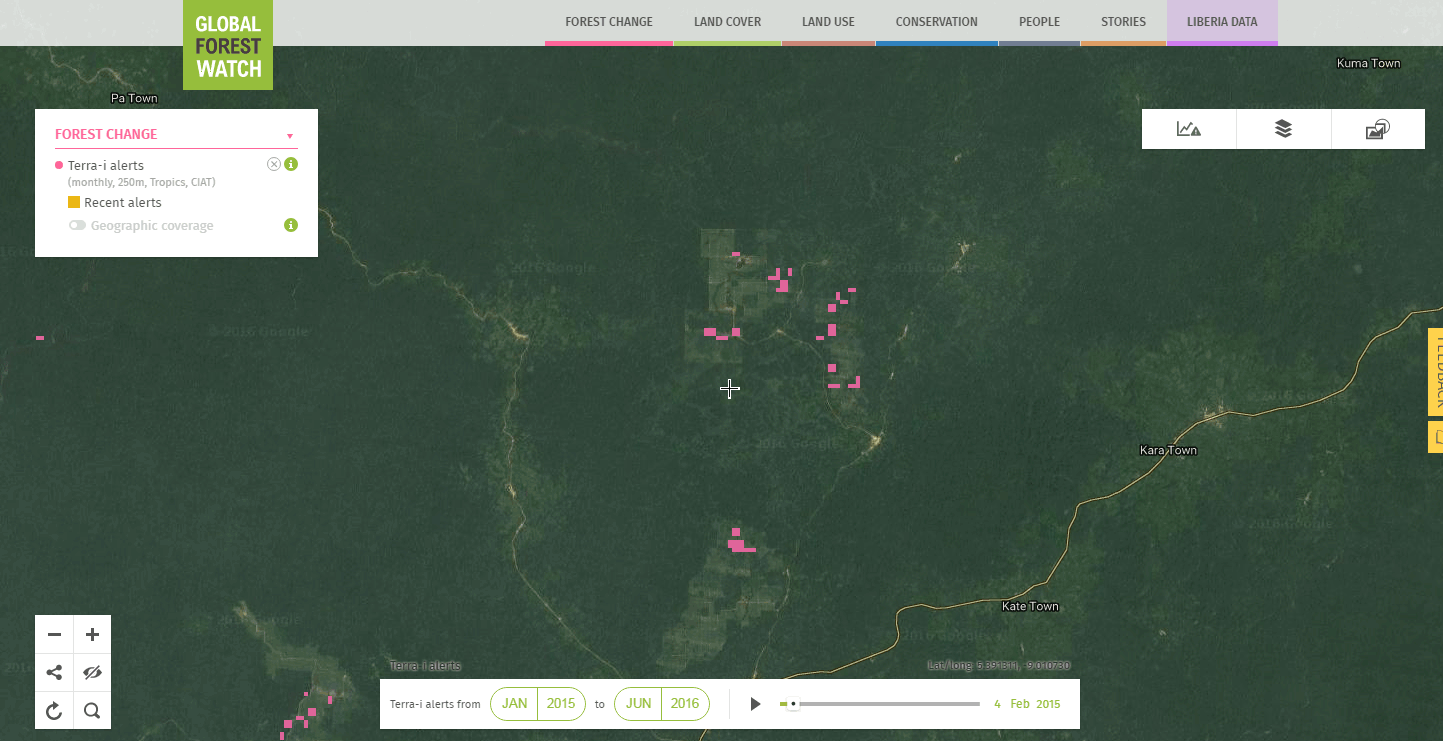 Terra-i alerts detect oil palm expansion in a concession in Liberia.
Having a functional, pan-tropical alert system is incredibly important for those who monitor forests – in 2014, the tropics accounted for more than half of the world's tree cover loss, with 10 million hectares of loss. The combination of alerts with other data and analysis technology on Global Forest Watch make it even easier to find and monitor recent forest change within a country or particular area of interest.
Terra-i alerts detect recent areas of tree cover loss
The main benefit of using Terra-i alerts over the finer-grained annual tree cover loss data is the frequency of update. The Terra-i alerts are updated monthly instead of annually, and currently show loss as recently as June 2016. This makes it possible to see recent changes in forests around the world. For example, logging has been steadily encroaching on intact forests in the Heart of Borneo in Malaysia. While the annual tree cover loss data picks up this activity, the latest available information is from 2014. With the Terra-i alerts, we can continue monitoring logging, and confirm that logging road expansion has continued in the last few months.
Logging roads encroach on intact forests in the Heart of Borneo, Malaysia. Press play to view the alerts over time.
In Cameroon, Terra-i alerts pick up recent clearing of forests to make room for the new Yaounde-Douala highway, a Chinese investment project to connect the country's two biggest economic hubs.
Forests are cleared for the first phase of an express highway between Yaounde and Douala in Cameroon. Press play to view the alerts over time.
Subscribe to new alerts in your area of interest
Since the Terra-i alerts are updated monthly, the easiest way to monitor an area of interest is to sign up for email notifications so you never have to miss an update. Just follow these three easy steps: 1. Define your area of interest: Select the area you would like to monitor—whether that is a specific national park or concession, a subnational region, or an entire country—using the panel on the right side of the GFW Interactive Map or the pop-up bubbles on the map.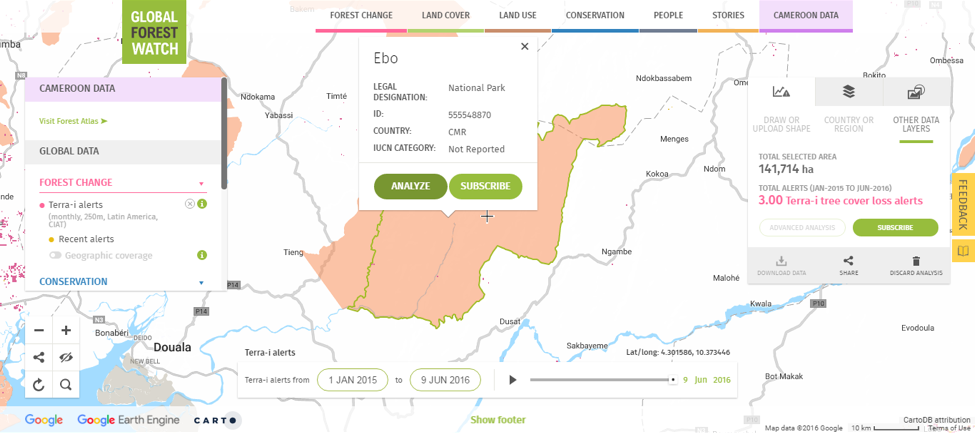 2. Enter subscription information: Click "subscribe" to log in to My GFW using a Twitter, Facebook, or Google+ account to complete the subscription. You will then receive automated email notifications whenever new alerts are detected in that area.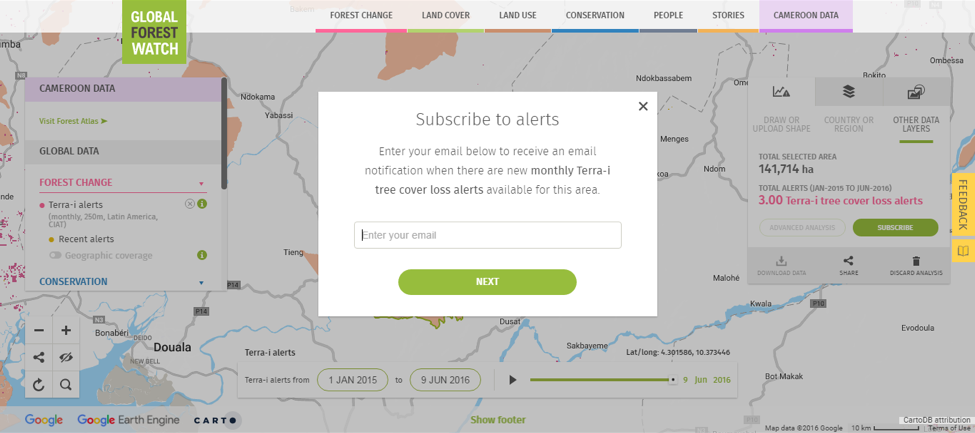 3. Verify the alerts with satellite imagery: On the GFW Interactive Map you can combine the alerts with the latest high-resolution satellite imagery from UrtheCast to get a better idea of what is happening on the ground.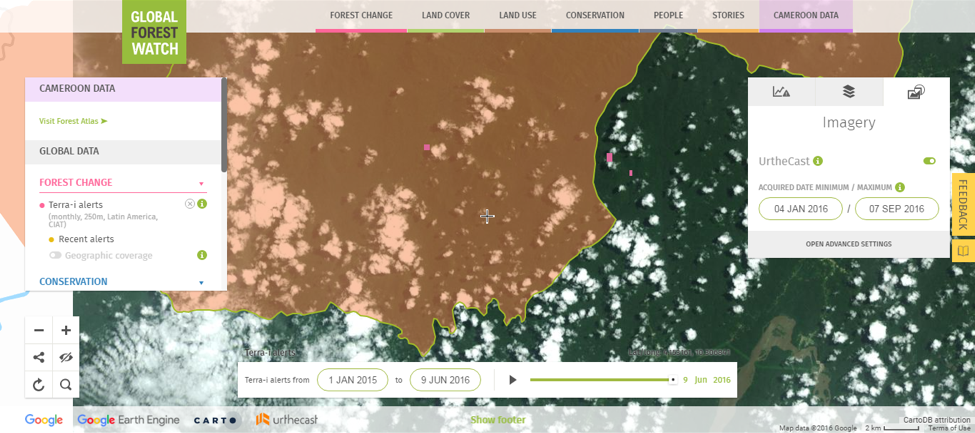 What recent changes will you find in the Terra-i alerts? Explore the data and subscribe for email alerts for your area of interest.