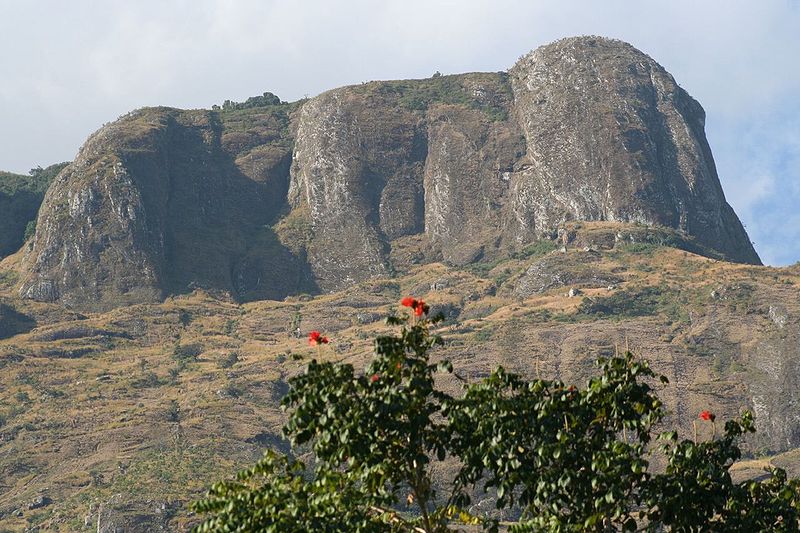 Zooming In: Mount Mulanje Forest Reserve, Malawi
By Asa Strong Mt. Mulanje is a large monadnock (relatively isolated hill or mountain) in Southern Malawi, an hour's drive east of the commercial hub of Blantyre. The granite rocks from its 20 peaks jut 2,500 meters or more into the air, towering over the relatively flat landscape that surrounds them. The mountain area is protected within the Mount Mulanje Forest Reserve, managed by the Mount Mulanje Conservation Trust. However, the UMD / Google satellite-based data indicates tree cover loss still affects the perimeter of the reserve. The mountain is an incredibly important freshwater catchment area and biodiversity site that provides forest and water resources to surrounding communities. As in many tropical areas, the major threat to the forests is the expansion of agriculture, especially by large crop plantations. In addition to its majestic peaks, and lush forests, the mountain is shrouded in myth and legend. It is long rumored to have inspired J.r.r. Tolkien when he created Lonely Mountain, home to the dragon Smaug and his hoard of gold, in The Hobbit. Local mythologies will warn travelers about the mountain, reflected in the name of its highest peak, "Sapitwa," which is translated to "the place where you are not supposed to go." Thanks to Global Forest Watch the forests around Mt. Mulanje can be assessed without traveling to its forbidden peak.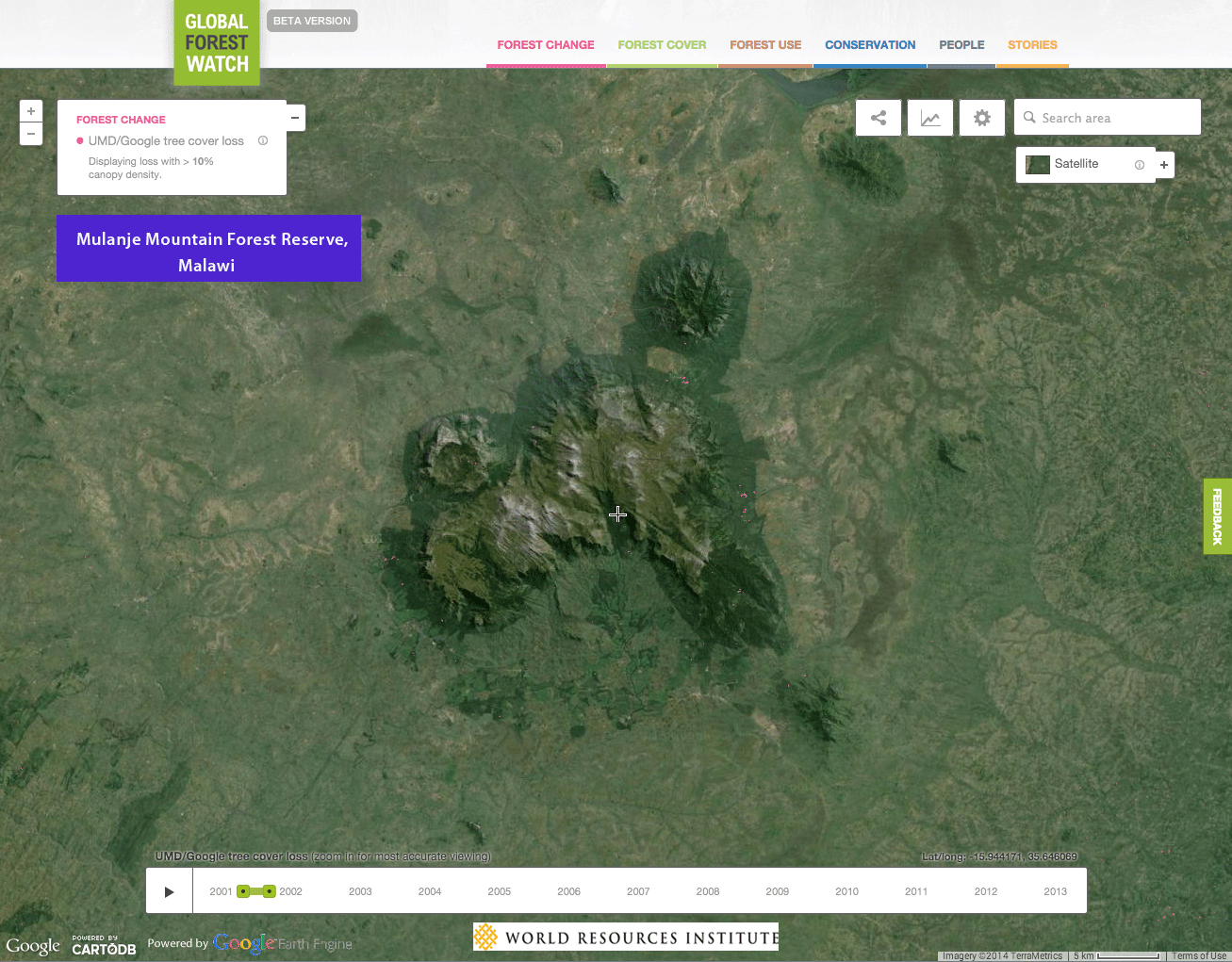 View this location on GFW
here
.
Tree Cover Canopy Density
Landscapes in Malawi are often peppered with trees, but tree cover often does not appear on global forest maps because the sparse forests often have insufficient canopy density to register as "forest". Many smallholder farmers invest in nitrogen-fixing fertilizer trees like, Faidherbia albida (known locally as, "The Magic Tree"), to boost crop yields, provide livestock fodder, and protect against drought. Global Forest Watch's new tree cover canopy density slider enables users to set their own definitions for forest extent and tree cover loss by selecting a canopy density threshold. By sliding the density threshold, one can immediately see the stark differences in tree cover that exists between 10 to 20% canopy density and 20 to 75% canopy density. This functionality can make GFW more useful to organizations in Malawi working to protect remaining forests, or improve smallholder livelihoods through tree-based approaches to agriculture. However, the data on tree cover extent that is currently accessible on Global Forest Watch cannot account for every agroforestry tree in the landscape, and is, generally, less accurate at lower canopy density thresholds (i.e.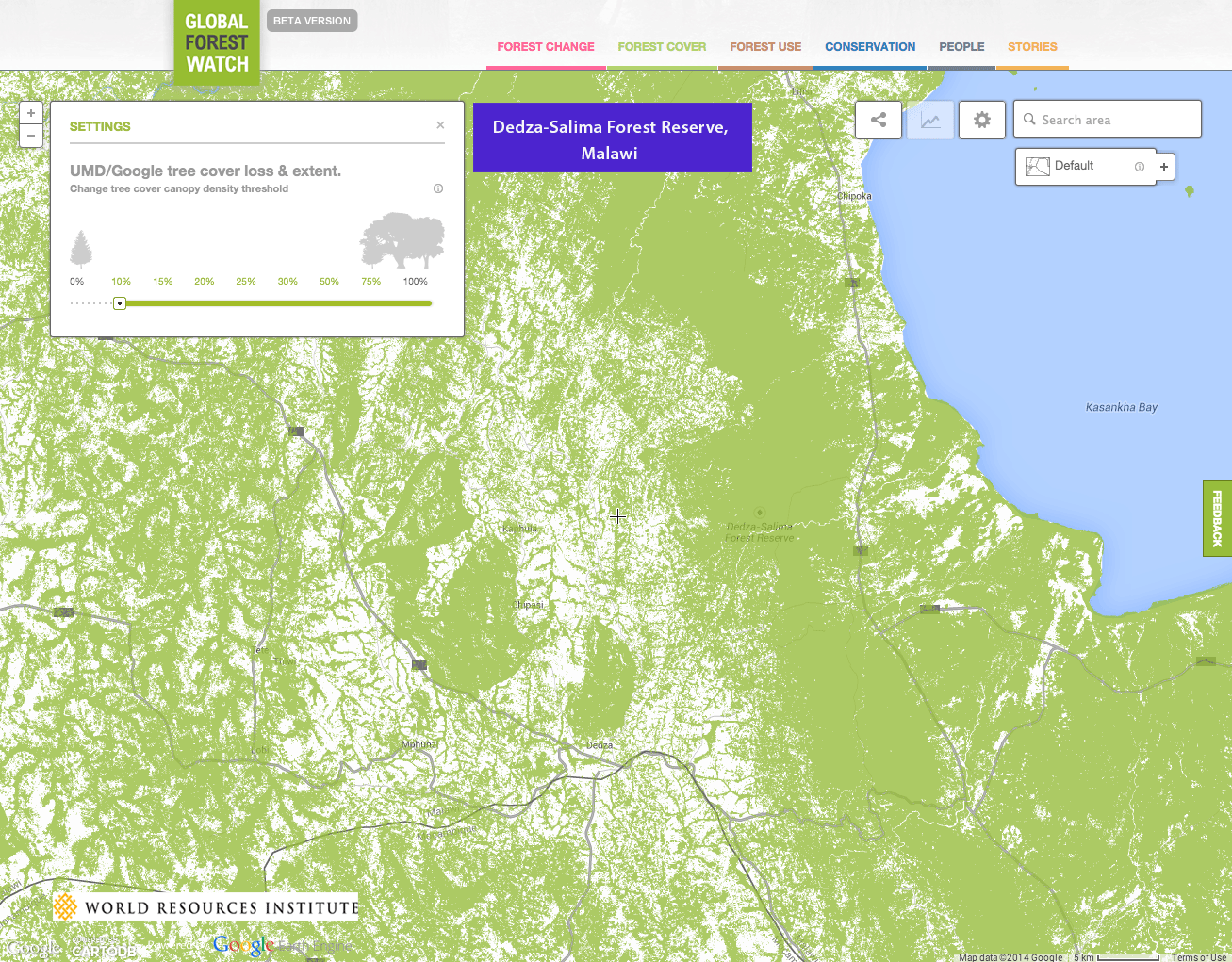 View this location on GFW
here
.
---
---