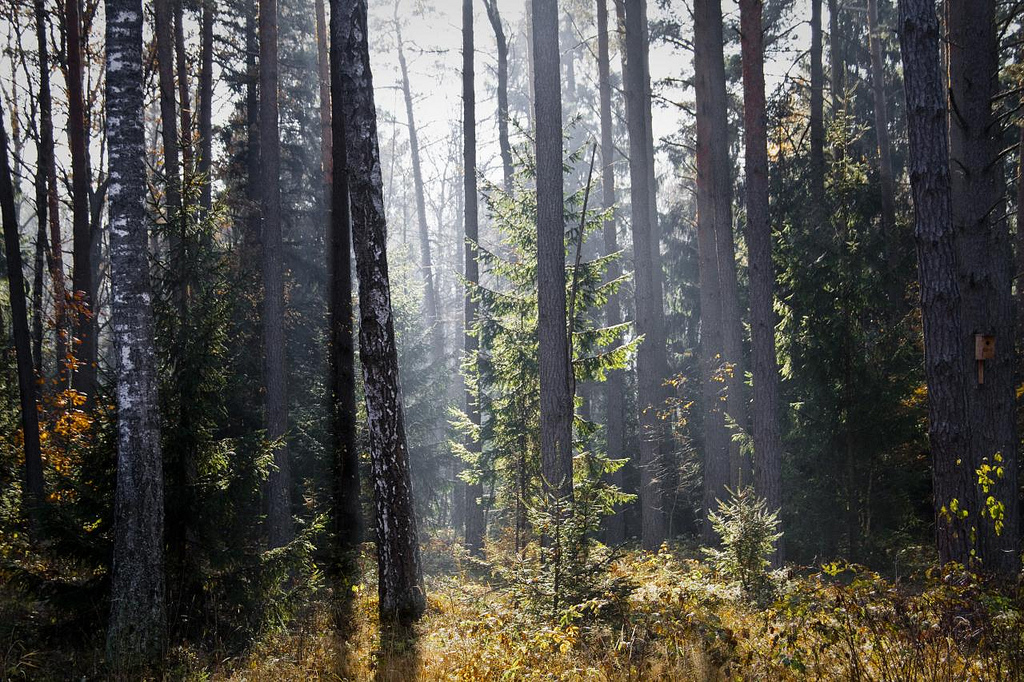 Map of the Week: Large-Scale Logging Threatens Europe's Last Primeval Forest
By Liz Cole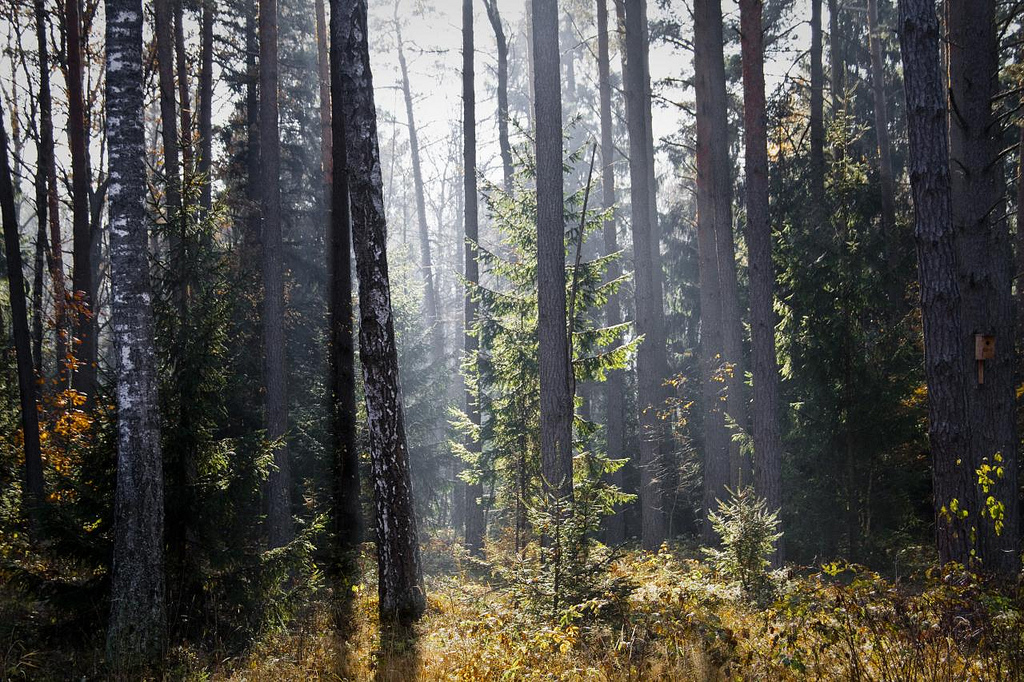 Białowieża Forest in Belarus. Source: Marc Veraart (
Flickr
).
One of the world's oldest and largest primeval forests is under threat due to recent approval of industrial logging in Poland. Spanning the border of Poland and Belarus, the Białowieża Forest is the last of the lowland forests, which covered all of Europe following the ice age. Since 1979, Białowieża National Park, the Polish side of the forest, has been on the World Heritage List  as a globally significant  ecosystem for conservation—it's home 20,000 species, including bison, lynx, wolves and other species that have vanished from the rest of Europe as their habitats retreated to what remains today. In 1992 this recognition was extended to include Belovezhskaya Pushcha on the Belarus side.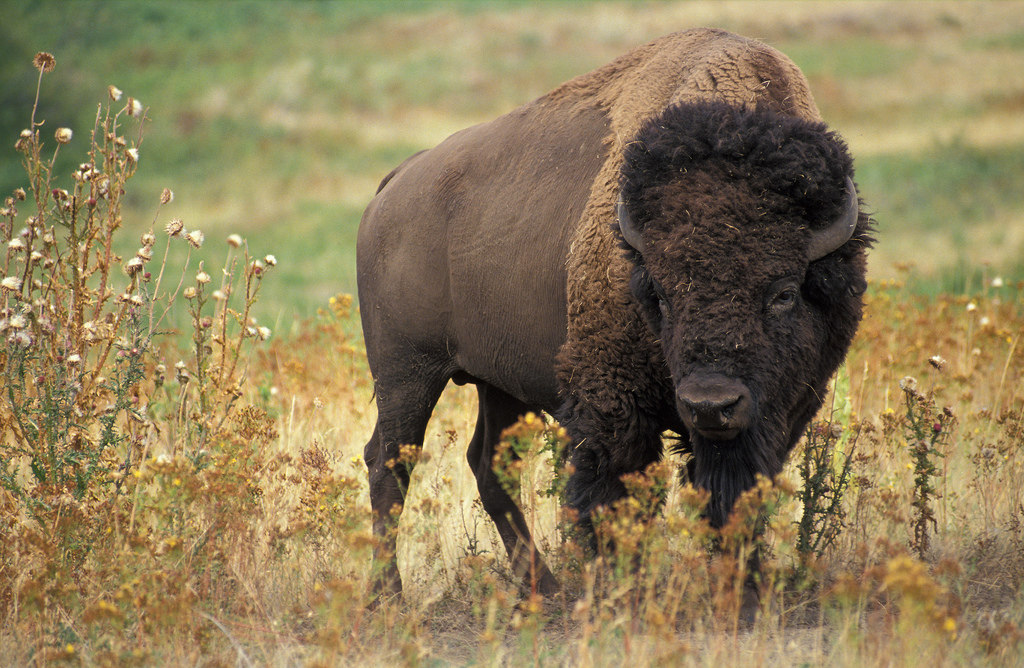 Bison in a field. Source: Kabsik Park (
Flickr
).
In addition to its importance to biodiversity, Białowieża's resources have supported local communities for centuries. Despite all this, only 16 percent of this valuable forest was protected as of 2014. The recent move by Poland will open up swaths of the Białowieża forest to large-scale logging. Experts warn that such activity will threaten the forest's native species. Using the protected areas data on Global Forest Watch, we can see the effects selective logging and clearing have had in the park already as indicated by the patches of tree cover loss in pink.
Though there are patches of tree cover gain, their geometric shapes suggest that these trees were planted as part of a managed logging area and not natural regrowth. This is especially clear in the Southwest corner of the park where tree cover change occurs in strips. These changes are just outside of the World Heritage Site boundaries, but still occurs within a protected area.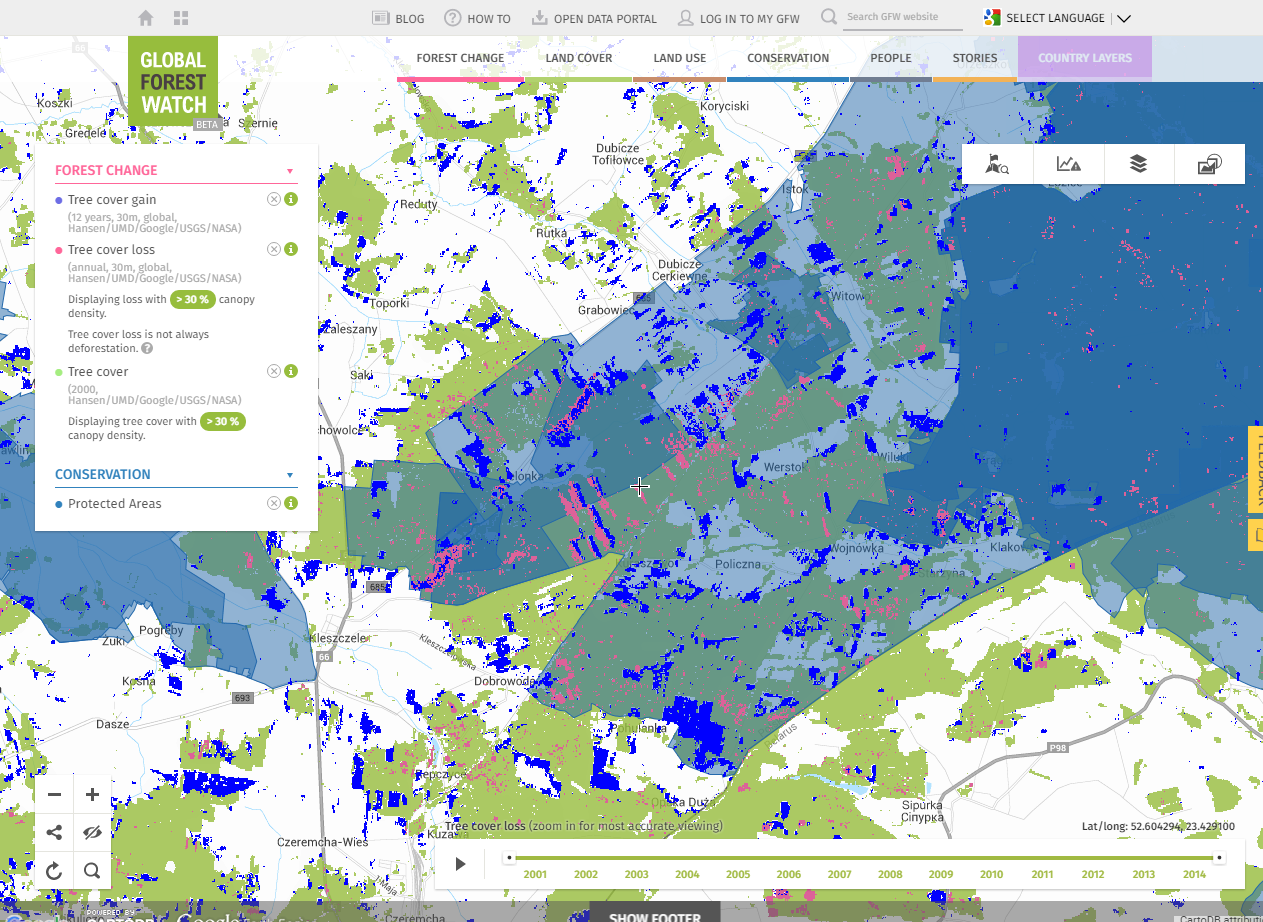 Tree cover loss and gain in the Southwest corner of the Białowieża National Park show up in strips, suggesting the area is managed.
Users can sign up for automatic alerts to see how the new logging policy will affect the Białowieża Forest. Continual monitoring of this area, along with cross-boundary cooperation will be key to conserving this invaluable ecosystem.
---
BANNER PHOTO: Białowieża Forest in Belarus. Source: Marc Veraart (
Flickr
).
---
Latest articles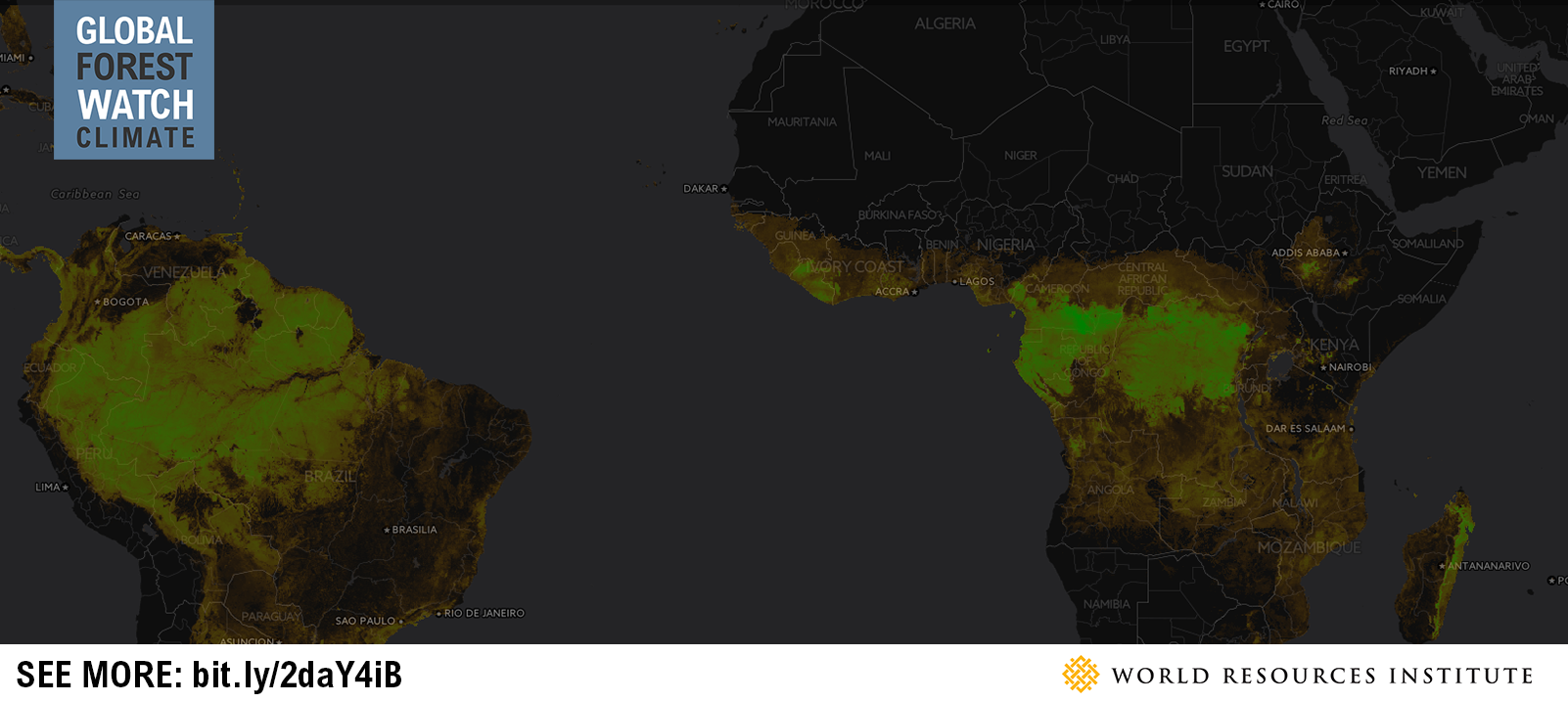 Map of the Week: Tracking Logging Roads in the Congo Basin
By Sofia Soto Reyes Western Lowland Gorilla (in captivity). Source: Heather Paul (Flickr). License available here. Located in western equatorial Africa is a vast expanse of green that blankets six Congo Basin countries: Cameroon, Central African Republic, Equatorial Guinea, Gabon, Democratic Republic of the Congo and Republic of the Congo. Second only to the Amazon rainforest […]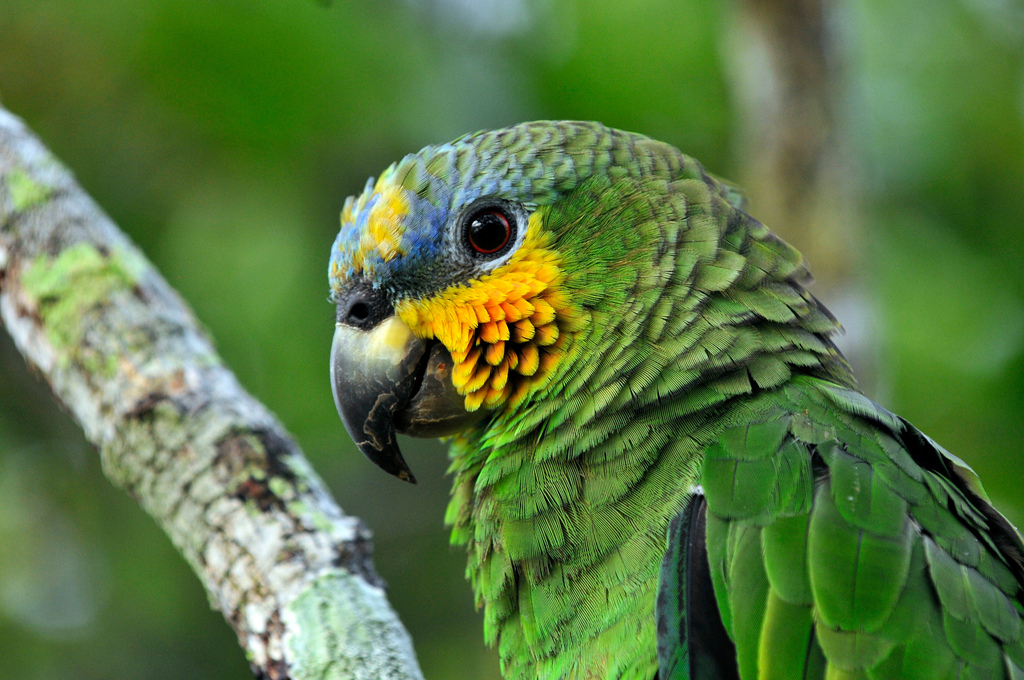 Map of the Week: GLAD Alerts show recent loss in Brazil's Jamanxim National Park
By Sofia Soto Reyes Parrot in the Amazon, Brazil. Source: Neil Palmer/CIAT for Center for International Forestry Research (CIFOR/Flickr). License available here. The Amazon Rainforest is home to one-tenth of all plant and animal species on the planet and produces one-fifth of all the oxygen we breathe. Monitoring and protecting such a rich natural resource […]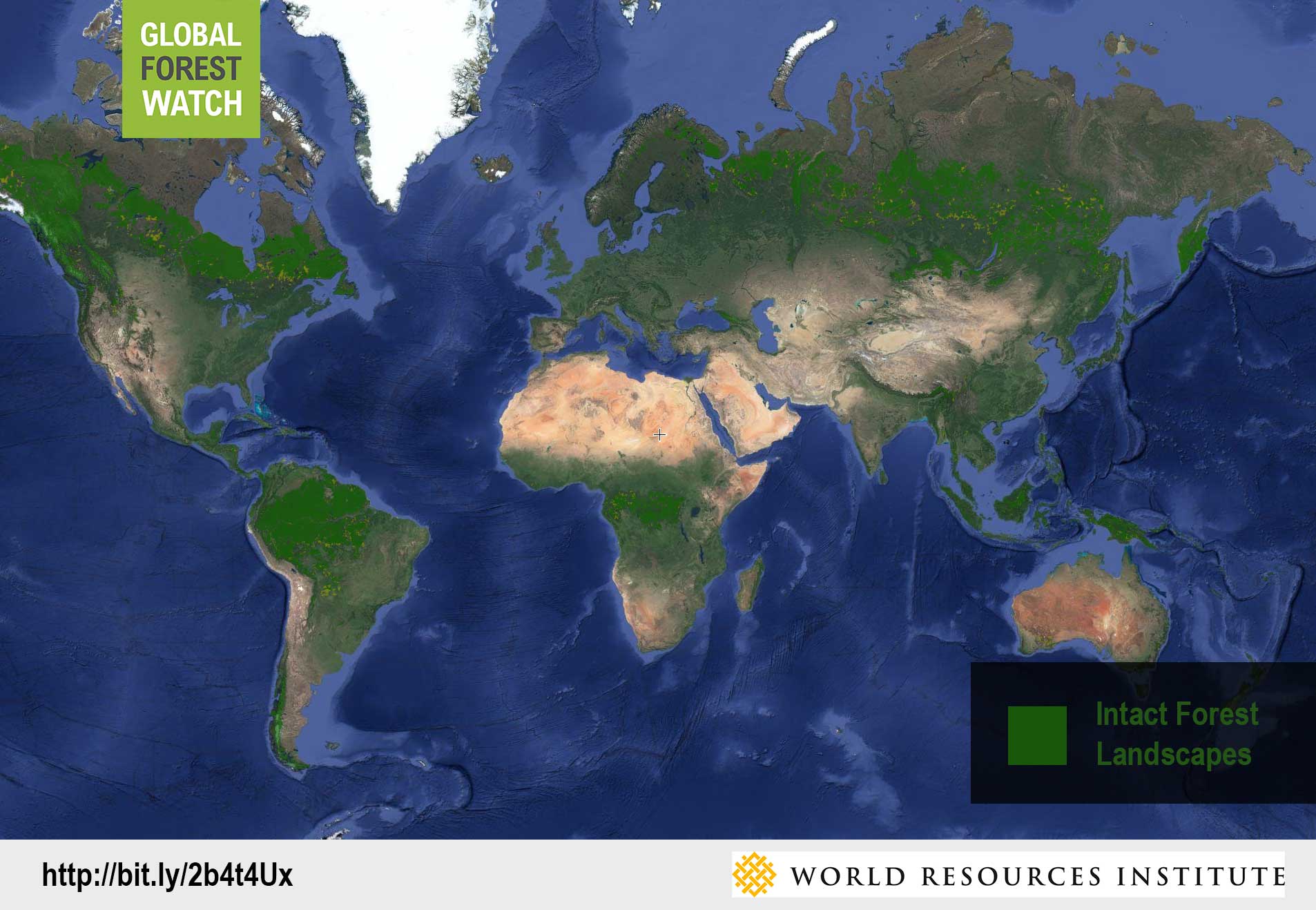 Map of the Week: Using GLAD Alerts to monitor Intact Forest Landscapes in Peru
By Sofia Soto Reyes Peru ranks as one of the ten most biodiverse countries on the planet, with more than half of its territory made up of the Amazon Rainforest. The Ucayali region, named for the Ucayali River, which serves as the main mode of transport for Peru's timber trade, flows through a part of the Peruvian Amazon that is designated as an Intact Forest Landscape (IFL). Global Forest Watch's Intact Forest Landscapes layer displays the extent of world's last remaining undisturbed forests, […]