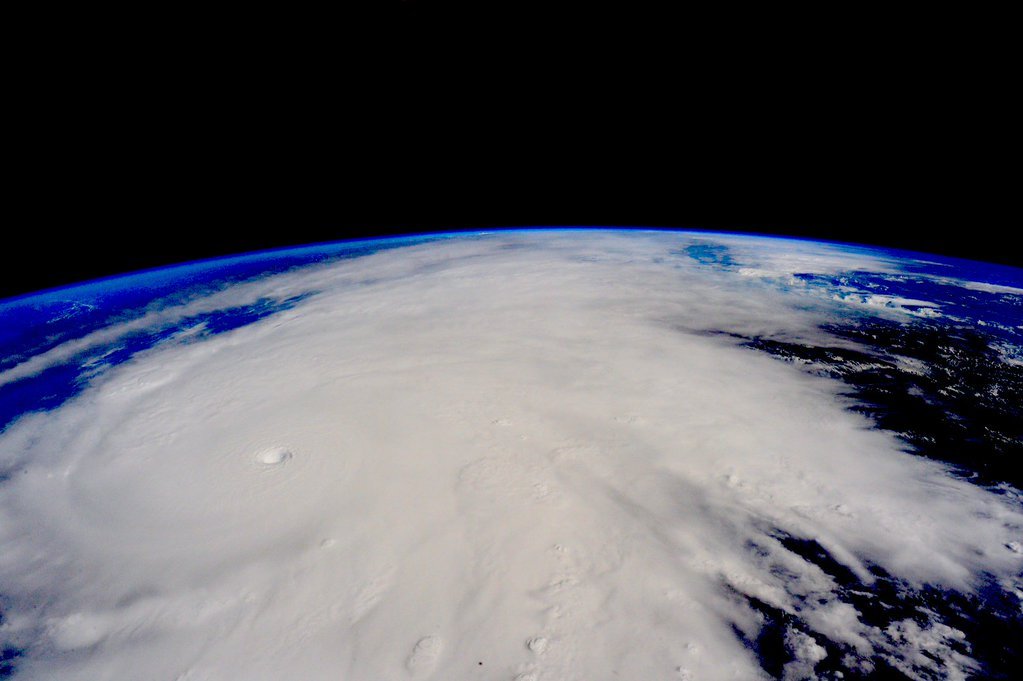 Map of the Week: Tracking Hurricane Patricia in Near Real-Time
Tracking Hurricane Patricia in Near Real-Time  As Hurricane Patricia – the strongest hurricane ever recorded – prepares to make landfall in Mexico, people everywhere can use Global Forest Watch tools to track hurricane winds in the face of this critical national emergency. Global Forest Watch Fires uses data from the U.S. National Oceanic and Atmospheric Administration (NOAA) to visualize wind direction in near real-time, updated every 8 hours. Using this data, anyone with an internet connection can see Hurricane Patricia inch closer to the Mexican Coast between Puerto Vallarta and Colima, with terrifying strength and speed. This dynamic data gives citizens the power to track environmental change on their own, without waiting for government updates or media reports to interpret information that directly affects them.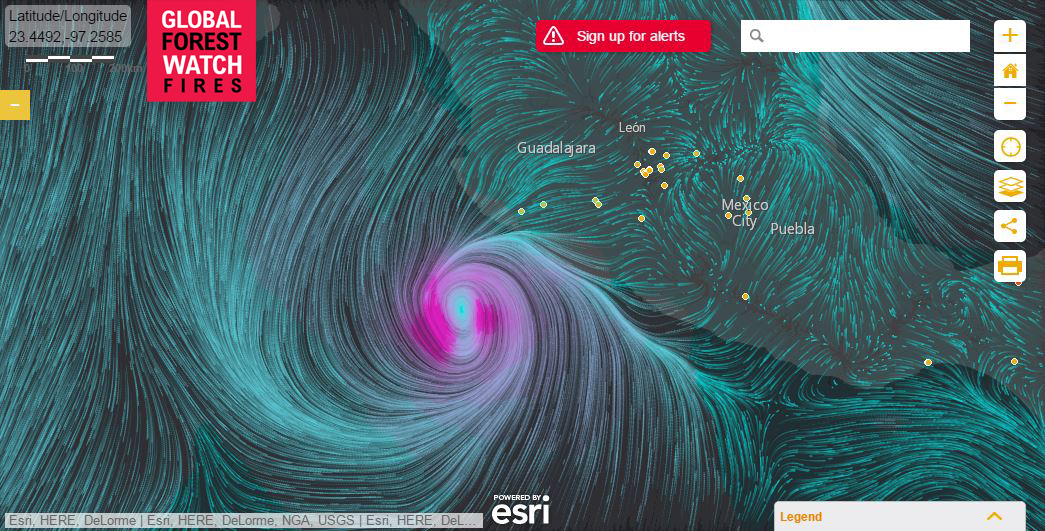 See motion data on GFW Fires
CNN reports Hurricane Patricia is on track to pick up speed once it makes landfall, then weaken over the mountains of Mexico. Global Forest Watch offers terrain maps, which indicate the low-lying area between Puerto Vallarta and Colima could experience significant damage before hitting the mountain range near Autlán.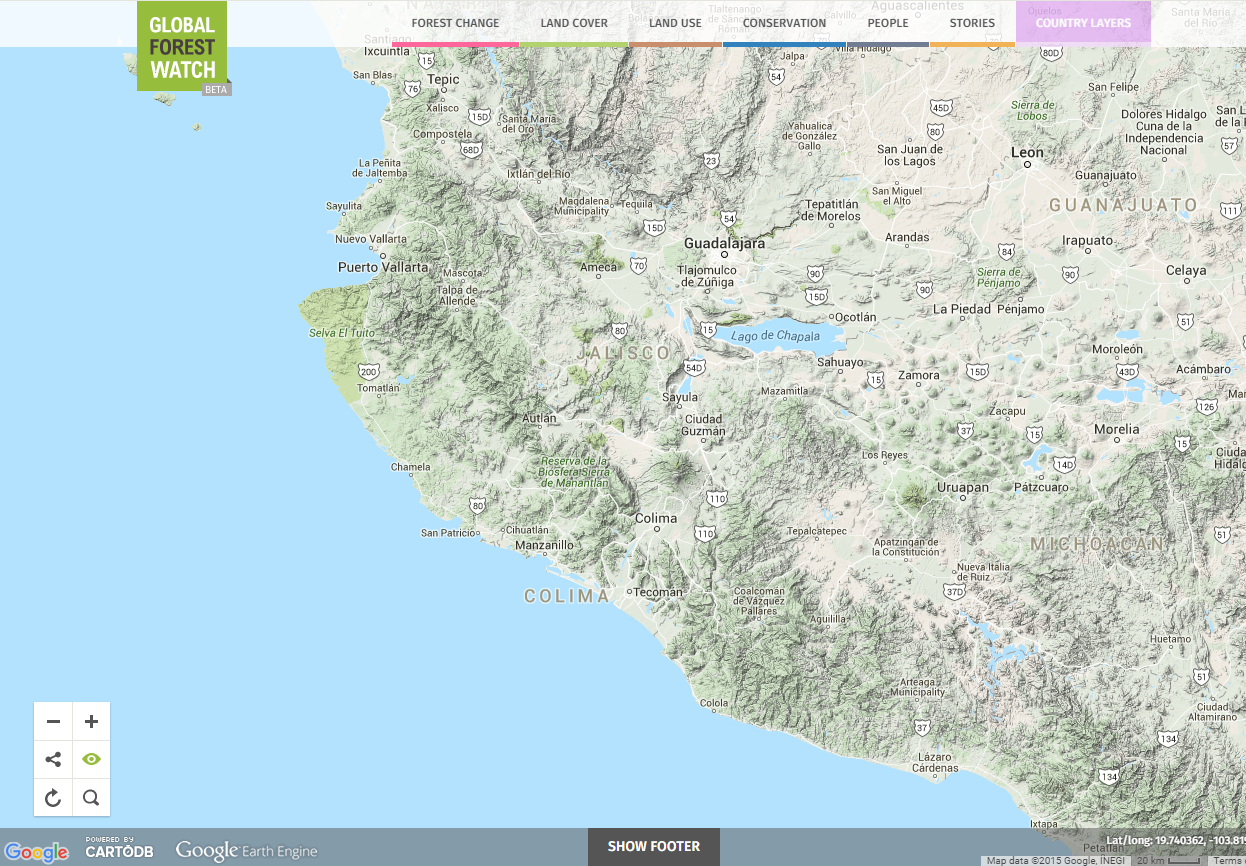 When looking at the Global Forest Watch map, we can see this area is has high tree cover, and could potentially impact forests that act as natural barriers to coastal erosion. Typhoon Haiyan in 2013 resulted in significant tree cover loss in the Philippines, which was clearly visible on the GFW map. Using Terra-i alerts, which track monthly tree cover loss at a 250 meter resolution, we can see there are currently no alerts for this area on the map. Hopefully when we check back in one month, there will have been minimal damage from this storm and to these precious forests that sustain the livelihoods of millions.
Global Forest Watch platforms give citizens everywhere the power to track environmental change in near real-time. As Hurricane Patricia nears landfall, hopefully this easy-to-use information will offer valuable insight to the preparations and the safety of those affected by the storm. As storms of this magnitude continue over time, GFW alerts like Terra-i will likewise offer insight as to how extreme weather affects valuable forests around the world.
---
BANNER PHOTO: Scott Kelly/NASA Space Station.
---
Latest articles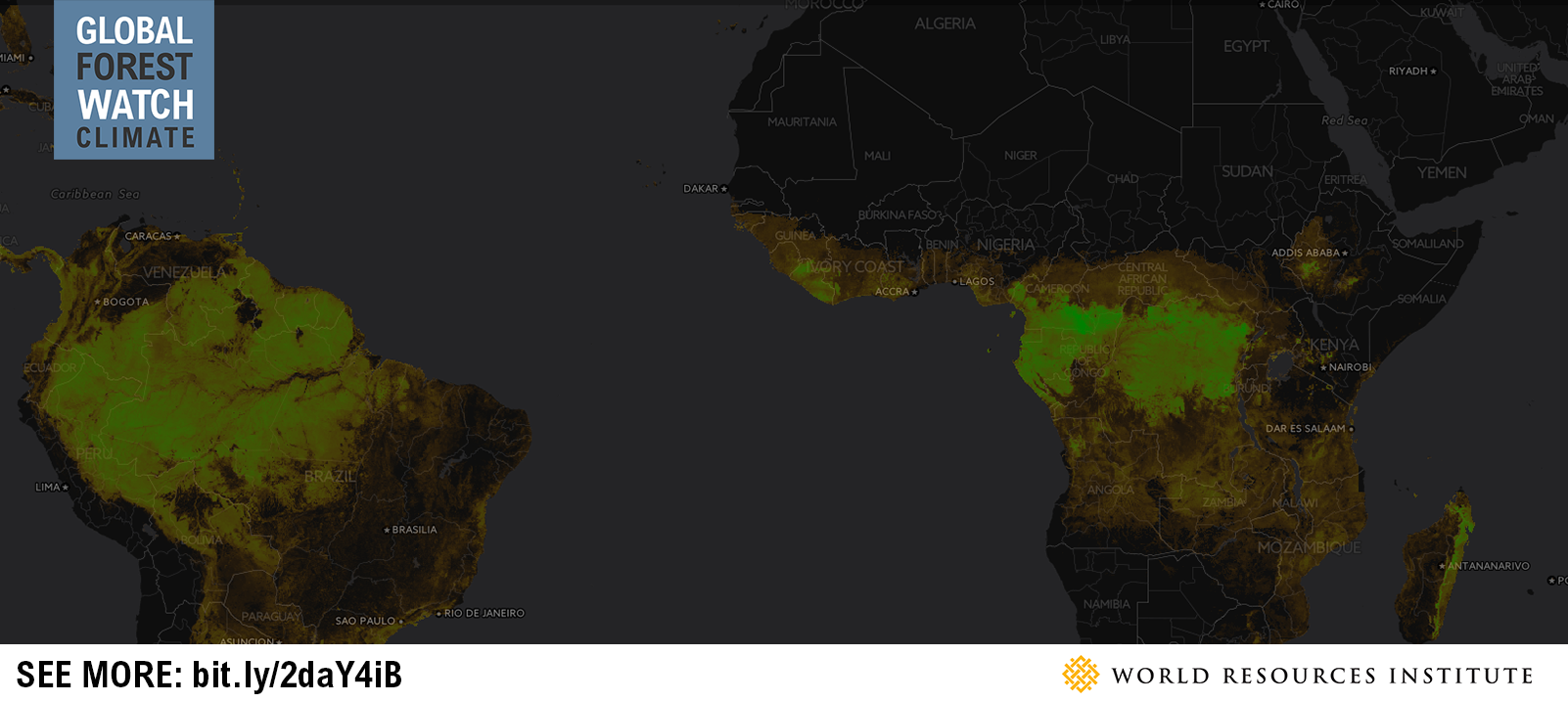 Map of the Week: Tracking Logging Roads in the Congo Basin
By Sofia Soto Reyes Western Lowland Gorilla (in captivity). Source: Heather Paul (Flickr). License available here. Located in western equatorial Africa is a vast expanse of green that blankets six Congo Basin countries: Cameroon, Central African Republic, Equatorial Guinea, Gabon, Democratic Republic of the Congo and Republic of the Congo. Second only to the Amazon rainforest […]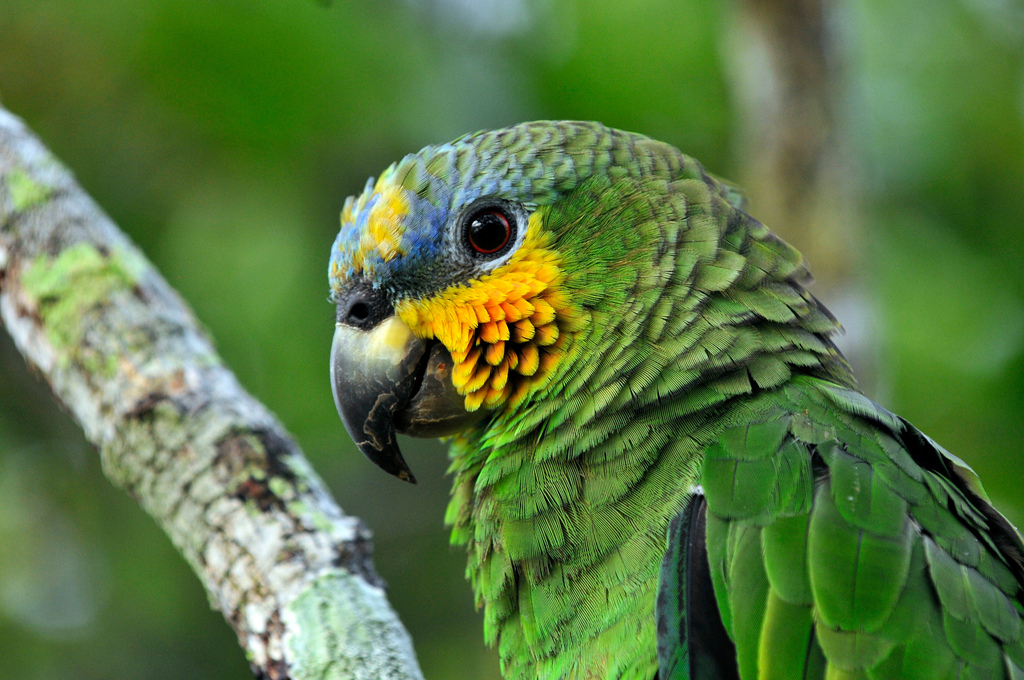 Map of the Week: GLAD Alerts show recent loss in Brazil's Jamanxim National Park
By Sofia Soto Reyes Parrot in the Amazon, Brazil. Source: Neil Palmer/CIAT for Center for International Forestry Research (CIFOR/Flickr). License available here. The Amazon Rainforest is home to one-tenth of all plant and animal species on the planet and produces one-fifth of all the oxygen we breathe. Monitoring and protecting such a rich natural resource […]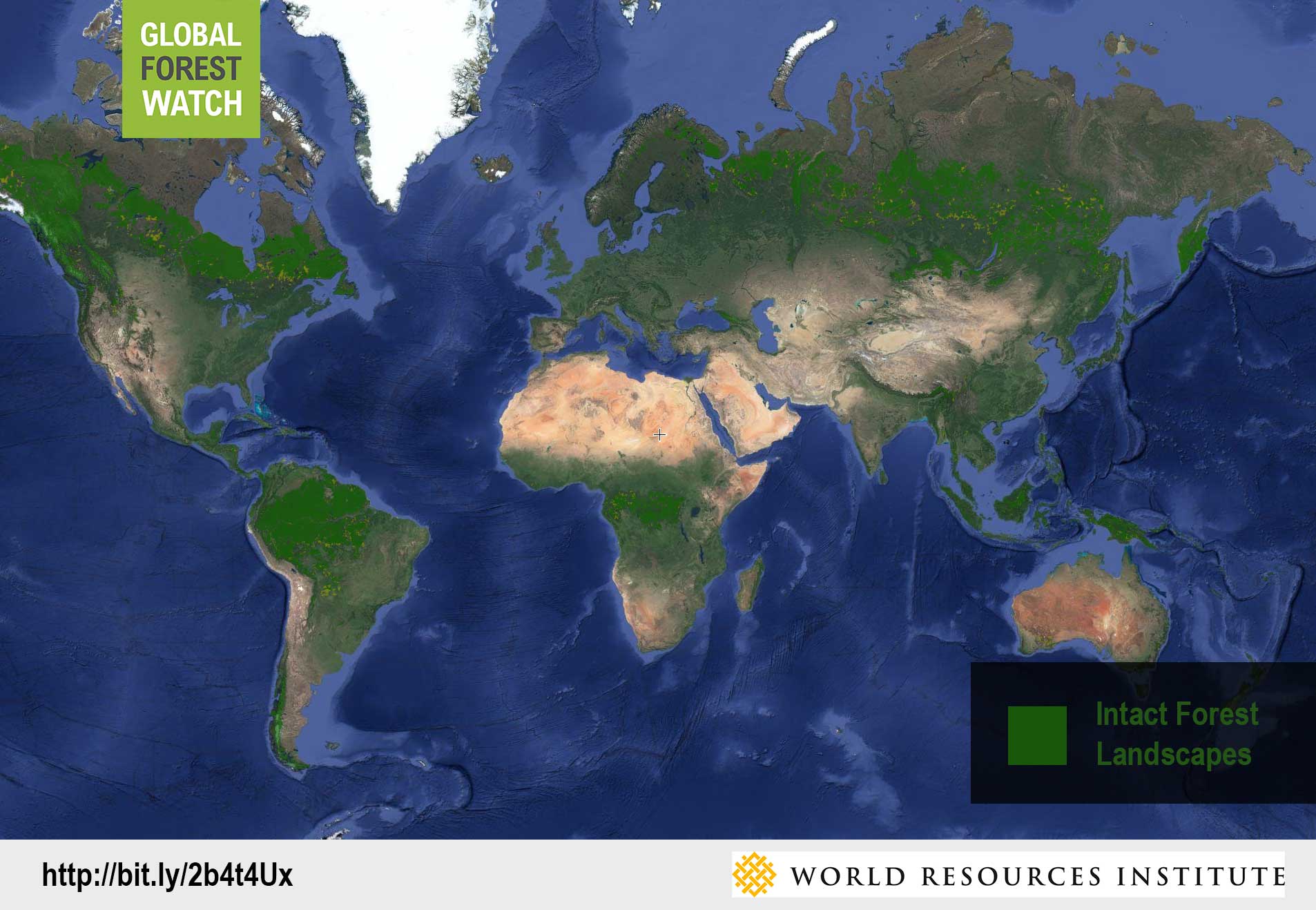 Map of the Week: Using GLAD Alerts to monitor Intact Forest Landscapes in Peru
By Sofia Soto Reyes Peru ranks as one of the ten most biodiverse countries on the planet, with more than half of its territory made up of the Amazon Rainforest. The Ucayali region, named for the Ucayali River, which serves as the main mode of transport for Peru's timber trade, flows through a part of the Peruvian Amazon that is designated as an Intact Forest Landscape (IFL). Global Forest Watch's Intact Forest Landscapes layer displays the extent of world's last remaining undisturbed forests, […]