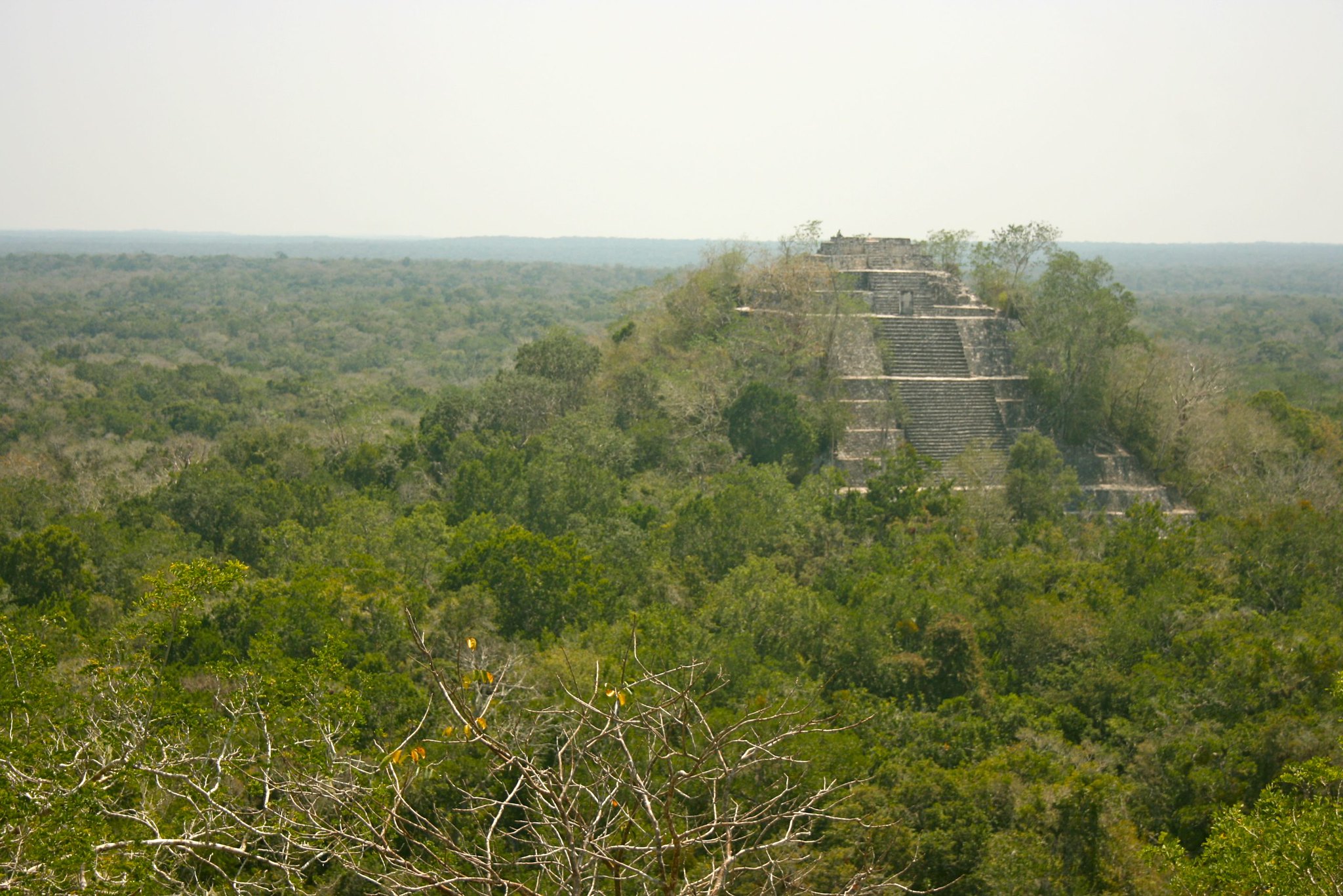 30 Years of Forest Protection in the Yucatán Peninsula
---
Pronatura Península de Yucatán A. C. is one of Global Forest Watch's (GFW) 2019 small grants fund recipients. The Small Grants Fund provides financial and technical support to organizations working in the tropics to turn forest monitoring information into action using GFW. As of March 2020, Pronatura Península de Yucatán A. C. is celebrating its 30th anniversary.
---
The Maya Forest stretches for 35 million hectares across Mexico, Guatemala and Belize. This expanse of tropical rainforest is the largest forest in Mexico and second largest tropical rainforest in Latin America after the Amazon. Most of Mexico's portion of the Maya Forest falls within the Yucatán Peninsula— the heartland of the ancient Mayan Civilization. Thousands of archaeologically significant ruins are scattered throughout the region and the forests provide a home to some iconic endemic species, like the Yucatán parrot, in addition to forming the region's major carbon sink. 
Yet Mexico's Maya Forest is losing over 80,000 hectares of tree cover per year, largely due to cattle ranching, pasture expansion, commercial and small-scale agriculture and forest fires. Modern development projects proposed for the area, like the Mayan Train, pose additional challenges for protecting this forest ecosystem. Fortunately, organizations like Pronatura Península de Yucatán A.C. are on the frontlines protecting the Maya Forest, using their connections with local communities and governments to get forest monitoring data into the right hands.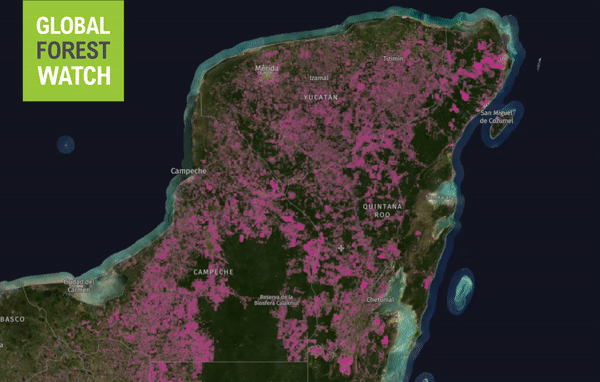 Tree cover loss (pink) in the Yucatán Peninsula 2001-2018.
Human activity threatens key biosphere reserves
Between 2001 and 2018, the three states that comprise the Mayan Forest— Quintana Roo, Campeche and Yucatán— lost approximately 1.5 million hectares of tree cover. Pronatura's work is focused on preventing further loss by defending three biosphere reserves in the peninsula: the Calakmul Biosphere Reserve, the Ría Lagartos Biosphere Reserve and the El Zapotal Conservation Area, which is privately owned and managed by Pronatura.
Pronatura has been working in the region for 30 years as of this March. After accumulating an abundance of biodiversity data through their work, they created a conservation information center to house and analyze the data. Pronatura uses this wealth of information to support their various other programs including forest fire management, ecotourism and rural development and the management of the Zapotal Conservation Area.
As a Small Grants Fund recipient in 2016 and again in 2019, the organization incorporated GLAD deforestation alerts and biodiversity data available on GFW into a custom online platform called Maya Forest Watch. This platform is designed to map forest conditions in the Yucatán peninsula and provide near-real-time updates on tree cover loss and fires.
"One of the purposes of Maya Forest Watch is to measure changes in deforestation. What we now know is that we are losing [forests in the state of Yucatán] mostly because of cattle ranching and agricultural practices. About 11 percent is due to wildfires," said Efraim Acosta, a project manager for Pronatura.
With Maya Forest Watch, Pronatura can show a simplified yet dynamic picture of environmental changes in the Peninsula — a useful tool for both local governments and communities trying to make land use and conservation decisions. Because of the large percentage of loss due to wildfires, daily fire alerts are a crucial element of the platform. Slash-and-burn agriculture and burning for cattle ranching is common in the peninsula, but winds and buildup of dry vegetation can easily turn controlled burns into out-of-control forest fires. Maya Forest Watch has allowed local officials to respond quickly to wildfires and minimize forest loss.
Communities form the core of forest protection work
Pronatura emphasizes collaboration with the local communities living in the peninsula, especially ejidos — areas of communal agricultural land in Mexico that are owned and managed by local communities— that overlap with biosphere reserves. Pronatura has trained ejido members to use Maya Forest Watch to understand land change dynamics and respond to forest threats including wildfires.
"People that we work with have a lot of field experience…they just don't have the tools or the opportunity or they don't have a voice, so that's something that this project can help to do," said Acosta. Employing geospatial data and monitoring tools has given communities a mechanism to coordinate their responses across the region.
Pronatura has also collaborated closely with federal, state and local officials which has allowed them to continue making strides towards strong forest protections.
"We're acting as the middle person in between the communities and the state governments," said Acosta.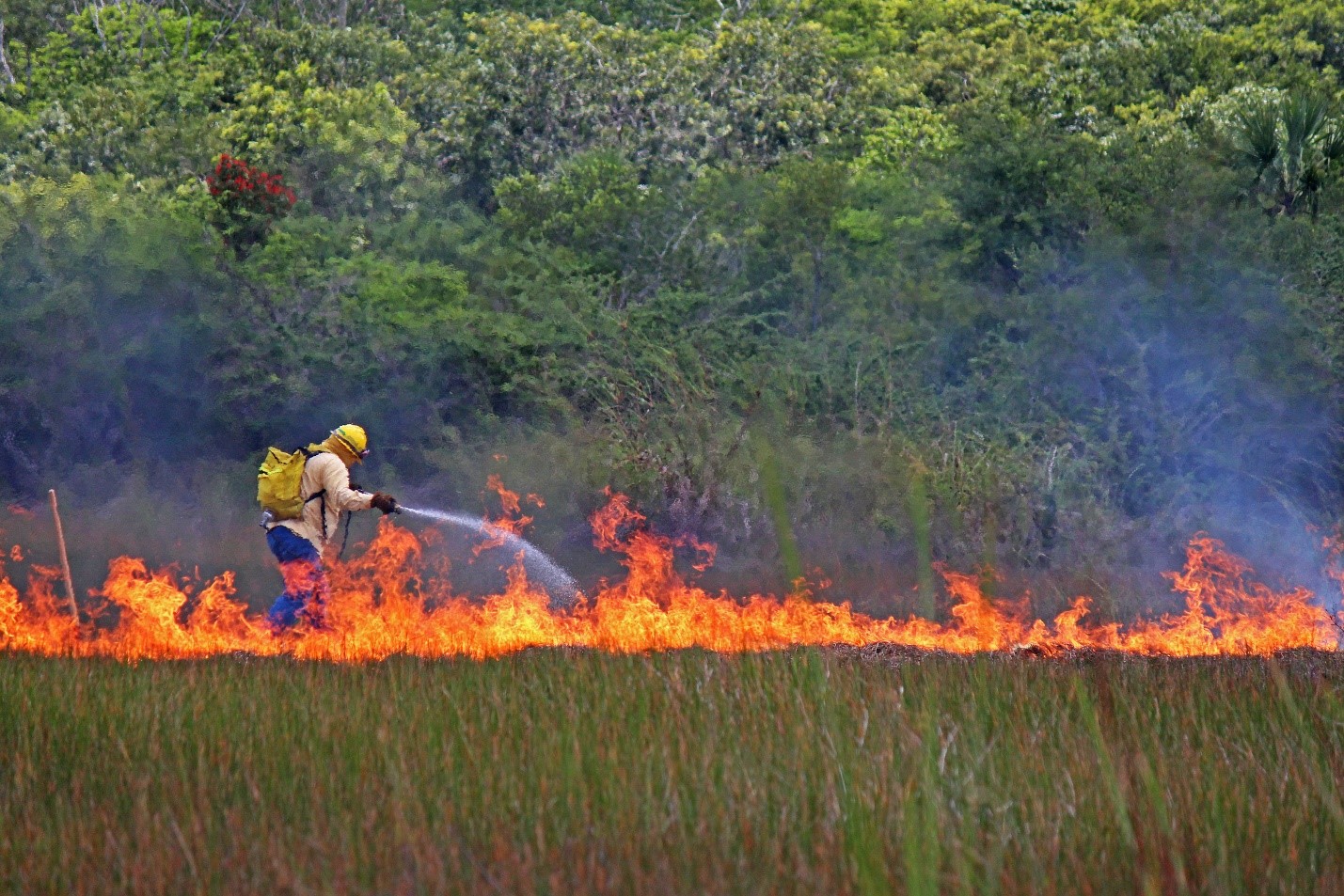 Pronatura has aided communities in coordinating their responses to wildfires, even across state lines. Photo Courtesy of Pronatura Península de Yucatán A.C.
One of the most successful collaborations Pronatura has facilitated has been the coordination of fire brigades across all three states in the Peninsula.
"We have been training wildfire brigades in fire prevention through the use of GLAD deforestation alerts and VIIRS fire alerts with future wildfire risks," said Acosta. The brigades have been monitoring fire alerts, conducting patrols and quelling out of control burns when necessary.
The future of the Yucatán Peninsula
Although the last 30 years have had their share of successes, the road ahead is still paved with challenges.
"There are major threats coming to the Peninsula, not only developments, but also changing policies. Infrastructure projects in the next five years will change landscapes," said Acosta. Not to mention the impacts of climate change that are already being felt across the Peninsula: "The dry season is drier and the wet season is more humid."
Acosta said that despite this, Pronatura will continue to move forward with their projects, leveraging their strong relationships with communities and government officials, and their knowledge and data about the Peninsula.
"The agricultural department is helping figure out how to make these issues more central to policies," said Acosta.
Ultimately, Pronatura remains optimistic.
"We're hopeful that we can put environmental awareness to the development policies so now future progress can be done better," said Acosta. "Do more with less, which is kind of the government motto right now, and see where we can help."
---
---