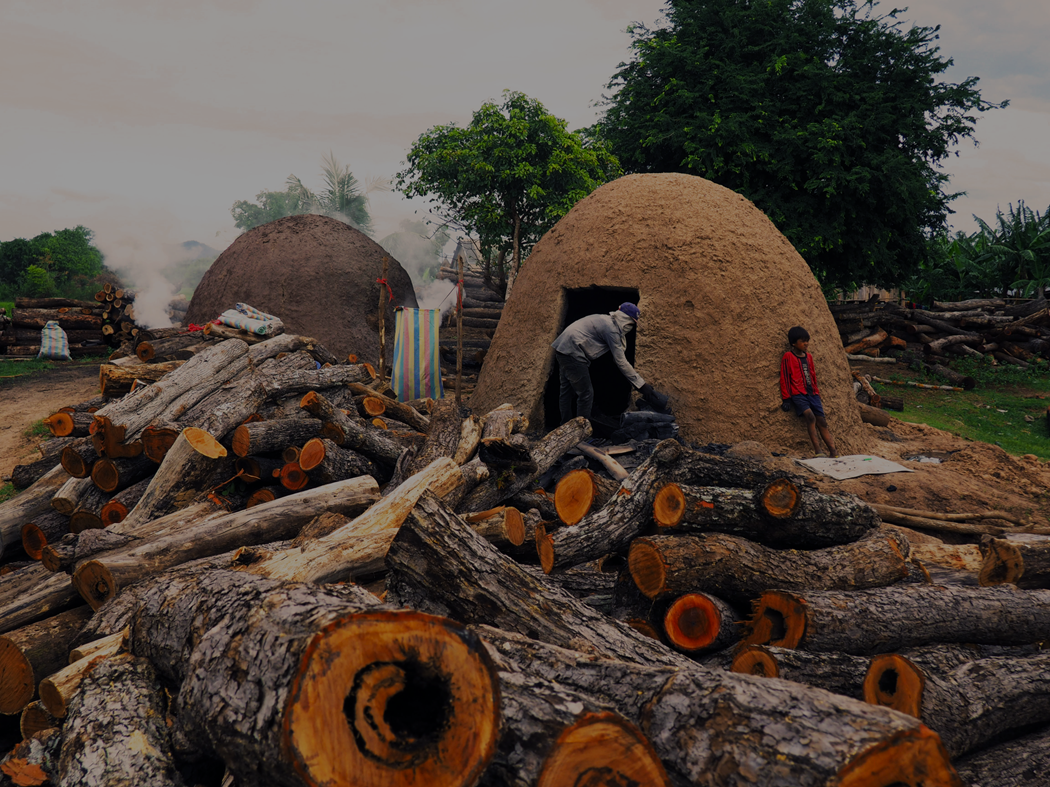 Announcing Recipients of Small Grants Fund 2015
Global Forest Watch (GFW) is thrilled to announce the 2015 recipients of the Small Grants Fund! This year we received applications from over 450 civil society organizations proposing to apply GFW data and technology to improve forest management and governance. After a month of review, we selected 13 exceptional organizations to receive support from GFW through the end of the year to carry out their projects.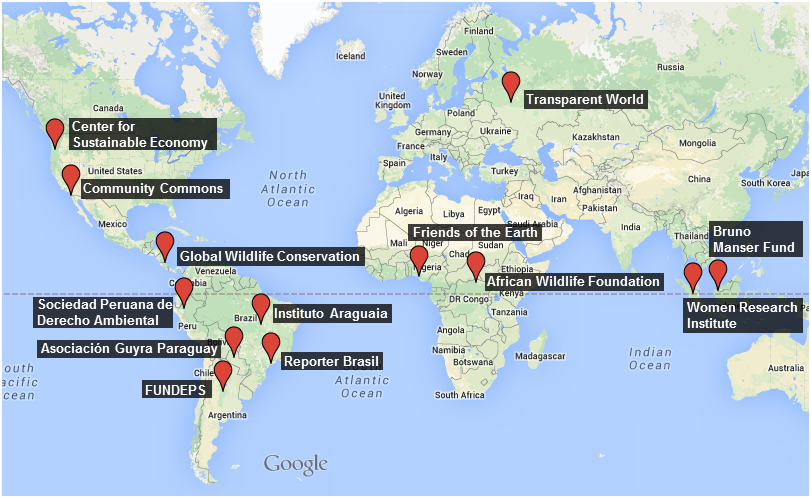 Our 2015 Small Grants Fund recipients are located around the world.
Click to enlarge
.
This year's applicants will engage in a variety of activities, from evidence-based advocacy supported by aerial imagery to protected area management through the development of an SMS alert system. We are excited to see results from such a diverse group of recipients in the coming months. Read on to learn more about the work that GFW is funding in 2015.
Governance and advocacy
GFW is democratizing forest management on a global scale. Women Research Institute (Indonesia) will use GFW to empower women to conduct evidence-based advocacy to promote greater transparency in the palm oil industry. The Center for Sustainable Economy (USA) will train local citizens to help enforce existing laws, advocate for forestry policy reform, and hold timber companies accountable to consumers and investors. FUNDEPS (Argentina) will advocate for improved forest management in the Gran Chaco Argentino forest by supporting a government-appointment commission in their monitoring and enforcement efforts.
Storytelling
Global Forest Watch enables the wide dissemination of forest information. Reporter Brasil (Brazil), an environmental journalism organization, will use GFW data and graphics to write a series of stories about the true impact of hydroelectric dam development on forest cover in the Amazon. Community Commons (US/Russia) will establish an online learning environment based on the GFW platform. Two classes of high school students from the USA and Russia will share information about local land-use change with their overseas peers, enhancing the existing cross-country story-telling exchange networks established within the GlobalSchoolNet project.
On-the-ground forest management
The following projects will test the GFW platform's capabilities as a tool for professional forest rangers and land managers. The African Wildlife Foundation (DRC) will partner with the Institut Congolais pour la Conservation de la Nature (Congolese Wildlife Authority) to train the chief warden and patrol leaders in using GFW to protect a large swath of the Bili Uele Protected Area Complex in the Democratic Republic of Congo. Sociedad Peruana de Derecho Ambiental (Peru) is developing an SMS alert system for managers of private protected areas in the Amazonas region of north-western Peru using GFW's FORMA data. Global Wildlife Conservation (Nicaragua) is creating a Forest Ranger Program that trains indigenous peoples to use GFW to plan patrol routes around areas threatened by illegal deforestation.
Mapping, mapping, and more mapping!
GFW will support a number of organizations that set out to map and compile information on land use and land-use change. The Bruno Manser Fund (Malaysia) will use drones to survey and monitor indigenous lands and document illegal deforestation to support legal cases in Borneo. Friends of the Earth International (FOE) (Nigeria) will map land concessions in three forest reserves in Nigeria. FOE will use these maps to help local communities decide upon appropriate policies to halt deforestation, provide fair compensation to effected communities and recognize community rights. Asociacion Guyra Paraguay (Paraguay) will use Landsat images to map forest cover and change in the Grand Chaco region to validate GFW data and influence environmental policy in the region. Instituto Araguaia (Brazil) will quantify forest loss in the Cerrado—a rare tropical savannah region with high biodiversity—using high-resolution satellite imagery to alert authorities and the environmental community. Finally, Transparent World (Russia) will compile and surface local spatial data about high conservation value forests (HCVF) to promote informed decision-making in the forest sector across Russia. The projects will begin on May 1, and you can stay up-to-date on Small Grants Fund progress by signing up for the GFW Newsletter. We're eager to see the innovative ways in which these organizations use Global Forest Watch. We know it will be another successful year!
---
Banner photo by GERES.
---