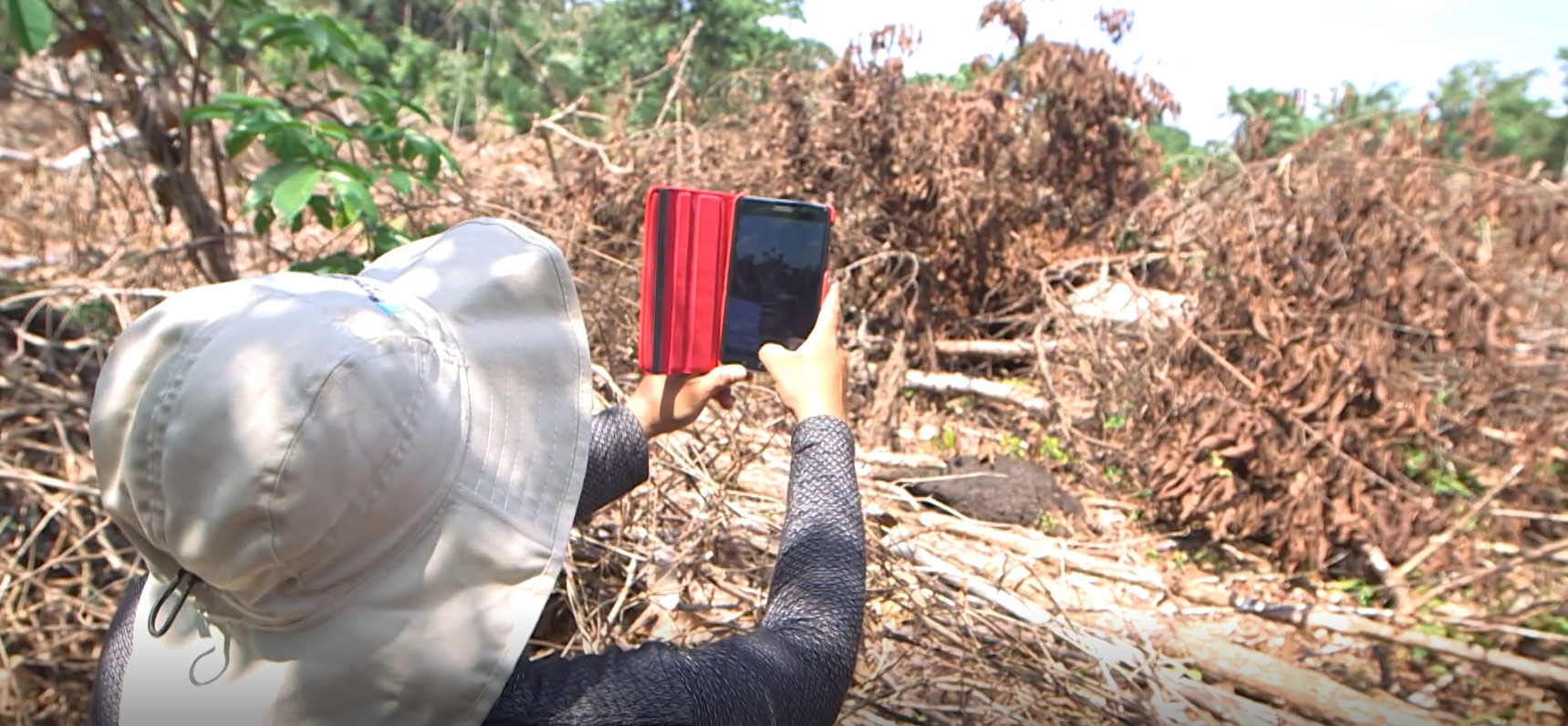 Community monitors in Peru detect and record a clearing in their territory using Forest Watcher.
Forest Watcher Improves Offline Functions for Frontline Forest Defenders
In the height of rainy season in the Amazon, the community monitors of Buen Jardín de Callaru motor along the winding river that cuts through their territory. Betty Rubio Padilla is leading; she and her fellow monitors are on their way to investigate a deforestation alert.
The community received the alert in the Forest Watcher mobile app— a phone app that makes GFW's satellite-derived forest datasets available to users in the field. The available data on recently detected tree cover loss and fires, combined with strong existing knowledge from the community, has made investigating potentially illegal clearings and fires within Buen Jardín de Callaru more efficient. Betty's community has been using Forest Watcher for two years now and has already successfully rebuffed illegal coca plantations encroaching on the edge of their territory.
Despite their successes, there are still challenges for Betty's team – they, like many of our users, are offline in the field for extended periods of time. Previous versions of the Forest Watcher app required each device to be connected to a wireless or cellular network to download new deforestation alerts, meaning teams had to make regular trips carting smartphones back and forth to an area with service.
Understanding these challenges, we've implemented the most significant Forest Watcher app update to date, focused on improving offline functions and customization capabilities for local forest monitors.
The updated version of Forest Watcher, and the data contained in the app can now be shared offline, directly from one device to another. Once one device is updated with the latest alerts, the app and relevant data can be easily shared among devices with the rest of the monitoring community. Tracked routes and reports of deforestation can then be downloaded locally or brought back to an office-based team with internet access who can analyze the data through the Forest Watcher desktop platform.
We've also added the ability for users to upload their own contextual data or custom base-maps to tailor the app to local areas. This may include local roads or trails, local park boundaries, population centers, bodies of water, topographic base maps, high resolution satellite imagery or anything else that may make patrolling and navigation easier.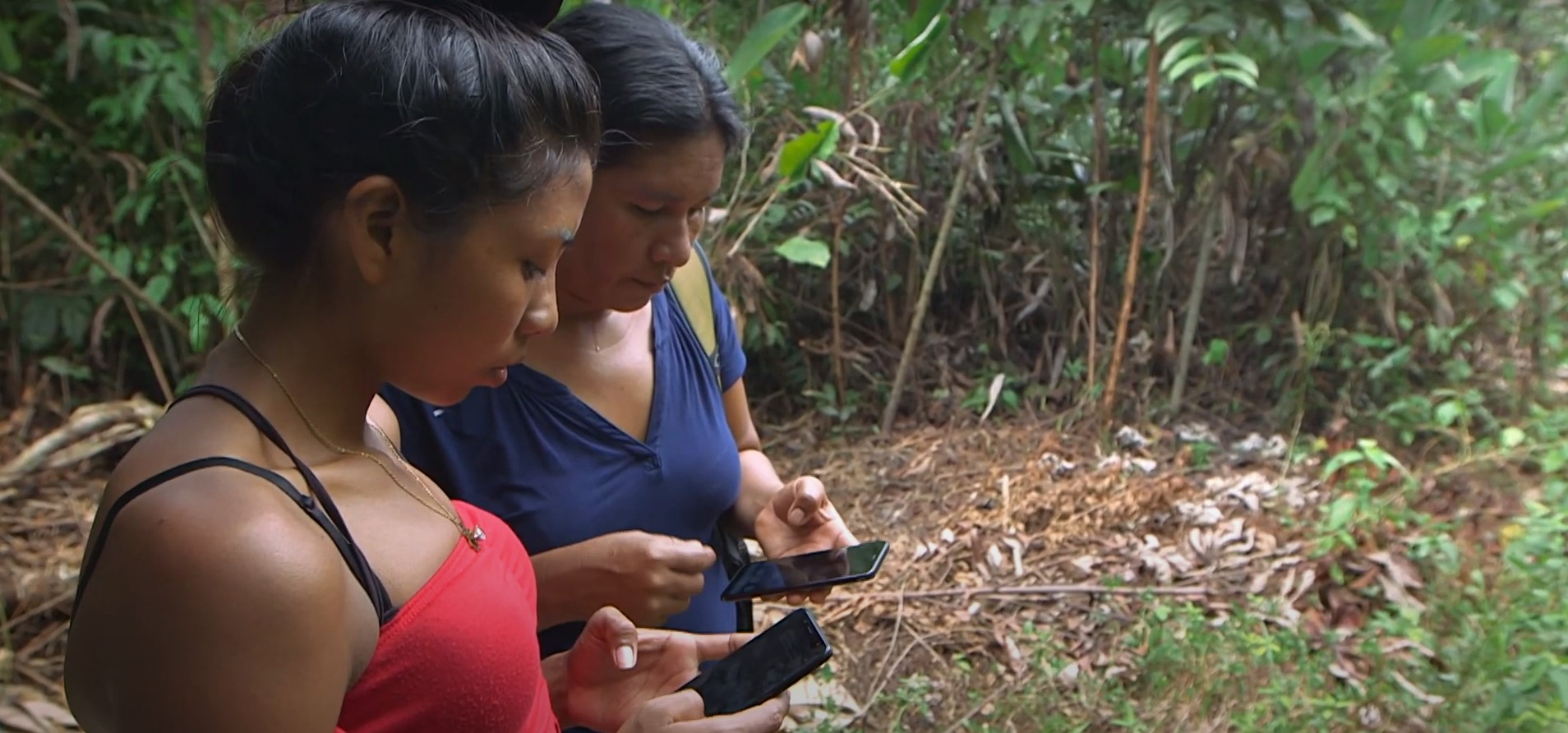 Community monitors from Vista Hermosa, Peru use Forest Watcher to document deforestation in their territory.
These uploads can also be done completely offline. Betty's community can now add files with the boundaries of their territory, so that she and the monitoring team can easily see which deforestation alerts lie inside the boundary and which fall outside. They can use this to prioritize which alerts to investigate.
Other improvements to the app include increasing the size of custom areas that can be analyzed and a more intuitive app interface.
Since the app's launch in 2017, Forest Watcher has continuously evolved to meet the needs of our varied users. Whether it be rangers in Uganda, civil society groups in Madagascar, environmental police in Brazil or Indigenous communities in Peru, Forest Watcher can now better support forest guardians around the world.
For more information about the improvements to the Forest Watcher app, Watch our latest webinar, Forest Watcher: Monitoring Forests Offline and in the Field.
---
---
Latest articles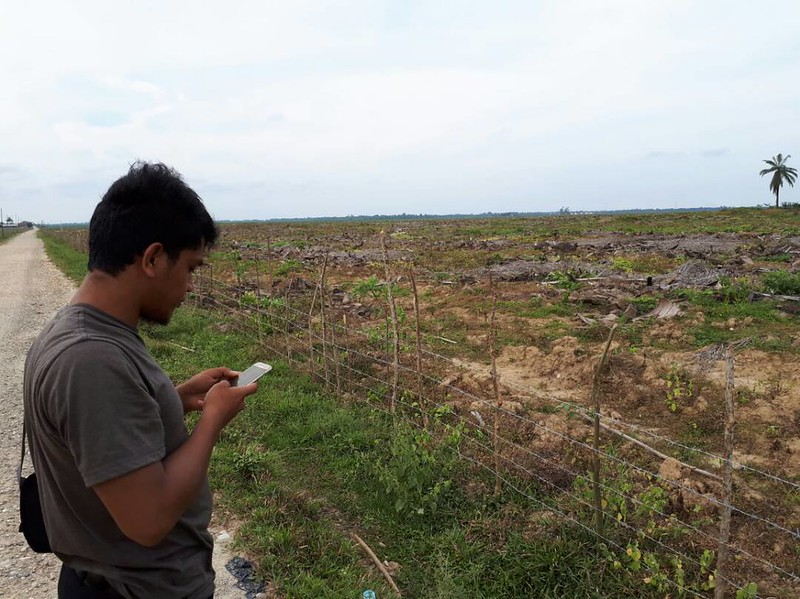 VIDEO: Patrol the Leuser Ecosystem with Forest Defenders at HAkA
It's the last place on Earth where orangutans, Sumatran rhinos and elephants and tigers still roam wild together, and it's under threat. The Leuser ecosystem in Indonesia is a hotspot for biodiversity and a vital carbon sink, but encroachment from logging and oil palm and rubber plantations is eating away at the forest. Forest, Nature and Environment of Aceh (HAkA), an organization dedicated to protecting the environment in Indonesia's […]