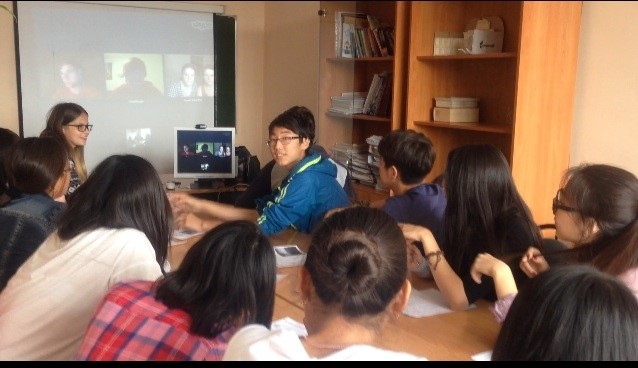 Students in Lyceum 61, Ulan Ude, during the presentation of the project and GWF capabilities over Skype
"Global Forest Link" Platform Uses GFW to Connect Students Around the World
Global Forest Link is an innovative online platform that brings Global Forest Watch (GFW) tools and data into middle and high school classrooms. Managed by two former grantees of GFW's Small Grants Fund (SGF), Global Forest Link empowers students to explore local forests through firsthand experiences, hone their digital communications skills and engage in a multi-cultural dialogue with students around the world.
Global Forest Link was initially developed by Community Commons, an organization that applies information management technologies to create educational programs and promote environmental sustainability. Community Commons piloted Global Forest Link with high school students in the United States and Russia as part of their 2015 SGF project. Using the Global Forest Link guided program, students and teachers followed tutorials on how to use GFW, learned about forest issues, and produced stories on local forests. The pilot project also promoted cross-cultural learning as students in both countries met virtually and shared their forest storytelling projects.  Community Commons then partnered with 2016 SGF recipient Global SchoolNet, an organization that supports education through technology, to bring Global Forest Link to students in additional countries.
Global Forest Link encourages field work, map analysis and storytelling
Global Forest Link is bringing forest education into classrooms through its innovative platform combining GFW data, field work, digital storytelling and cultural exchange. The platform stresses the importance of hands-on exploration, encouraging students to meet with experts in their community, including forest rangers and scientists, to deepen their understanding of issues affecting local forests. Field visits are a critical part of the program, designed for students to compare the forest on the ground with what they've learned from GFW and to take photos and video footage of what they observe.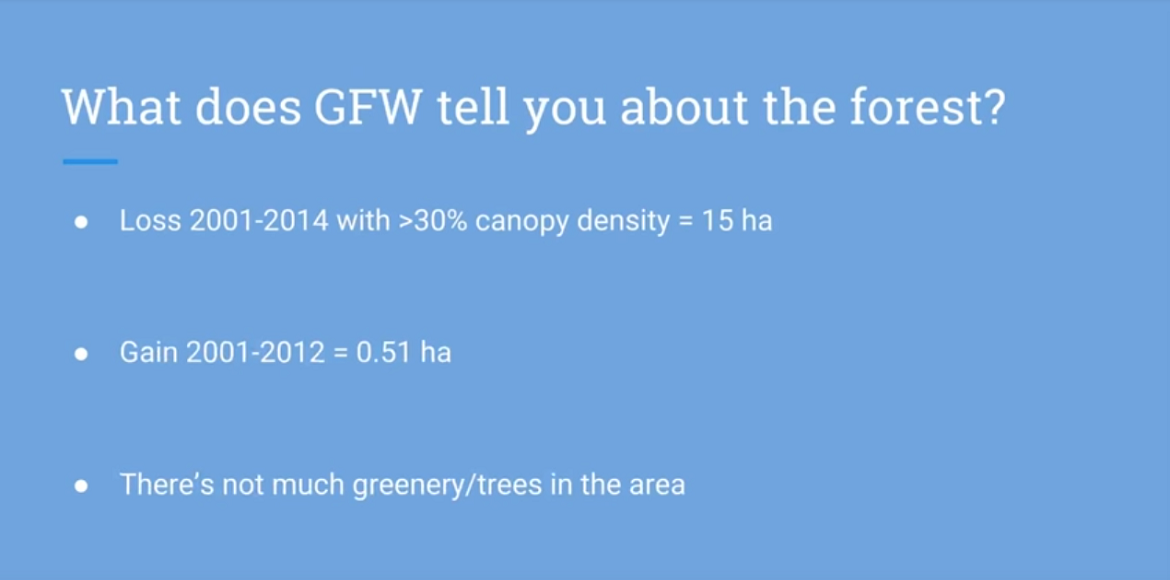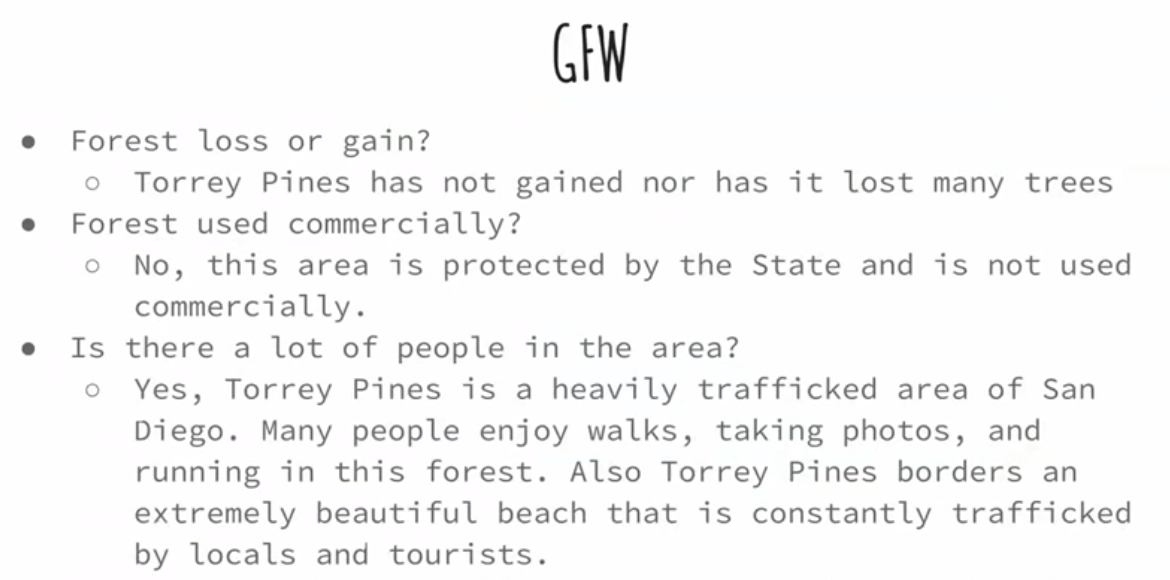 Global Forest Link's program includes trainings on storytelling and communication, and students use materials from their field visits to produce videos, presentations and written reports about a local forest of their choosing. At the end of the program, Global Forest Link publishes the students' stories to its website and even offers storytelling prizes to outstanding student projects. Students' stories have covered a wide range of threats to local forests including fires, droughts, insects, logging and climate change. One video story from 2016 explored the interplay of urban development and surrounding forests in the US city of Chicago. The student conducted and filmed a Twitter Q&A, using his GFW research and photographs from local forests to answer questions such as "how does development in Chicago affect the forests around it?"
A student in Chicago explores the interplay of urban development and forests.
In Taiwan, a group of students produced a story looking at the environmental protection plan of Taipei's FuMing Ecological Park in 2017. The students conducted interviews with their peers and the neighborhood magistrate about the importance of the park's ecological value. They produced footage of their exploration of the park and organized a trash collection to address the issue of littering that they had discovered during their research.
Students in Taipei collect garbage and remove weeds in FuMing Ecological Park.
Cross-cultural collaboration as a central component
The platform's unique focus on international collaboration helps bring students' local experiences to a global conversation with their peers in different countries. Dr. Yvonne Marie-Andrés, CEO and Co-Founder of Global SchoolNet and Director of Education and Outreach for Global Forest Link, explained that "the intent for Global Forest Link was to create a global learning community around the study of forest health." Students around the world meet each other virtually through webinars and exchange information about what is happening in their local forests. For example, in 2016, Russian and American students investigated local forests and jointly published videos and other stories they produced based on their research. Global Forest Link has engaged students in the United States, Ecuador, Hong Kong, Russia and Taiwan.
Learn more and get involved
Global Forest Link is open to anyone; interested schools can simply register on the website. The platform hosts two formal sessions each year that guide participating students through introductory webinars, field research, interviews, story creation, peer review and evaluation. The platform also runs a storytelling competition with awards for best content, most creative and best technical story. Beyond the structured program, students and teachers are encouraged to use the platform anytime through the many self-guided tutorials and resources available on the Global Forest Link website.
---
Photos and videos from Global Forest Link.
---