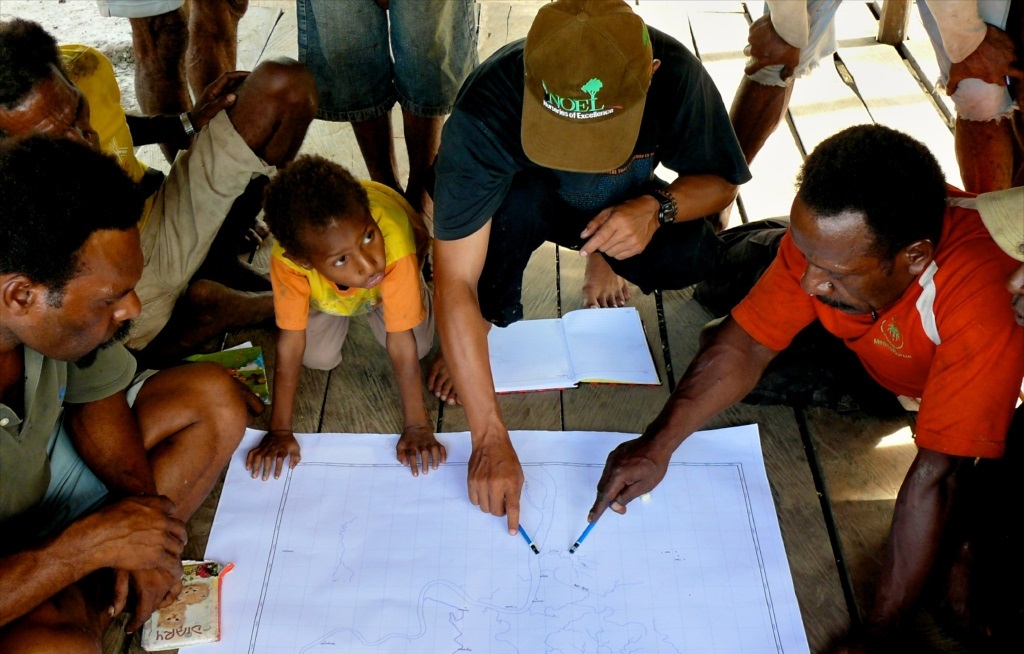 PHOTO: Michael Padmanaba/CIFOR
Global Forest Watch and Earth Journalism Network Announce Partnership
The World Resource Institute (WRI) and Internews' Earth Journalism Network (EJN) are pleased to announce a partnership to integrate EJN's database of geo-tagged stories from its GeoJournalism sites, including InfoAmazonia in South America and Ekuatorial in Indonesia, into the cutting-edge Global Forest Watch platform. Utilizing the JEO platform and its "story API," Global Forest Watch now automatically integrates stories from journalists closest to forest change into the interactive online forest monitoring and alert system.  This unique partnership is the first time that comprehensive, updated global data about significant natural resource issues will be automatically married to local and regional narratives.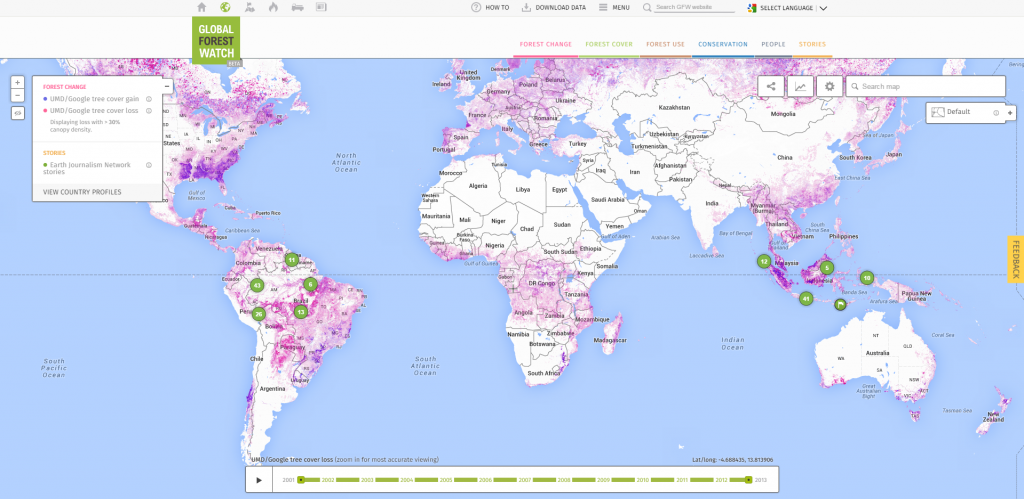 Communicating forest change and its implications for ecosystems and cultures is a complicated task. The most effective approaches combine high quality data, such as the remotely-sensed data hosted on Global Forest Watch, with reports that spur conversation and action. The GFW/EJN partnership marks a major step forward in terms of building a more complete picture of what is happening to the world's forests – both from the sky and the ground. The partnership will enable environmental journalists, researchers, policy makers, and industry analysts to gain a local and nuanced understanding of issues unfolding on the ground, improving the frequency and quality of reporting on forest issues worldwide. "This partnership enables the journalists from throughout the Earth Journalism Network to share breaking news and local perspectives with international audiences," commented Willie Shubert of the Earth Journalism Network.  "At EJN, we are deeply committed to GeoJournalism platforms that blend sophisticated technology, data and narrative.  We believe that this is the future of journalism and we are proud to be forging the path with Global Forest Watch, a leader in the field." "Information from satellites can only tell us so much about forests. This is why Global Forest Watch is pleased to partner with the Earth Journalism Network, which has long been at the forefront of using maps to tell compelling environmental stories," said Nigel Sizer, Global Director of Forests at the World Resources Institute. "This new partnership will elevate the voices of those EJN journalists on the frontlines of forest change – whether they are celebrating the successes of forest conservation or sounding the alarming against forest destruction."
About Earth Journalism Network
Internews Network and Internews Europe developed the Earth Journalism Network (EJN) to empower and enable journalists from developing countries to cover the environment more effectively. EJN establishes networks of environmental journalists in countries where they don't exist, and builds their capacity where they do, through training workshops and development of training materials, support for production and distribution, and dispersing small grants.  Click here to learn more.
About Global Forest Watch
Global Forest Watch (GFW) is an interactive online forest monitoring and alert system designed to empower people everywhere with the information they need to better manage and conserve forest landscapes.  Global Forest Watch uses cutting edge technology and science to provide the timeliest and most precise information about the status of forest landscapes worldwide, including near-real-time alerts showing suspected locations of recent tree cover loss. GFW is free and simple to use, enabling anyone to create custom maps, analyze forest trends, subscribe to alerts, or download data for their local area or the entire world. Users can also contribute to GFW by sharing data and stories from the ground via GFW's crowdsourcing tools, blogs, and discussion groups. Special "apps" provide detailed information for companies that wish to reduce the risk of deforestation in their supply chains, users who want to monitor fires across Southeast Asia, and more. GFW serves a variety of users including governments, the private sector, NGOs, journalists, universities, and the general public.  Global Forest Watch is a partnership of over 60 organizations, convened by the World Resources Institute. Click here to learn more.
---
---