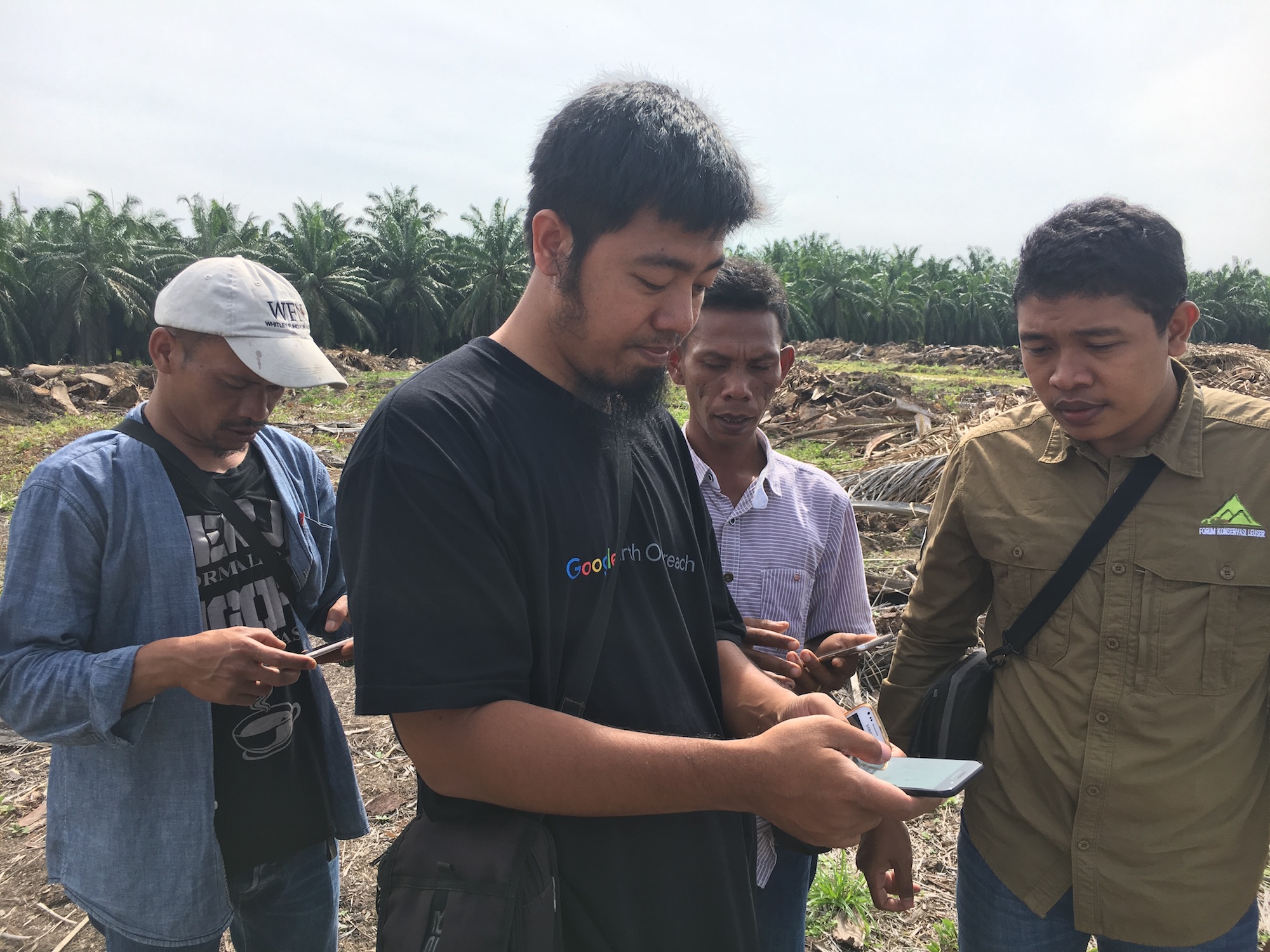 No Service? No Problem. Bringing online forest monitoring tools offline and into the field
By Octavia Payne and Alyssa Barrett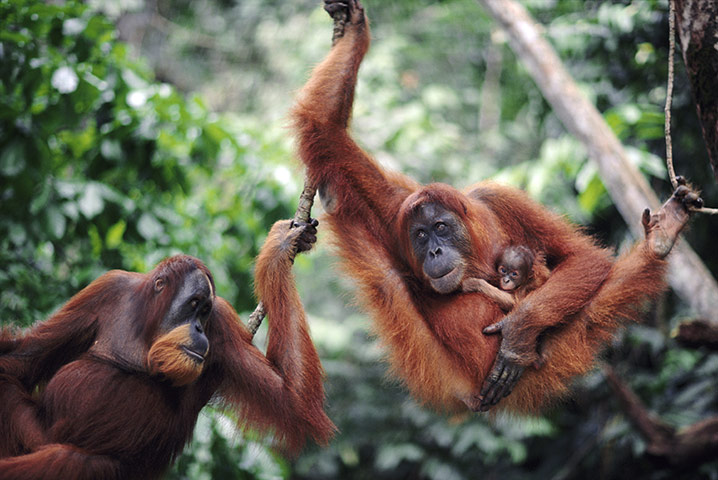 Orangutan family in Gunung Leuser National Park. Photo by
Pedoman Wisata
It's another steamy day in Sumatra, one of Indonesia's largest islands known for its tropical, richly forested landscapes. Throughout the 792,000 hectares (1.9 million acres) of Gunung Leuser National Park roam lone patrollers looking for poaching and other illegal activities that threaten the forest and its endangered wildlife. They're guided only by a single GPS coordinate, a best estimate of where there's been damage, and together, they only cover fractions of the park at a time. It's insufficient, but it's the best they can do with their limited technology and manpower. The world needs better solutions to conserve national parks and other areas that are legally protected for their unique environmental and cultural values. After all, what happens in the remote corners of the world's wilderness has far reaching implications for biodiversity, climate change, freshwater regulation, and other critical ecosystem services on which humanity depends.
Recently, Global Forest Watch (GFW) partnered with the Jane Goodall Institute and RESOLVE to make cutting-edge maps and data about forests available to those who need them most to more easily find and stop deforestation. Described below is our work with HAkA (Forest, Nature and Environment of Aceh) and FKL (Leuser Conservation Forum), two groups that focus on protecting and restoring the globally important Leuser Ecosystem in Indonesia.
One of the last remaining paradises under threat
The Leuser Ecosystem stretches 2.6 million hectares (6.5 million acres)—three times the size of Yellowstone National Park—across the Sumatra, Indonesia. It's one of the richest tropical rainforests in the world both in carbon and biodiversity—the last place on Earth where critically endangered elephants, rhinos, tigers and orangutans coexist. It provides food, water and shelter to 4 million people; it's also under threat. Since 2001, Leuser has lost 9 percent of its forests, mostly to expansion of agriculture and commercial development. Poor governance and conflicting land use plans at the provincial and central government levels exacerbate the problem.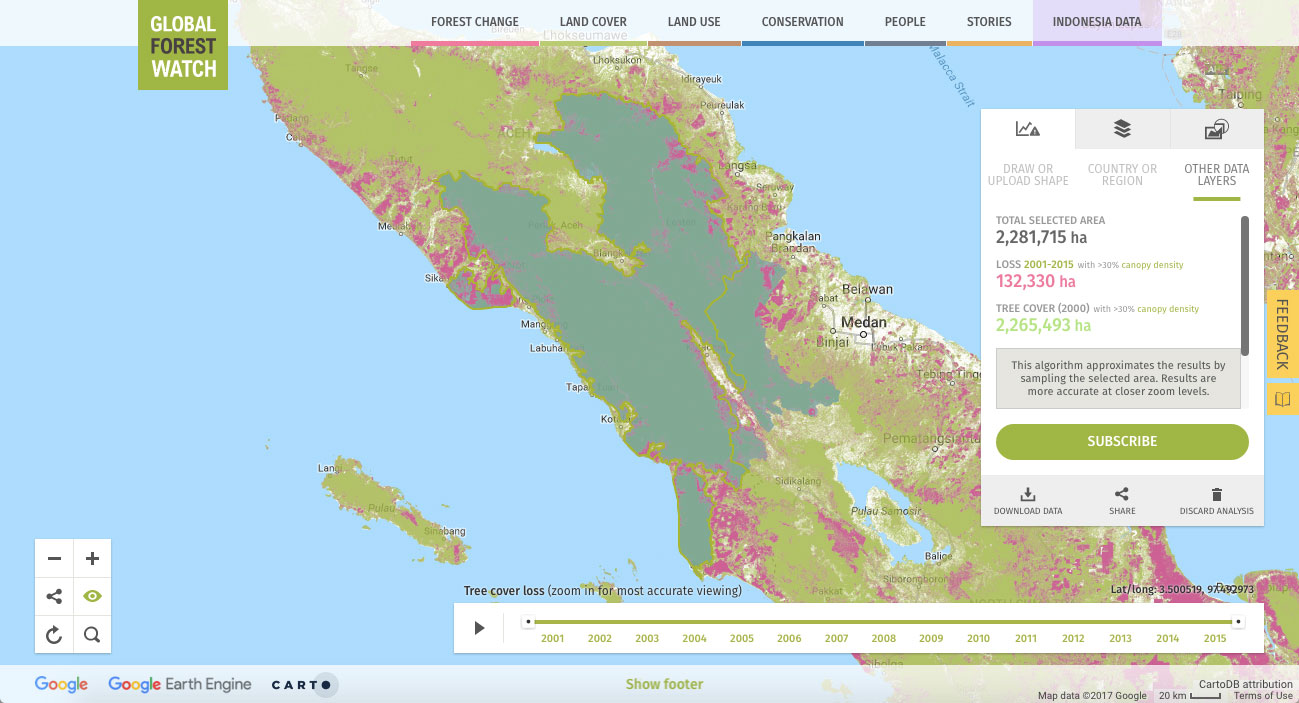 The map shows tree cover loss in the Leuser Ecosystem within Aceh and excludes North Sumatra. To analyze both areas, visit the Global Forest Watch
interactive map
.
Finding the needle in the haystack
Although the Leuser Ecosystem is protected under national law and contains the Gunung Leuser National Park, a UNESCO World Heritage site, managing this critical ecosystem is difficult because the area is vast and the human, financial and technological resources available for law enforcement and advocacy efforts are limited. Currently, HAkA and FKL manually analyze satellite data to identify potential deforestation threats, and once their patrol units go offline and into the forest, they have only a GPS device to guide them. They also document their findings using cameras, paper forms and sometimes memory, making it difficult to catalogue and manage information when it's available. This low-tech process is time intensive, meaning HAkA and FKL only get new deforestation data about once per month and cover just fractions of the Leuser on each excursion.
Bringing real-time data into the field
GFW is developing big data solutions and tools to help groups like HAkA and FKL cover more ground and be more effective in their efforts. Our GLAD weekly deforestation alerts and VIIRs daily fire alerts are free and updated automatically, providing more frequent updates and drastically reducing the time required for manual analysis.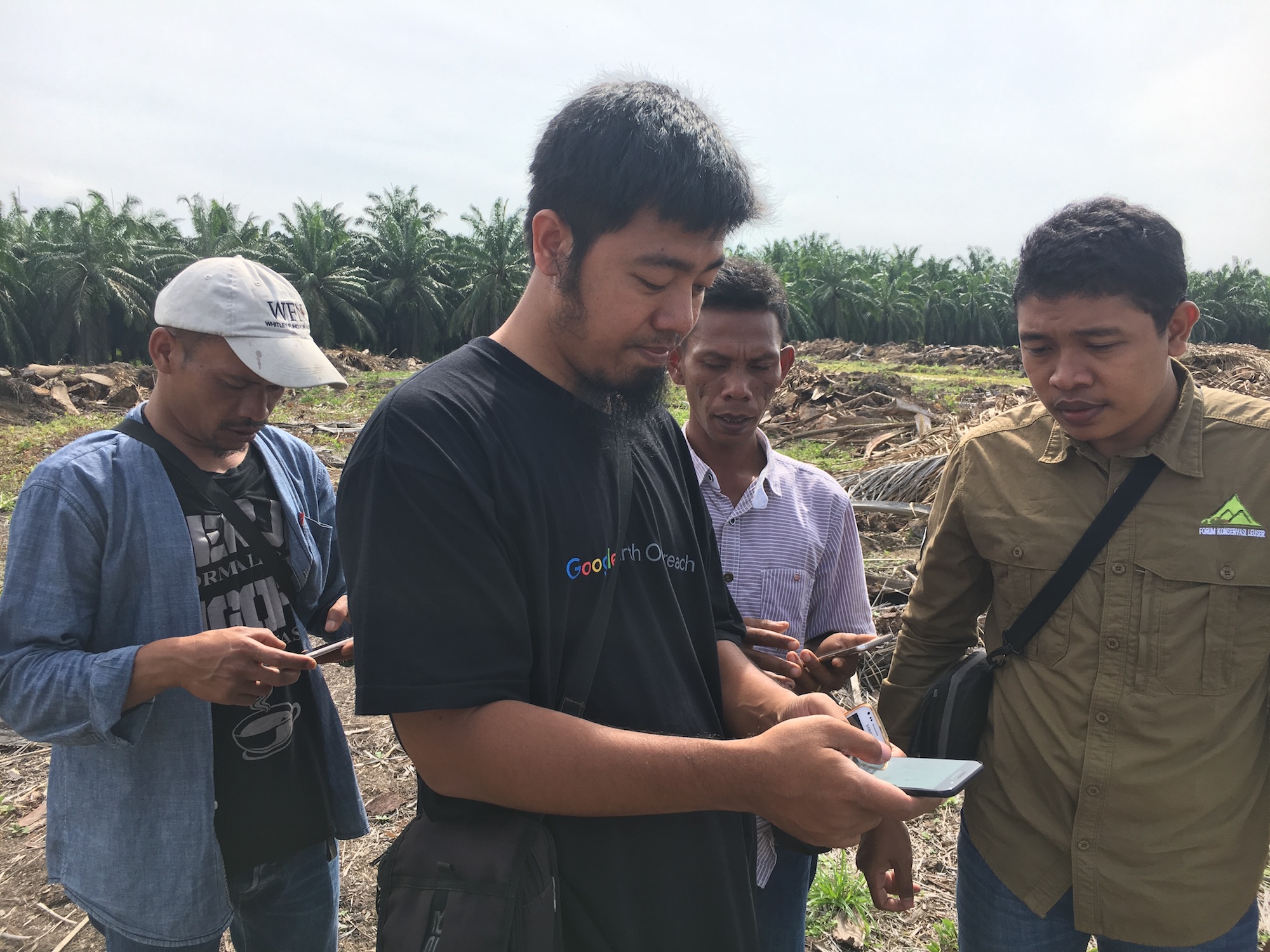 Patrollers testing Forest Watcher in the Leuser Ecosystem.
We also created Forest Watcher, a soon-to-be-released mobile application that allows users to access GFW data without an Internet connection. Using Forest Watcher, patrollers were able to navigate to alerts and collect data directly through the app, making it easier to view, manage and share once they were back at headquarters and online.
What did we learn?
Pilot testing GFW data and Forest Watcher with HAkA and FKL, we learned there are three main challenges:
Reliability. GFW and Forest Watcher offer more timely and less resource-intensive solutions to forest monitoring, but they need to be more reliable to make an impact. During the trainings, they experienced disruptions in service that made it difficult for HAkA and FKL to use them in the field. As with any new technology, those kinks must be worked out before these tools can be fully adopted.
Resources. Limited internet access, including in cities, makes it difficult to take full advantage of GFW and Forest Watcher. For example, during the trainings, the internet was often too slow to load the GFW website and there were frequent outages during which we had to rely on purchased mobile hotspots. Even when data and evidence are abundant, local authorities often lack resources to arrest and prosecute violators.
Corruption and danger. The Indonesian government has been known to prioritize development over environmental protection. Many development projects are ushered by corrupt government officers with vested interests. Conservation efforts are also tempered by risk of danger, as illegal activities are often carried out by criminal networks that have been known to kill or hurt those who get in their way. We experienced this firsthand during the trainings when we learned that the timber mafia was clearing forest in the area we had planned to test Forest Watcher. To avoid danger, we switched locations at the last minute.
Despite these challenges, government, communities and NGOs are eager to adopt GFW data and tools. Local government agencies have already requested additional training so they can integrate GLAD alerts into their existing workflows. which bring unprecedented transparency to forest management in the Leuser Ecosystem.
Opportunities for monitoring tools
The Leuser story is not unique. Protected areas around the world are disappearing at roughly 1.8 million hectares (4.4 million acres) per year, and the resources available to address the problem are largely inadequate. Tools like GFW and Forest Watcher have huge potential to harness 21st century technology to revolutionize conservation, but we need better ways to get them into the hands of the people who will be using them. We are committed to doing this. Over the coming year, GFW, HAkA and FKL will continue testing these data and tools with local stakeholders, including government officials who are eager to integrate them into their work. We've already seen tools like this on the ground have an impact. GFW partnered with the Jane Goodall Institute to train park rangers in Uganda who found and prosecuted illegal loggers in Kasyoha Kitomi Forest Reserve using Forest Watcher. We will be taking our lessons learned and successes from these past trainings to continue improving forest management around the world.   Want to be notified when Forest Watcher launches? Sign up here!
---
BANNER PHOTO: Patrollers testing Forest Watcher in the Leuser Ecosystem.
---