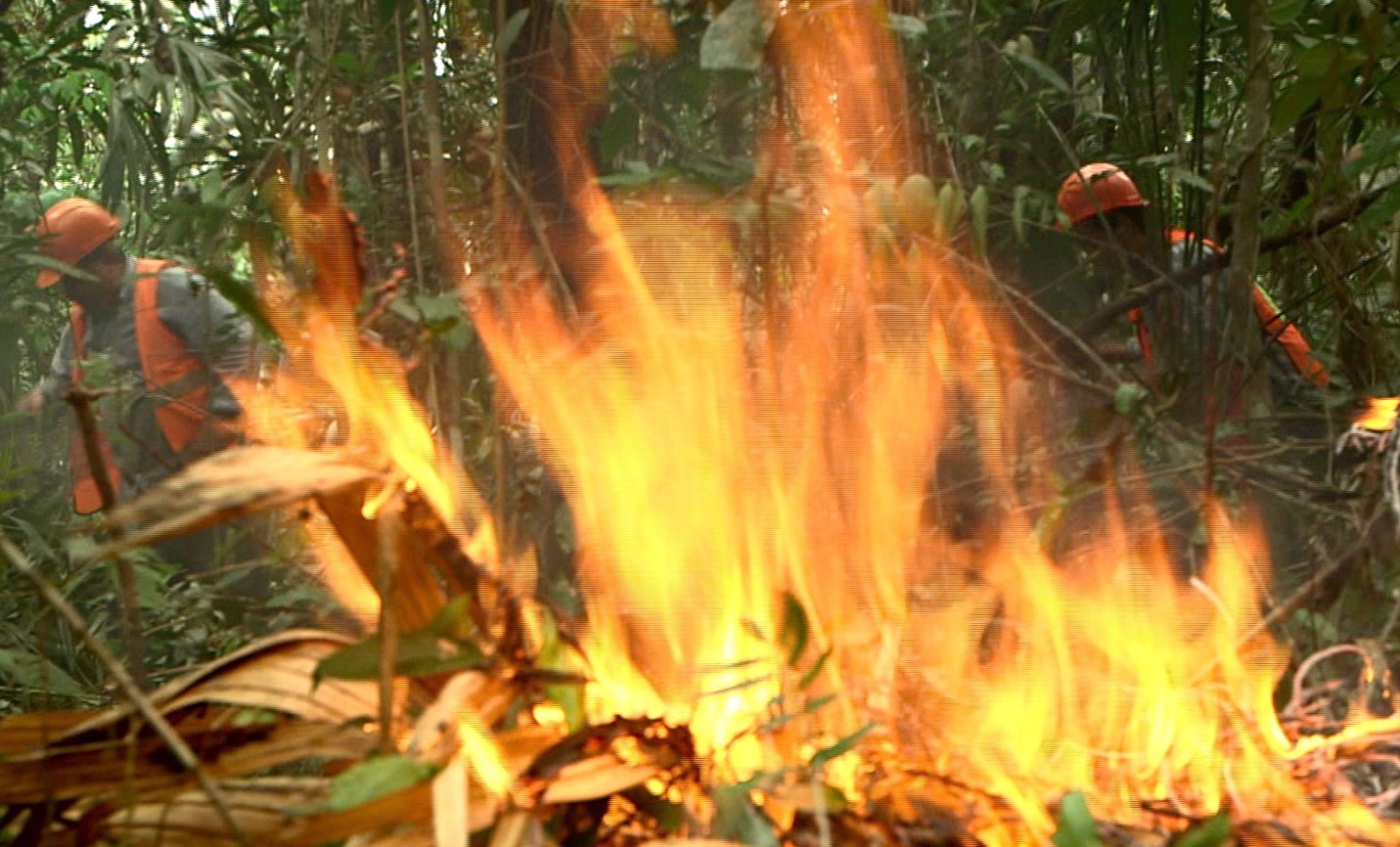 PARTNER POST: Community forest management combats fires in critical Guatemalan reserve
By Laura Aileen Sauls In the Spring of 2017, national and international media lamented the out-of-control forest fires consuming the pristine jungles of the Maya Biosphere Reserve (MBR), a two million hectare protected area in the Petén Department of Guatemala. Editorials called for drastic government action, and neighboring Honduras and Mexico sent helicopters to fight the blazes. What these dramatic accounts left out – and what the communities living in the MBR wanted to communicate to the world – is that the vivid images of burning forest and smoke did not represent what was happening in the entire Reserve. Rather, the portion of the MBR under active community management experienced no major forest fires during this time, even while adjacent national parks burned.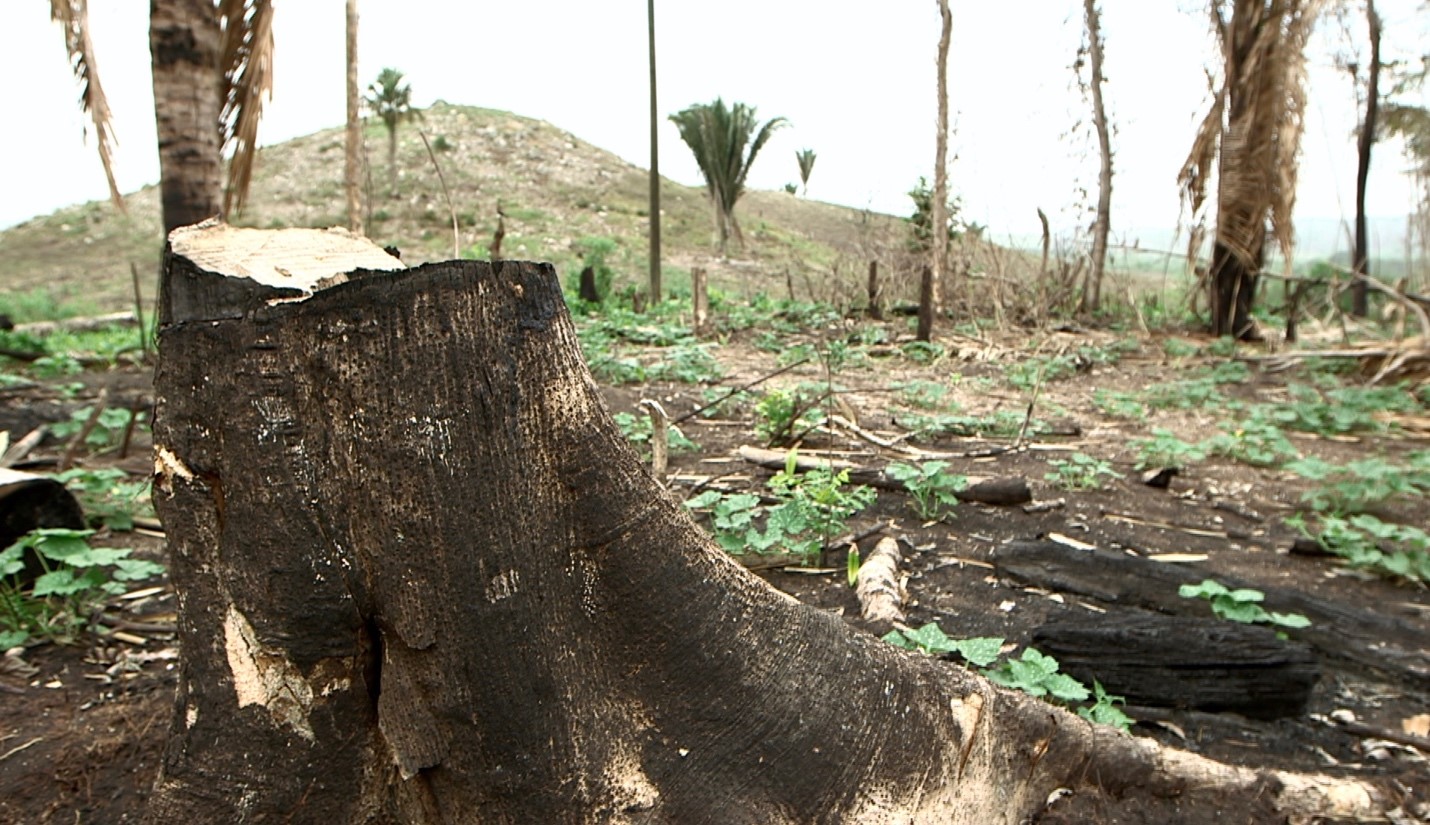 Post-fire forest. Photo by Jaye Renold.
Residents blamed despite model history
The Guatemalan government established the MBR in 1990 at the urging of international aid agencies and NGOs. However, it did so without consulting the zone's thousands of residents and placed severe restrictions on their ability to live off the forest. Those communities lobbied the government to regain their right to use the forest, and after years of negotiations, the Association of Forest Communities of Petén (ACOFOP) and its constituent community forestry groups obtained concessions within the MBR. For the past 20 years, ACOFOP has worked with the government and NGOs to strengthen the capacity of communities to legally and sustainably manage these concessions. Their story is often touted as a prime example of successful community forest governance.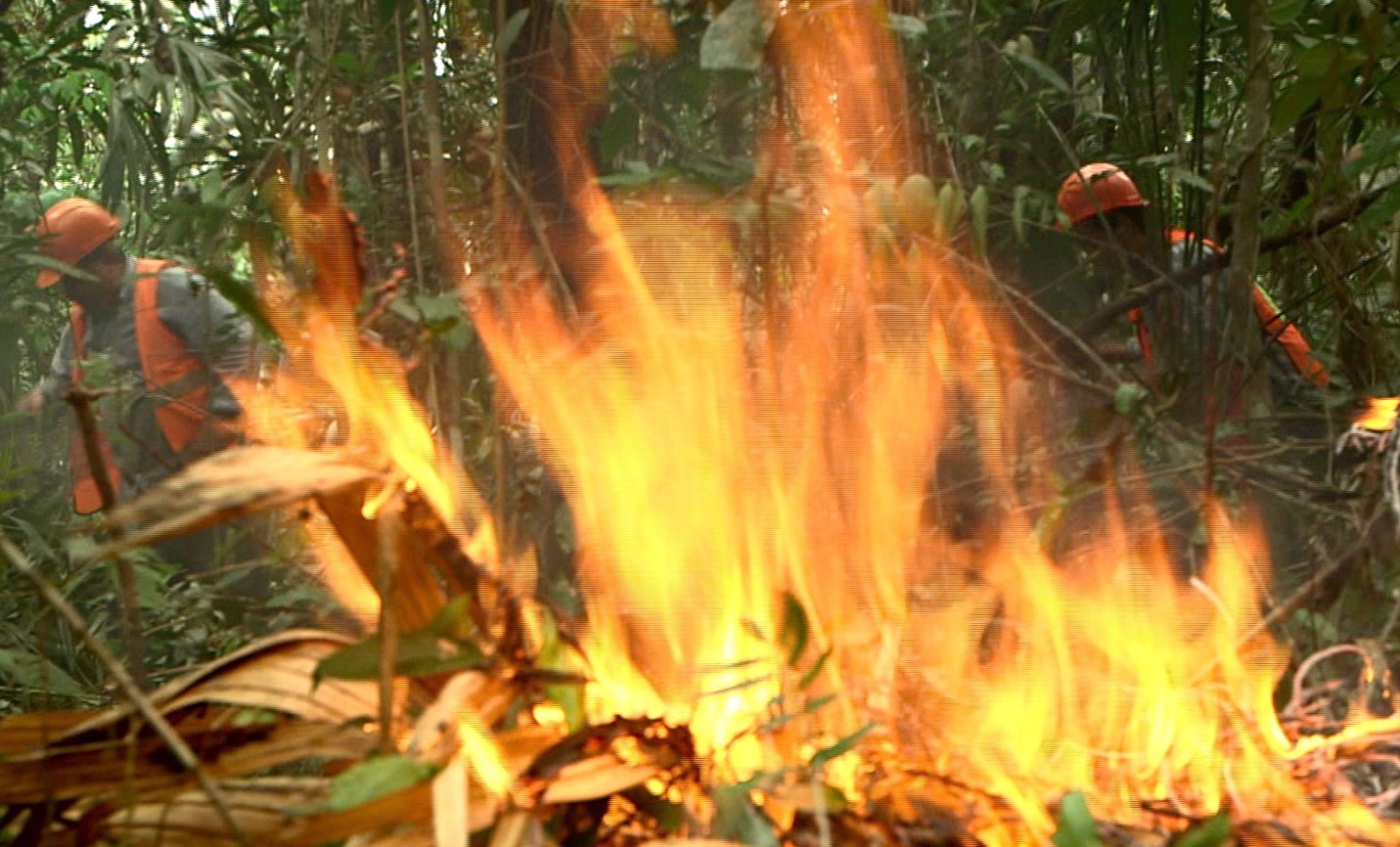 Patrols work to control a small forest fire in the Maya Biosphere Reserve. Photo by Jaye Renold.
Despite their model history, many Guatemalans believed MBR residents and the activites within their concessions were to blame for the forest fires. To set the record straight, ACOFOP invited me and my colleague Andrew Davis, senior researcher at Fundación PRISMA, to evaluate how many fires occurred within community concessions compared to other areas of the MBR. Through geospatial analysis of satellite-detected fire "hotspots," interviews with community leaders and forest experts, and a review of management plans and concession-produced planning documents, we determined that areas under active management – both through industrial and community concessions – fared better than other areas of the MBR.
Community managed areas experience fewer fires
The MBR is divided into Core Zone (or national parks) where no economic activity is allowed, Multiple-Use Zone (MUZ), which allow concessions for limited commercial, agricultural and industrial activities, including licensed, controlled burns, and the Buffer Zone, where low-impact sustainable livelihood activities may occur. While we expected to see hotspots in the Buffer Zone and in certain concessions, the areas within active concessions had significantly fewer fires than national parks, non-managed areas of the MUZ, and the Buffer Zone. Active concessions cover 16 percent of the total land area of the MBR, but less than 1 percent of the hotspots detected by the VIIRS and MODIS active fires alerts during the 2017 fire season occurred in those areas. By contrast, national parks cover 40 percent of the MBR and had more than 50 percent of the fires.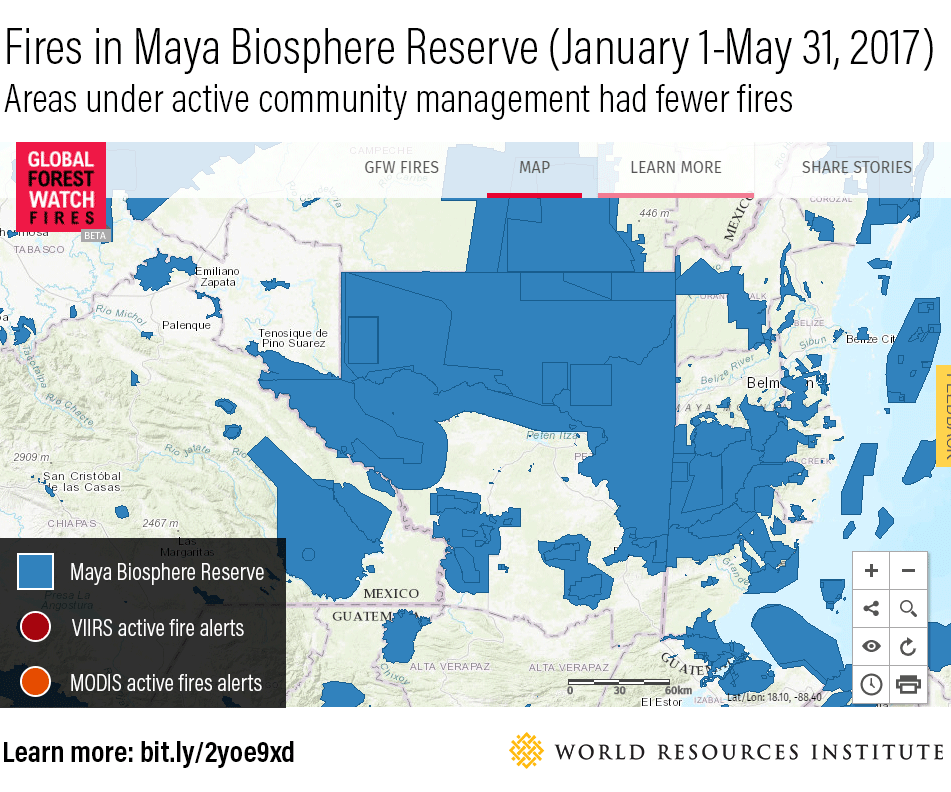 VIIRS (in red) and MODIS (in orange) fire alerts on
Global Forest Watch Fires
show that areas actively managed by communities largely avoided the 2017 Spring fire outbreak.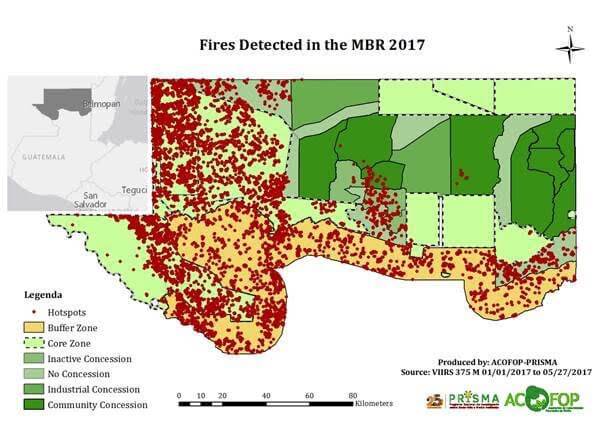 Map by ACOFOP-PRISMA shows the areas inside the MBR under active community and industrial management.
Concession management plans detail exactly how communities endeavor to avoid forest fires inside their concessions and to stop them if they do happen. Community forestry organizations hire community members to work as forest guards and firefighters to cut and maintain firebreaks, undertake regular patrols, staff lookout points, and fight fires throughout the MBR. They also make significant investments to pay workers' salaries, cover vehicle maintenance and fuel costs, and buy equipment to support their activities. In 2017 alone, communities invested $412,000 of their own funds to support over 1,000 patrols and maintain or cut more than 1,300 kilometers of firebreaks. They have even lent support (in the form of fuel, equipment, and direct labor) to the underfunded National Council on Protected Areas (CONAP) to manage and protect the MBR's national parks.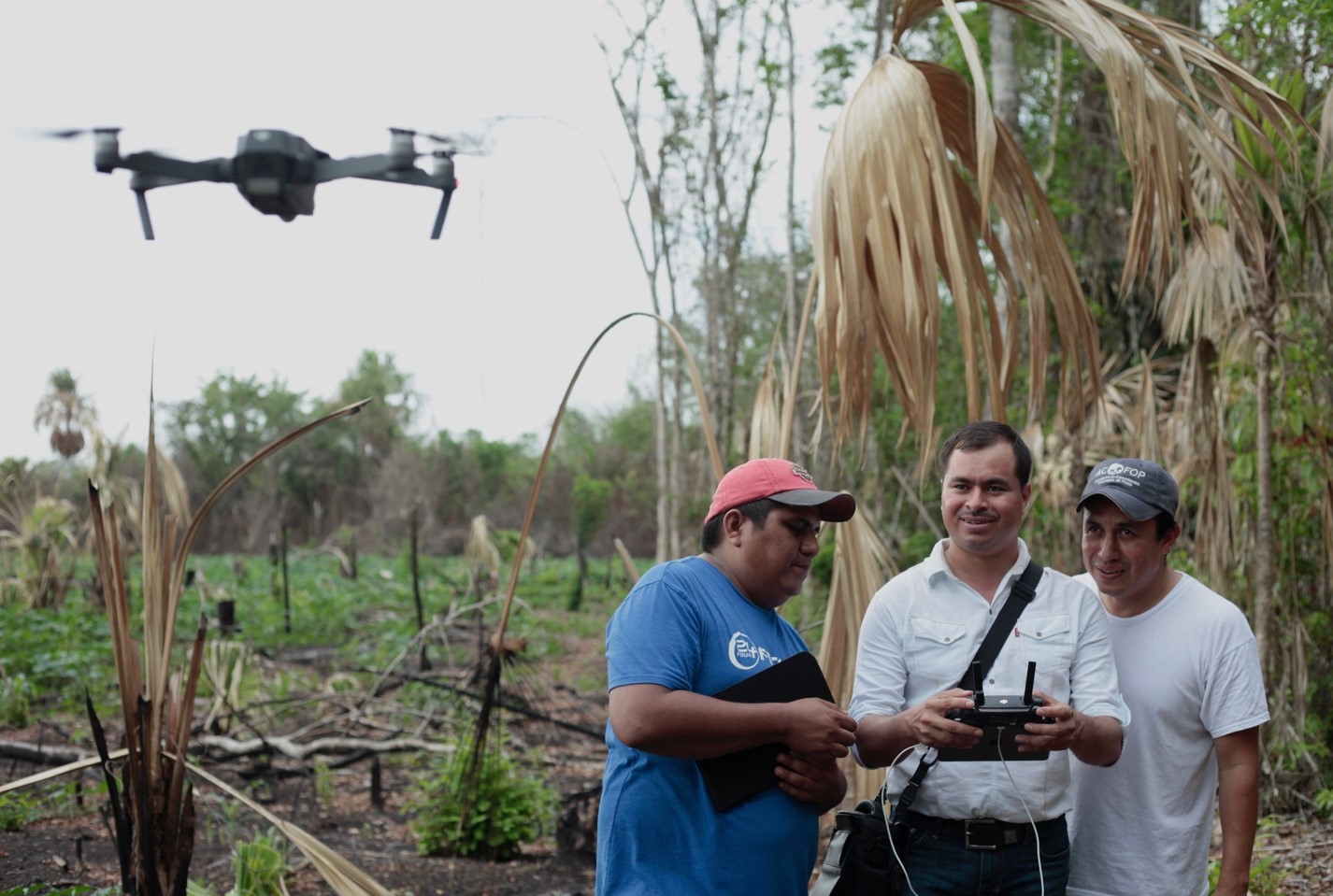 Community members learn to use drones to monitor forest fires near Uaxactún, Guatemala, a Mayan archaeological site, located inside the Maya Biosphere Reserve. Photo by Jaye Renold.
As concessions near expiration, communities face uncertainty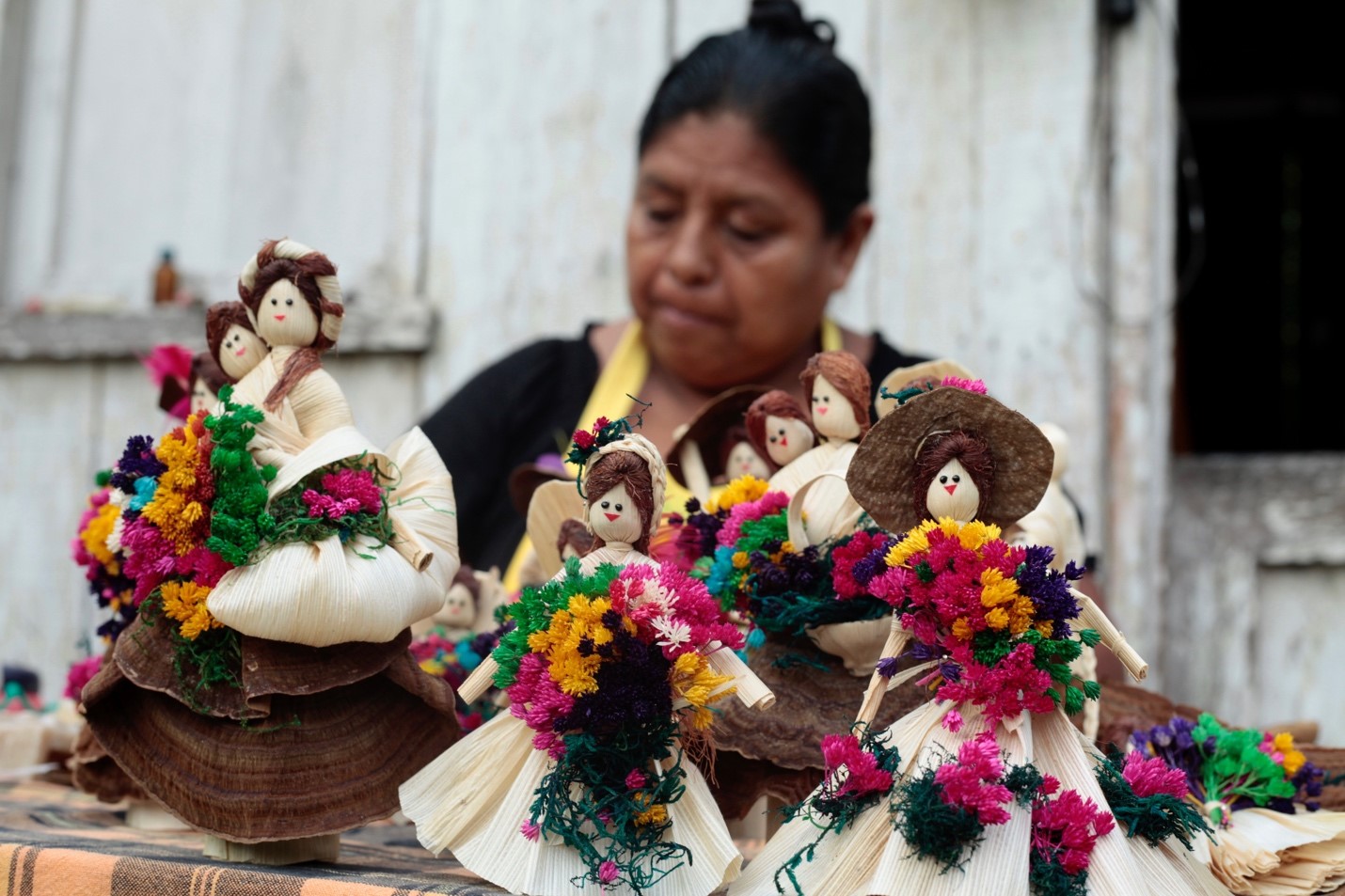 Traditional dolls, handmade using forest materials provide another source of low-impact, forest-based income for women in the MBR. Photo by Jaye Renold.
The MBR is under serious threat from forest fires, but the ACOFOP communities demonstrate that active forest management is a highly effective way to stop and prevent fires. But for these communities to continue protecting their land, they must have secure access to and right to make a living from the forest. The first of ACOFOP's existing concessions is set to expire in 2022, and they are eager begin negotiations, which are certain to take several years to complete. ACOFOP is making the case that they have the right and proven ability to sustainably manage and protect the forest – and that the Government should validate their efforts by renewing and extending the concessions. Our findings on fire incidence confirm that these communities are effective at reducing forest loss in the MBR and reinforce the vital importance of community concession renewal to the Reserve's future.
---
Laura Aileen Sauls is a PhD candidate at Clark University's Graduate School of Geography.