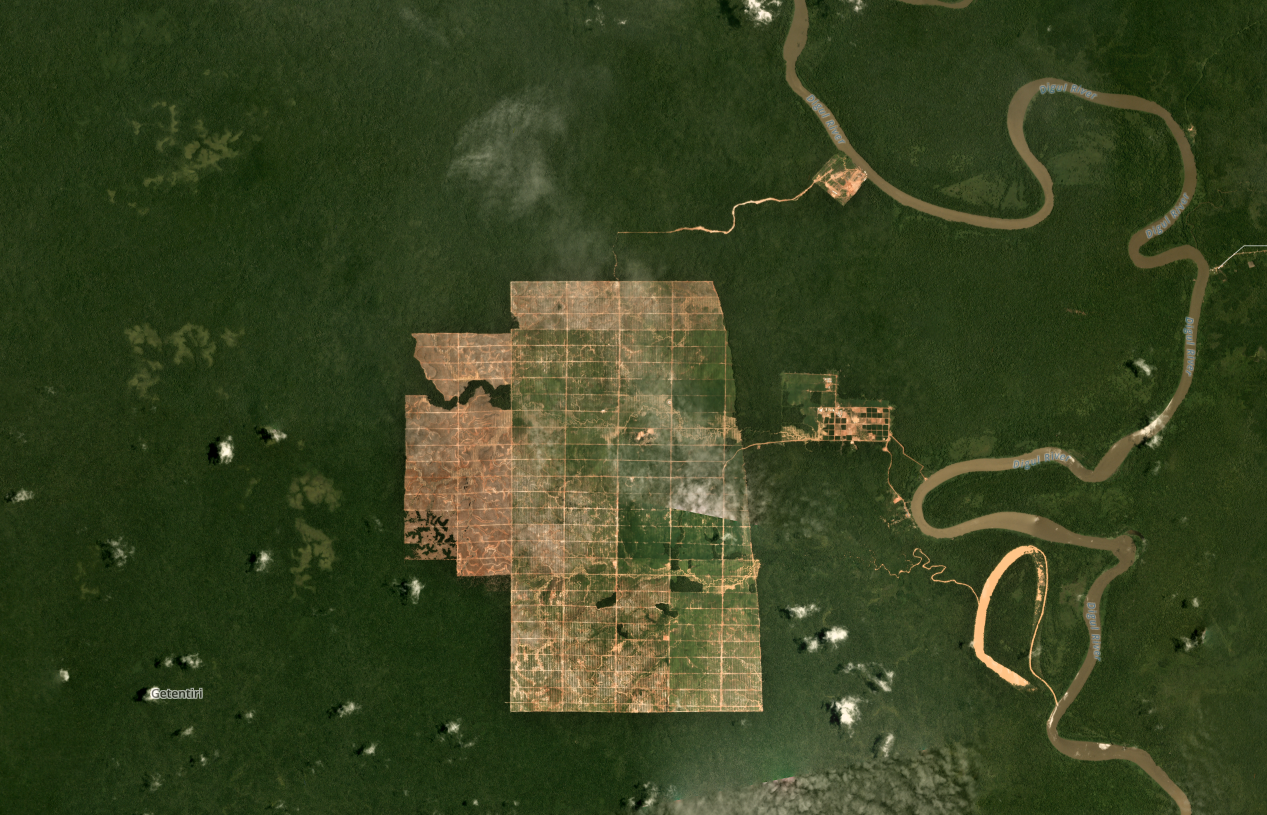 Places to Watch: 3 Hotspots for Forest Clearing Right Now
Places to Watch is an initiative that uses weekly GLAD alerts on Global Forest Watch to spot changes in forests around the globe and identify the most consequential cases of recent deforestation. By pairing deforestation alerts with expert interpretation of satellite imagery, credible descriptions of what is happening on the ground and resources to learn more, we hope to galvanize action to prevent further forest loss.
Sign up here to receive each quarterly edition of Places to Watch
.
---
This edition of Places to Watch examines forest clearing hotspots in Colombia, Brazil and Indonesian Papua. All three disturbances highlighted in this curation are primarily caused by human clearing as opposed to natural fires or disasters. The approximate areas affected are based on satellite detection between February 1, 2018 and April 30, 2018. However, due to occasional cloud cover that can obscure satellite recognition, some loss may have occurred earlier.
Rapid Clearing within Tinigua National Park, Colombia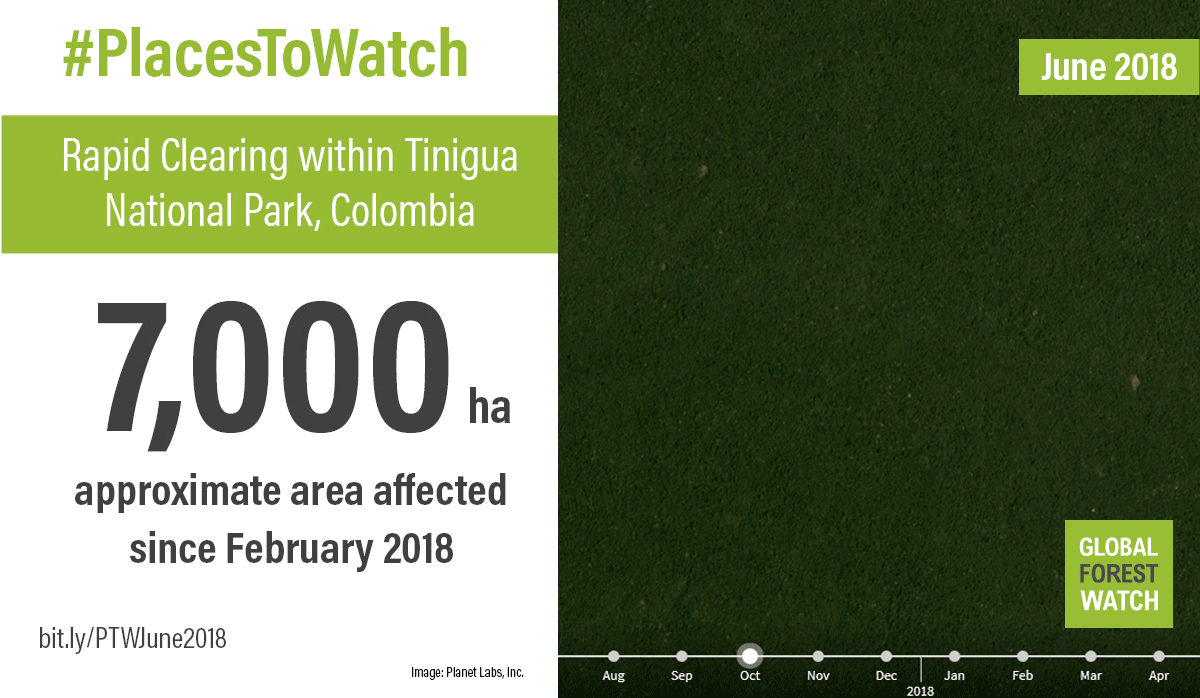 Forest clearing in Tinigua from October 2017 through April 2018. Photos: Planet Labs, Inc.
Nearly 7000 hectares of Tinigua National Park (approximately three percent of the total park area) in southeast Colombia were affected by forest clearing since the beginning of 2018, according to GLAD deforestation alerts on Global Forest Watch. Tinigua is part of a block of four national parks that sit at the convergence of the Andes, Amazon and Orinoco ecosystems. Due to their location, these parks are of critical importance for biodiversity, ecosystem services and watershed conservation.
According to Colombia's Institute of Hydrology, Meteorology and Environmental Studies (IDEAM), which featured Tinigua as a deforestation hotspot in a recent bulletin, the changes observed in Tinigua are due to the use of fire to clear forests to open land for crops or livestock. This type of widespread land grabbing is likely associated with a lack of governance and land speculation following the end of the armed conflict with the FARC.
The recent clearing has not gone unnoticed by Colombian authorities. In April, a joint military operation in Tinigua and neighboring Sierra de la Macarena National Park resulted in the arrest of three people, who were charged with damage to natural resources and invasion of ecologically important areas.
The rapid clearing in Tinigua comes at a crucial time for Colombia: IDEAM announced last week the deforestation rate went up again in 2017, following a record year in 2016 also related to the demobilization of the FARC rebels, which opened up large areas of the Colombian Amazon. A Supreme Court decision on a case brought by 25 young people ordered the government to stop deforestation in the Colombian Amazon. The Colombian government also announced a new "Green Belt" project in April, which aims to protect and restore 9.2 million hectares on the deforestation frontier, including parts of Tinigua National Park.
Large Area Cleared for Pasture in Apuí, Brazil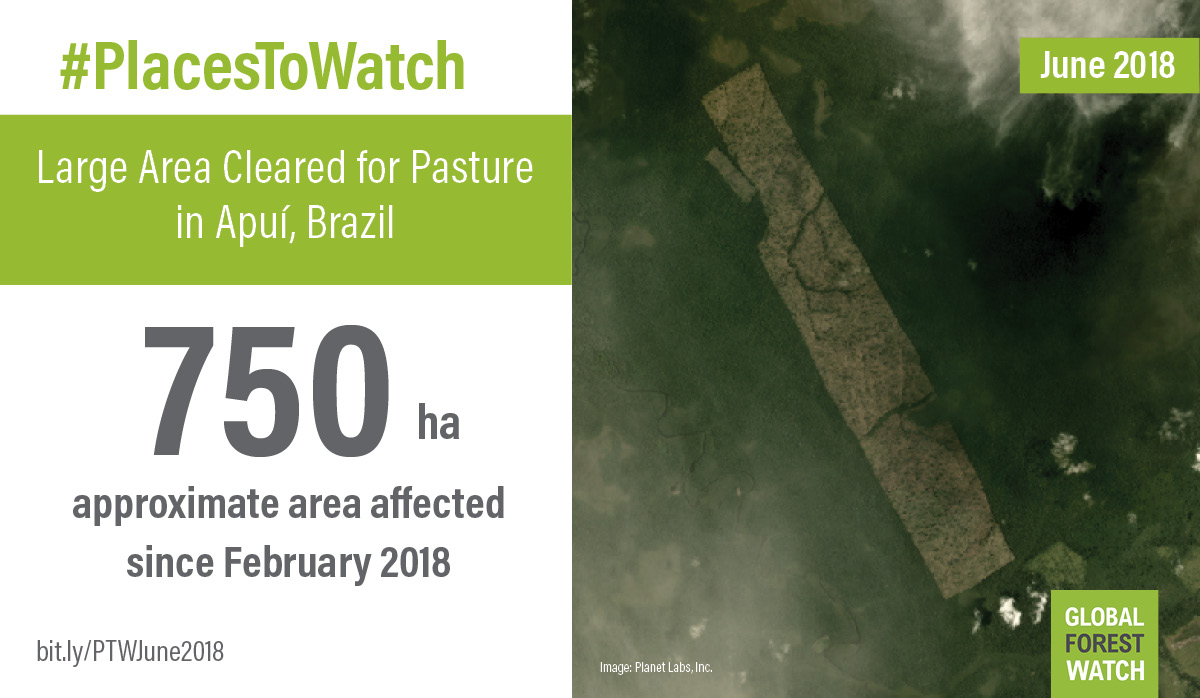 Forest clearing for cattle ranching in Apuí Brazil. Photo: Planet Labs, Inc.
A patch of more than 750 hectares—about the size of 1,000 soccer fields—was cleared in the early part of 2018 in the Apuí municipality of the Brazilian Amazon, according to GLAD deforestation alerts. The clearing, located around ten kilometers from the Transamazon Highway, appears to be an expansion of nearby cattle ranching areas into intact forest.
According to Gabriel Carrero, a senior researcher for the Institute of Conservation and Sustainable Development of the Amazon (IDESAM) in Brazil and a Ph.D. student at the University of Florida, the clearing is likely illegal. "[The clearing] is within the Rio Juma Settlement project, which should be settled by small colonists, one farm lot (roughly 75 hectares each) per family," Carrero explained via email. Carrero says the large size of the clearing indicates that it is probably an outside group clearing the land, rather than a family in the settlement. "The Settlement has been occupied in large part by capitalized farmers and agricultural businesses, which has lost its planned purpose for small family farmers," he said, pointing to the neighboring large pasture cleared by wealthy landholders from Pará.
Apuí has faced mounting pressures on forests over the last 40 years, beginning with the construction of the Transamazon Highway in the 1970s. Not long after, a government resettlement program brought thousands of families to the region to ranch and farm. Population has tripled in Apuí since the 1990s, and the area has faced high rates of land clearing, particularly for ranching. Researchers believe that much of the deforestation in Apuí may be speculative in nature – as transportation infrastructure improves, landholders are betting that land prices will increase.
The continued expansion of ranching in Apuí is troubling given the remoteness of the area and the large amount of intact forest that still surrounds the Transamazon Highway. Better enforcement is needed, even in these remote areas, to ensure that the clearing does not continue.
Consumer Goods Companies Linked to Large Scale Palm Oil Clearing in Indonesian Papua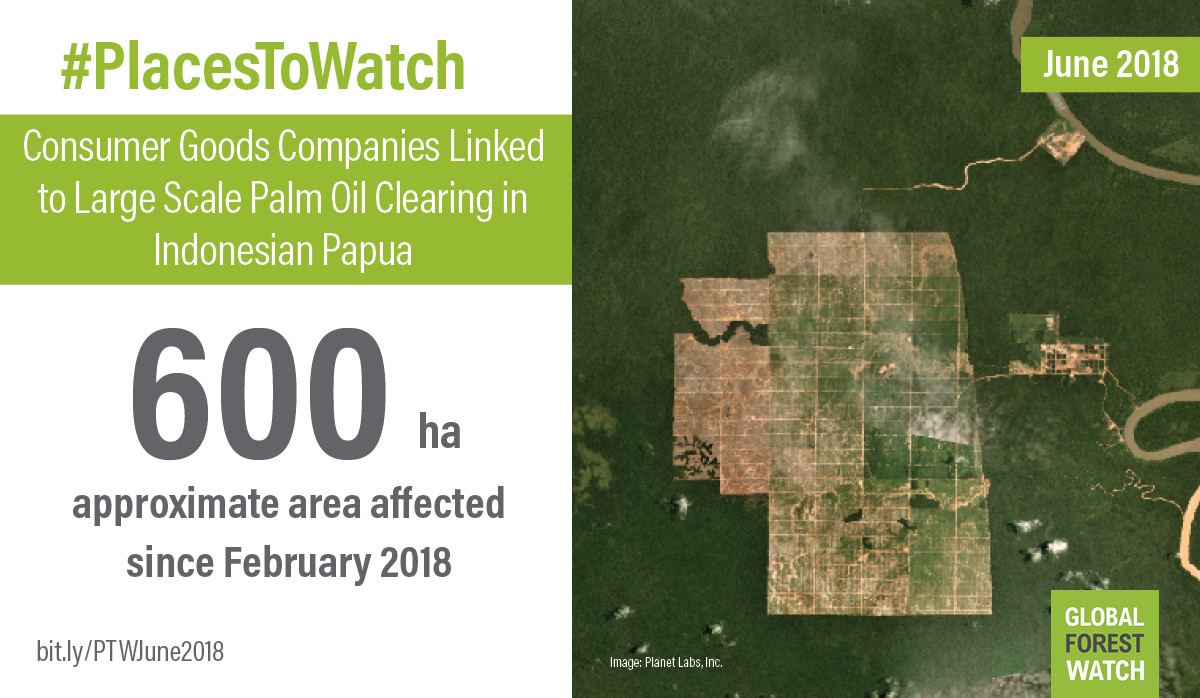 Oil palm clearing in a concession area of Papua, Indonesia. Photo: Planet Labs, Inc.
More than 600 hectares in an oil palm concession in Indonesia Papua were affected from February through April, bringing the total area affected to approximately 4,500 hectares since 2015. In line with Global Forest Watch data, a recent analysis from Greenpeace "suggests that around 4,000 hectares of rainforest were cleared in PT Megakarya Jaya Raya concession between May 2015 and April 2017 – an area almost half the size of Paris." PT Megakarya Jaya Raya is a palm oil concession controlled by a privately-owned conglomerate, Hayel Saeed Anam Group (HSA).
Recent media coverage of this clearing, including a press release from Greenpeace, alleges that while this particular concession is not yet producing palm oil, two other subsidiaries of Hayel Saeed Anam Group "supplied palm oil to Mars, Nestlé, PepsiCo and Unilever." This association could jeopardize certification status for the associated subsidiaries (Arma Group and Pacific Oils & Fats). The Roundtable on Sustainable Palm Oil (RSPO), the certification mechanism for sustainable palm oil production, has confirmed that the subsidiaries are indeed RSPO members, but the group has not confirmed the plantation companies associated with these large consumer goods companies are indeed HSA subsidiaries.
This location was also featured in a previous edition of Places to Watch last year. Unfortunately, the exposure of the clearing has not yet translated to a company commitment to halt further clearing. While this clearing may be authorized under the relevant permits, it is in direct breach of RSPO standards, and at odds with the deforestation-free purchasing policies of most large retailers and manufacturers.
A Time to Act
Government agencies, private companies and local people have the power to stop deforestation before it is too late, and readers like you can help this process by drawing public attention to these areas. We encourage you to share these places, including on social media using #PlacesToWatch.
To stay abreast of more developments in the world's forests, sign up to receive each quarterly edition of Places to Watch straight to your inbox, and read our blog post for more detail on how we spot and select these at-risk areas.
Latest articles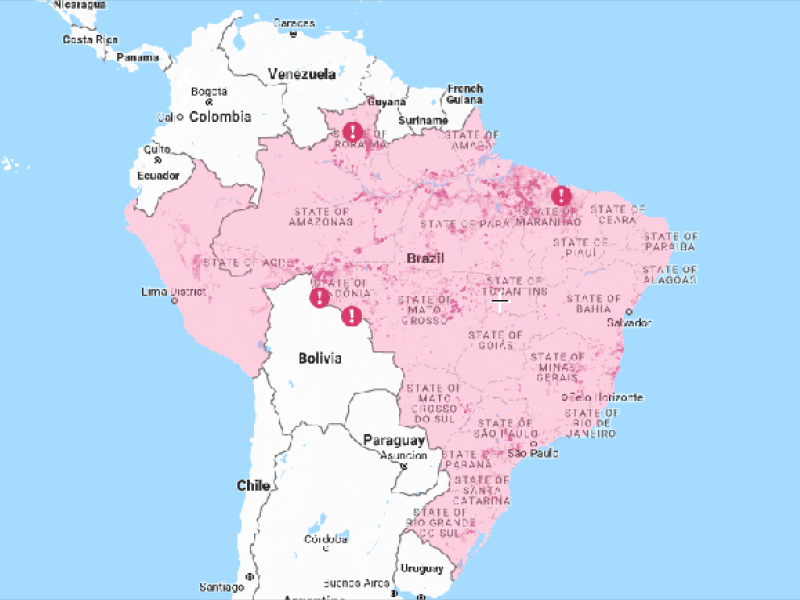 Places to Watch: Curating Data-Driven Stories for Action
Editor's Note: This post was originally published in December 2017 and later updated in April 2019. GLAD alert coverage (shown in pink) in South America. Global Forest Watch's (GFW) ability to track and display deforestation in near-real-time has changed the way people around the world monitor forests. But for those interested in monitoring large areas […]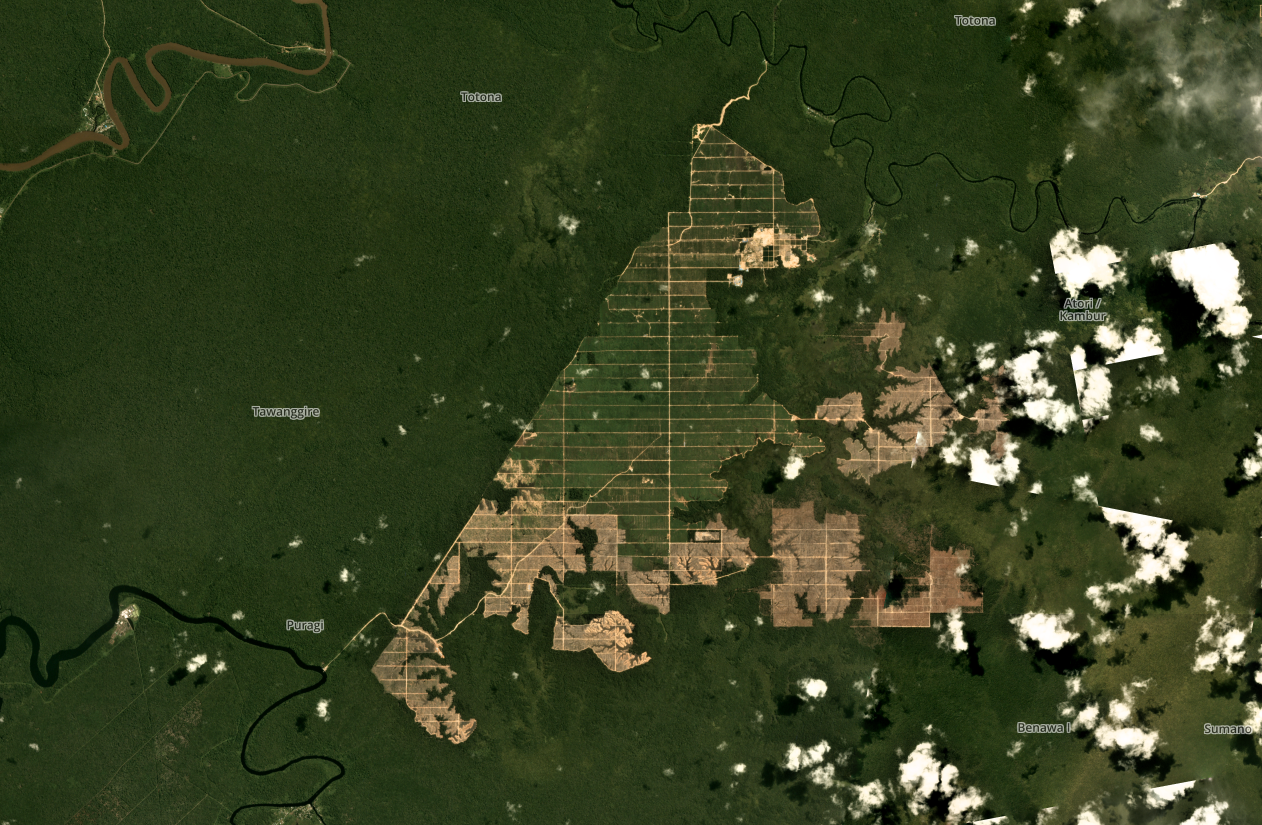 Places to Watch: 3 Forests Experiencing Rapid Clearing Right Now
Places to Watch is an initiative that uses weekly GLAD alerts on Global Forest Watch to spot changes in forests around the globe and identify the most consequential cases of recent deforestation. By pairing deforestation alerts with expert interpretation of satellite imagery, credible descriptions of what is happening on the ground and resources to learn more, […]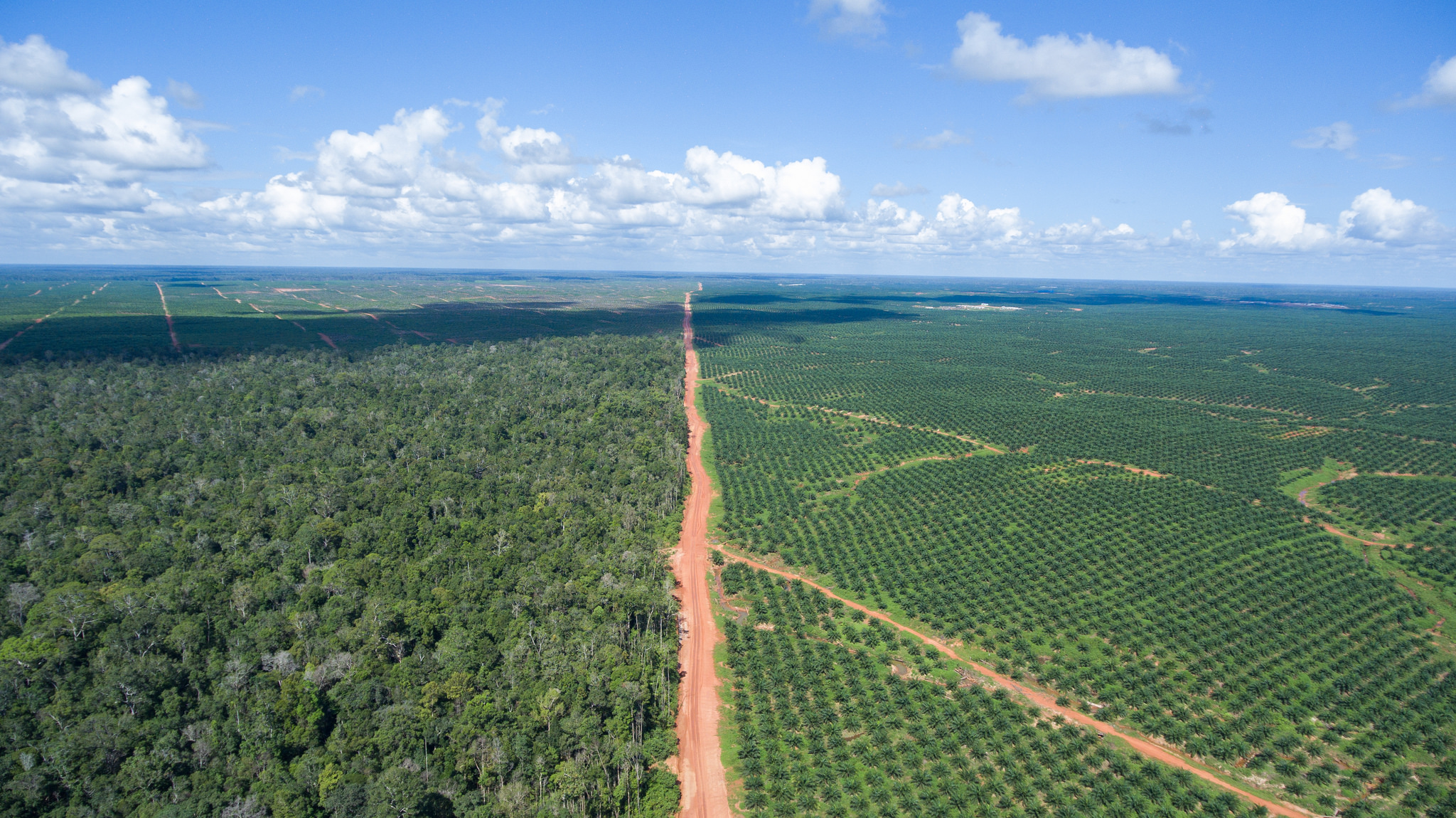 Places to Watch: 3 Regions of Forest at Risk Right Now
Places to Watch is an initiative that uses weekly GLAD alerts on Global Forest Watch to spot changes in forests around the globe and identify the most consequential cases of recent deforestation. By pairing deforestation alerts with expert interpretation of satellite imagery, credible descriptions of what is happening on the ground and resources to learn more, […]