Global Forest Watch has a new look!
By Crystal Davis, Alyssa Barrett and Sarah Alix Mann Global Forest Watch is changing how people see forests. GFW launched nearly one year ago, captivating the world with interactive maps showing the startling disappearance of forests over time.  Now anyone with an internet connection can use GFW to monitor forests in near-real-time. But GFW is not just a forest monitoring platform. It is part of a growing global movement seeking transparency, innovation, and action to conserve and sustainably manage the world's remaining forests. GFW is constantly evolving to provide better data using more innovative technology. Over the past year, GFW has released nine new datasets and added 10 new features to the platform. We have heard from hundreds of Global Forest Watch users – including journalists, scientists, policy-makers, campaigners, and community organizers around the world.  With your feedback we are making GFW a more practical and powerful tool for our users.
A new look and feel
Global Forest Watch wants to help you find the information you need, as quickly as possible. As GFW's offerings of data, tools, and user capabilities continued to grow, we needed to rethink the design and navigation of the GFW website. The newly redesigned GFW website is now easier to use and more action oriented. We have summarized some of the key upgrades below, and we encourage you to check out the new website for yourself and send us your feedback.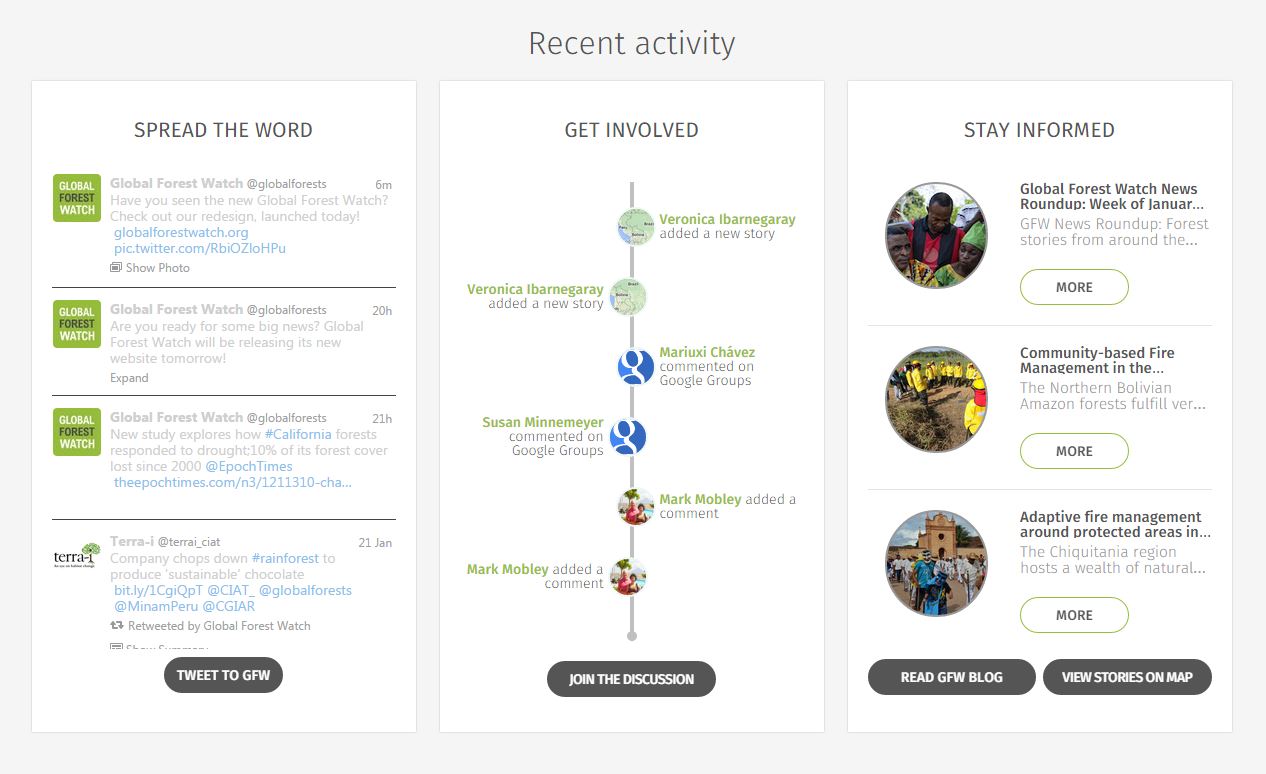 Find what you are looking for, faster
GFW offers a growing collection of data, analysis tools, and custom apps for a wide range of users. The new navigation bar will help you to find exactly what you are looking for quickly. The top menu bar is now organized by action. For example, we invite you to explore our interactive maps, download country data, or subscribe to alerts and updates. The menu bar also features "quick links" for frequently visited pages.
Don't know what you are looking for? We can help with that too.
If you are not exactly sure how GFW can help you, we can guide you in the right direction. To begin, we recommend clicking "Suggestions for Getting Started" to explore your options. You can also use the new search bar to type a key word or phrase. If you just want to see what's new and exciting, the GFW homepage will highlight all of the latest updates to the platform and posts from our users.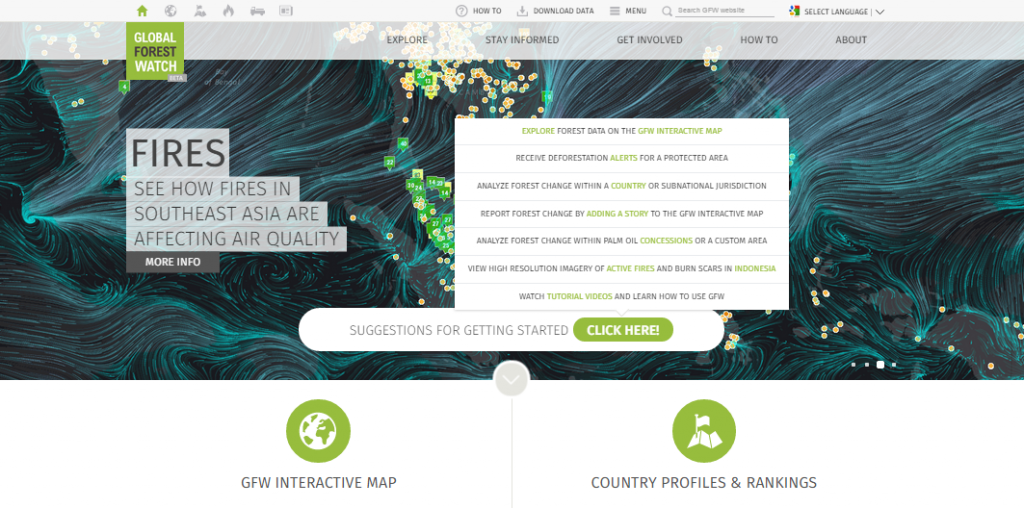 Get more out of GFW's data and tools
GFW offers a growing number of tools and apps for our more advanced users. Did you know that GFW allows you to calculate forest change statistics within a user defined area, subscribe to tree cover loss alerts, view and download data for a specific country, and more? GFW now provides new and improved How To materials to help users unlock the full potential of GFW's data and tools. These materials provide step-by-step instructions and short tutorial videos.
Explore GFW Apps. Or build your own!
GFW apps are customized web tools created to meet the unique information needs of a specific audience. Last year, several new GFW apps were launched and more are underway. For example, the GFW Commodities app enables companies to monitor deforestation in supply chains of major commodities like palm oil. The GFW Fires app helps governments in Southeast Asia to rapidly respond to fires and haze. The forthcoming Forest Watcher app will allow local communities and forest rangers to access GFW alerts from their mobile phones. The redesigned GFW website brings all of these apps together in the new GFW "app store". If you have your own app idea, you can build it yourself using GFW's open data, public API, and other developer tools. Then, share your app with the world!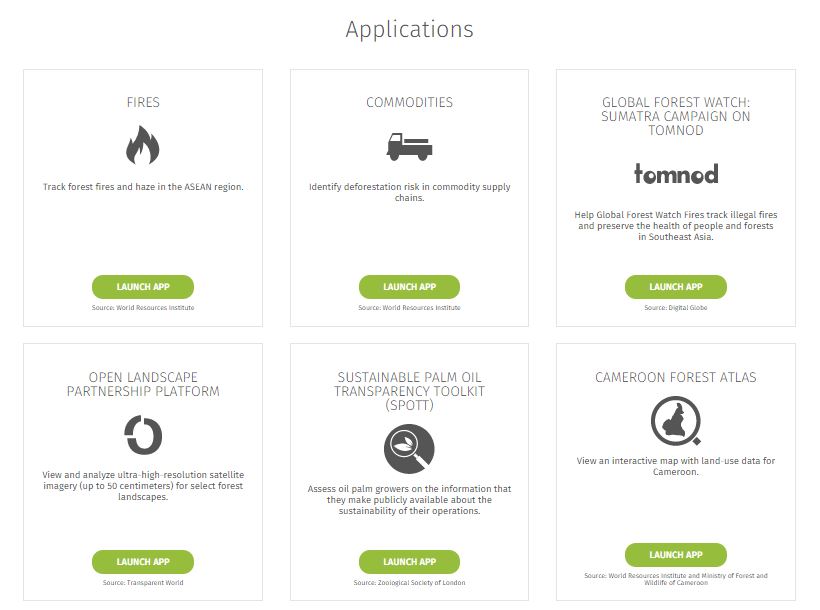 Help us improve Global Forest Watch
A cutting-edge platform like Global Forest Watch requires continuous feedback and constant refinement to be useful and relevant.  These updates reflect real user insight and needs, extensive conversations and user testing, as well as foresight as to how forest monitoring technologies will continue to develop. We invite you to join our growing community and help improve GFW by contributing feedback!  Feel free to contact us at gfw@wri.org or submit feedback through the website.
Latest articles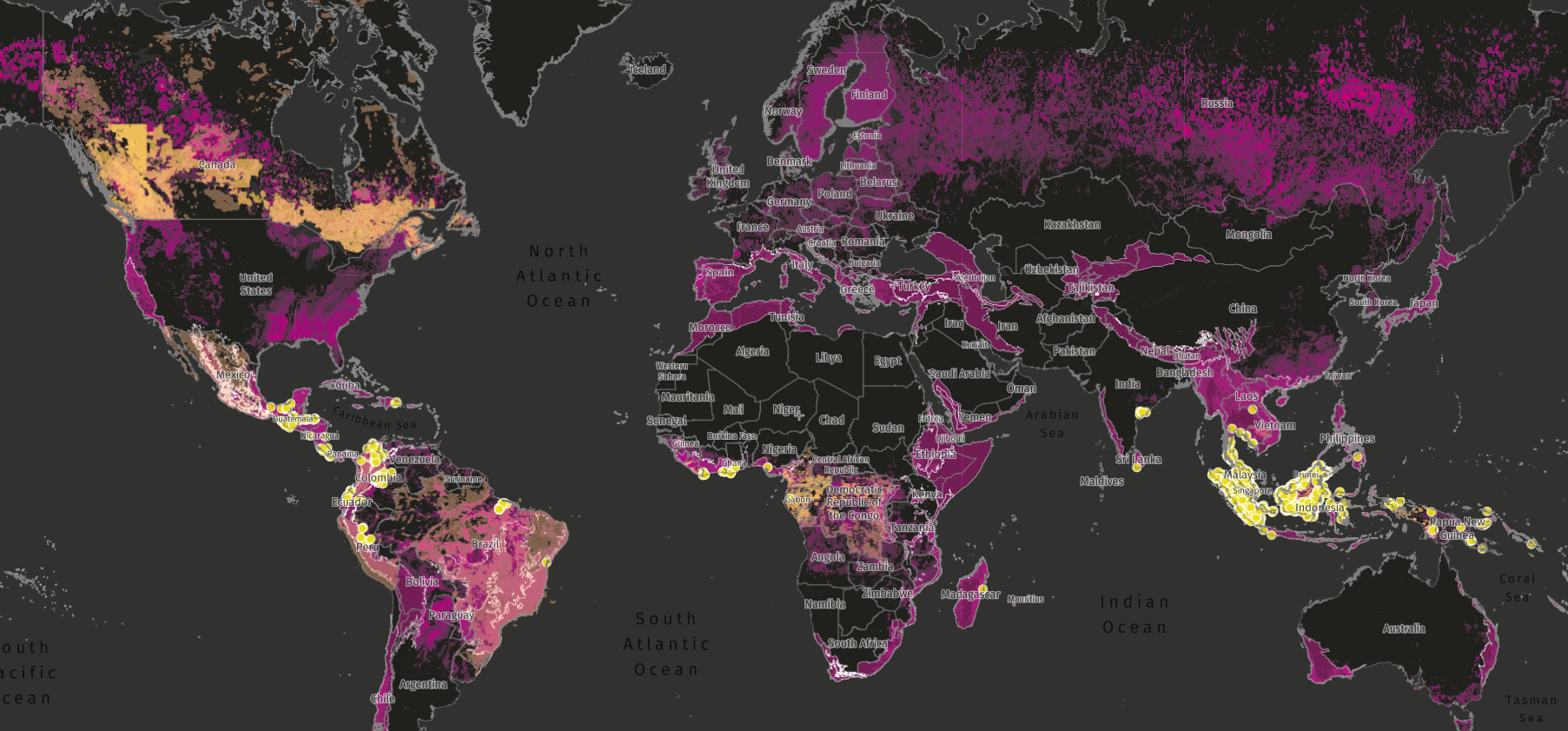 Turning Over a New Leaf: GFW's New Map Makes It Easier to Explore, Analyze and Customize Forest Data
Visitors to the Global Forest Watch map this week may have noticed some changes in the design. These changes go beyond what you see on the surface. The new map is faster, facilitates customization and makes exploring and analyzing forest data even easier. Not sure where to start? Use the new search and explore features While our diverse collection of data […]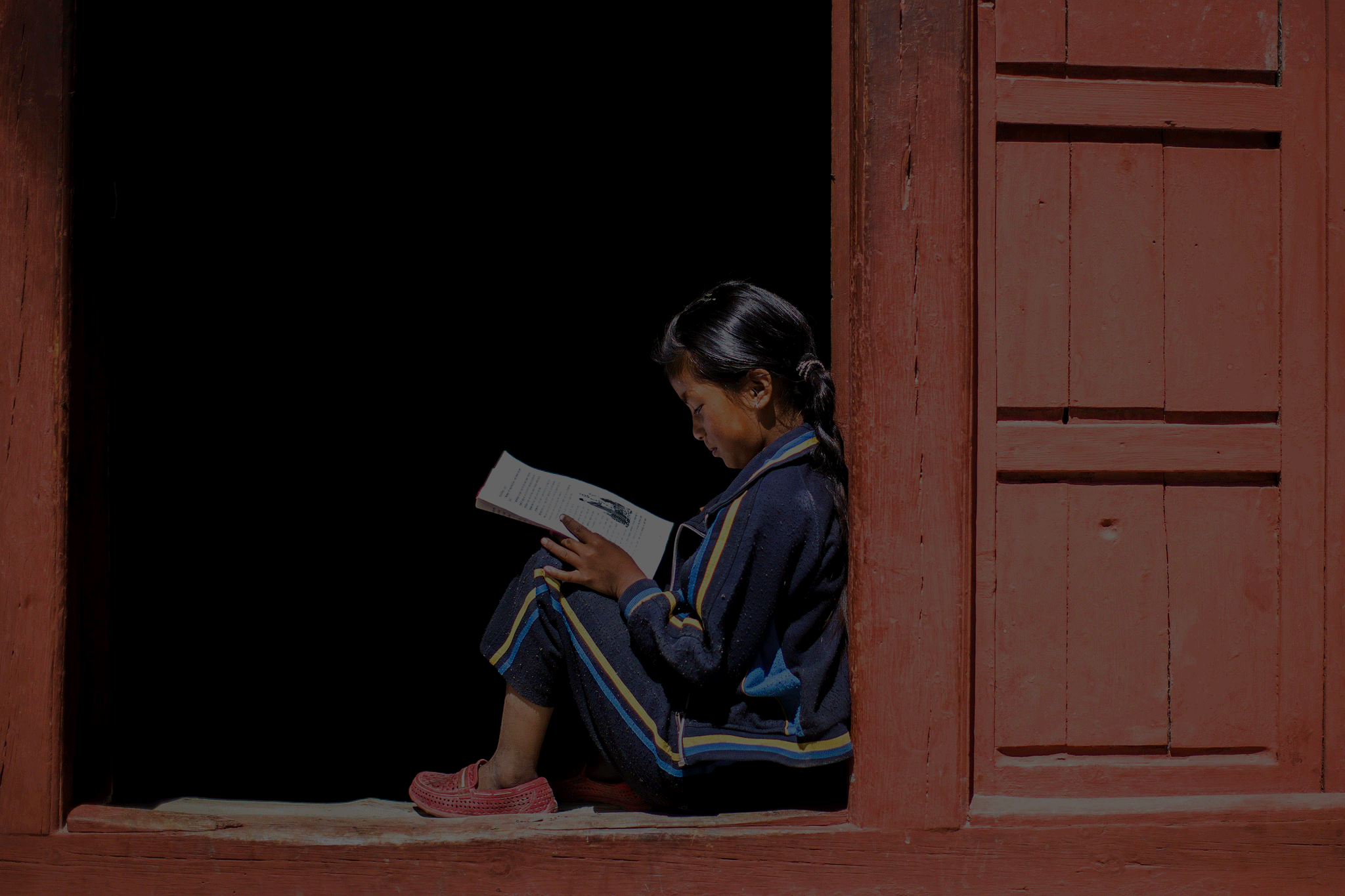 UPDATE: High-resolution satellite imagery is back on GFW
Since March, high resolution satellite imagery has been unavailable on Global Forest Watch while we switched service providers from UrtheCast to Sentinel Hub to ensure continued global coverage. We wanted to thank you for your patience during this process, and update you with the exciting news that you can now once again access high-resolution satellite imagery on GFW! View this spot on the GFW interactive map. Sentinel Hub provides the latest Landsat 8 and Sentinel 2 […]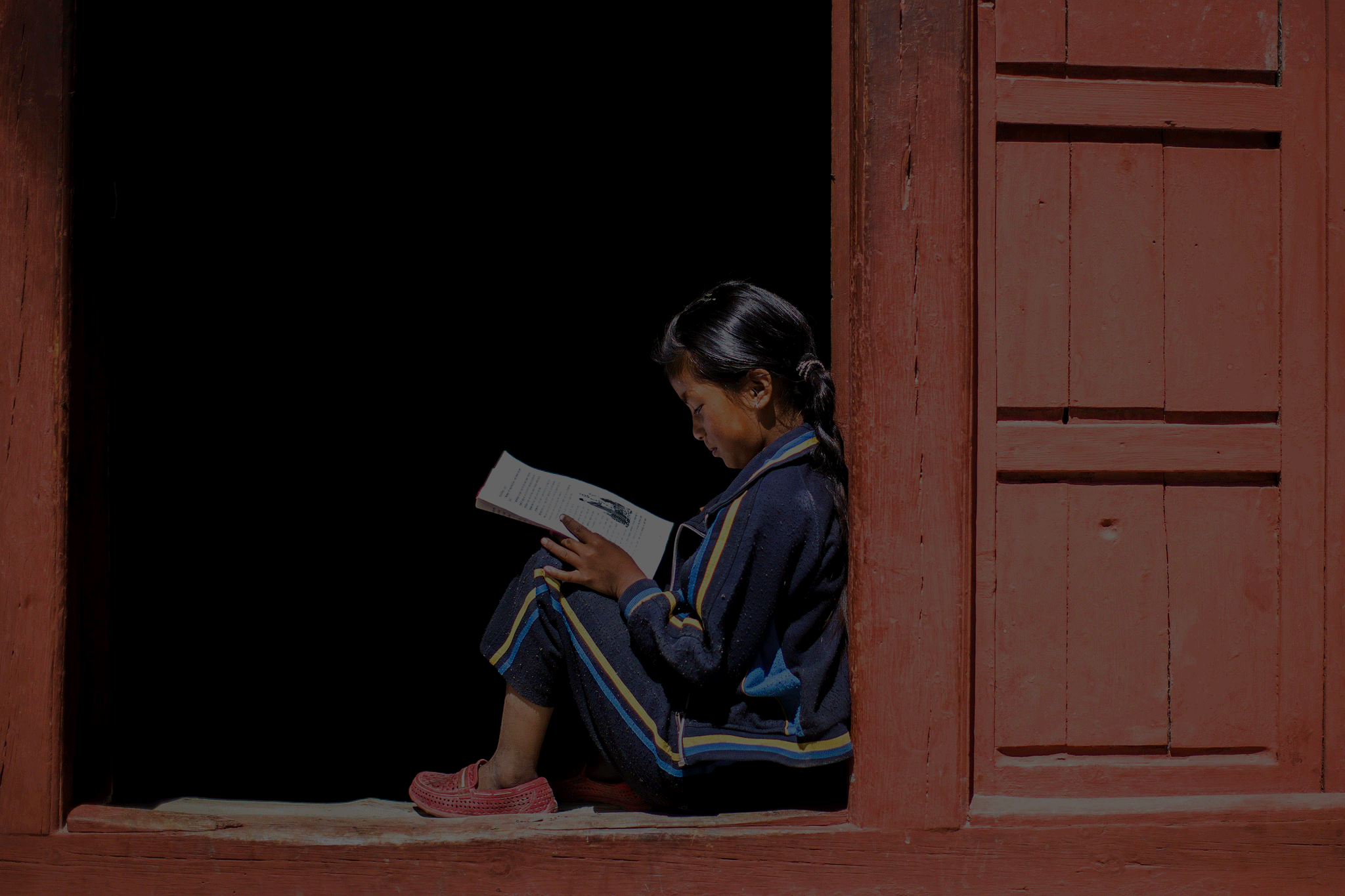 UPDATE: GLAD deforestation alerts temporarily on hold
As you may have noticed, the GLAD deforestation alerts have not updated for several weeks. We wanted to thank you for your patience and give you the latest on when the alerts are expected to be back online. When will GLAD alerts be back? The team at University of Maryland's Global Land Analysis & Discovery […]