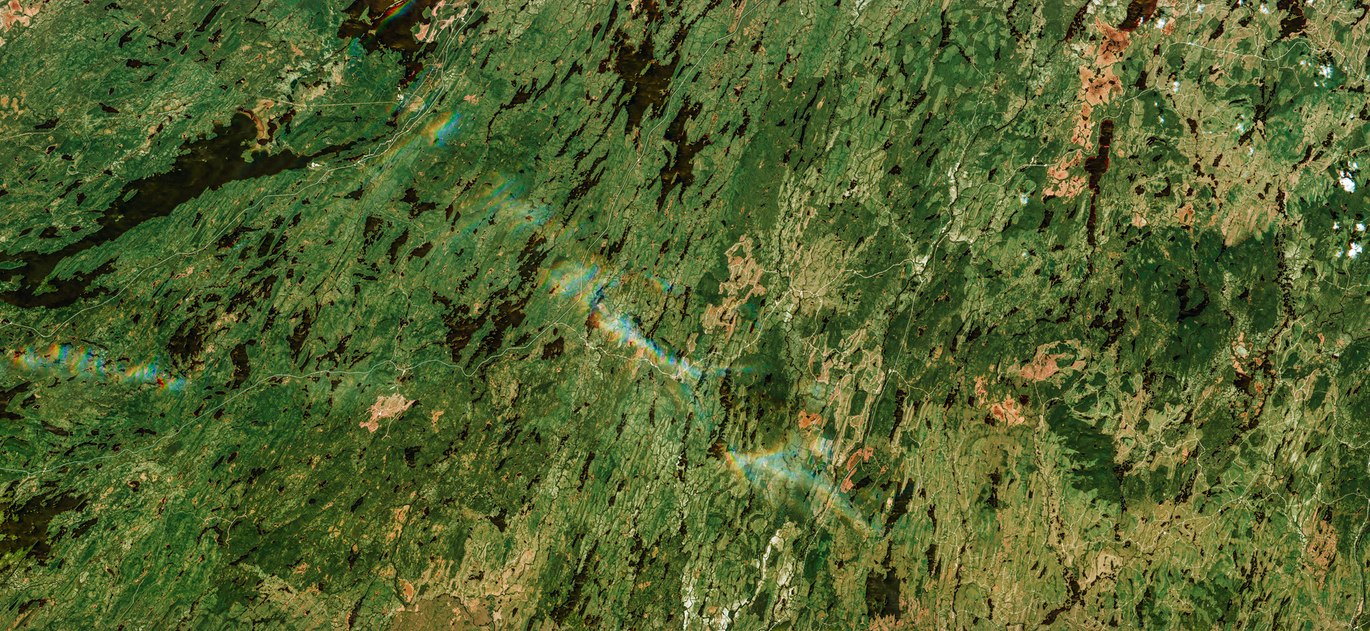 UrtheCast offers a high-resolution view of the world's forests on Global Forest Watch
By Octavia Payne and Karla Renschler Today, UrtheCast became the latest company to lend its immense earth observation capacity to conservation efforts. In partnership with Global Forest Watch (GFW), UrtheCast is providing free access to high-resolution satellite imagery—15m pansharpened Landsat 8 imagery, 22m Deimos-1 imagery and 5m Theia imagery—through the GFW platform. The new GFW feature goes far beyond standard satellite imagery basemaps, providing new images daily and allowing users to sort by filter, maximum cloud cover percentage and date range. UrtheCast imagery on GFW goes back to early 2013 and will be updated as new images are acquired, with some imagery captured in 2016 already on GFW. GFW users will also eventually be able to subscribe to receive email updates when new images for their areas of interest are acquired.

Capturing the World's Forests in Unparalleled Detail
Around 30 percent of the Earth is covered in forests, and accurately monitoring such a huge area requires information with both wide coverage and great detail. Large-scale public satellite programs help scan forests rapidly at medium and coarse resolutions, but to really understand how a forest is changing, or to identify the drivers of deforestation, you need high-resolution satellite images that reveal what is really happening on the ground. Forest managers have traditionally lacked the latter—less than a decade ago, even a moderate-resolution image could cost thousands of dollars, rendering this powerful resource too expensive for academics and the public. That all changed when NASA and USGS began releasing their Landsat archives for free in 2008. The Landsat archives featured a 35-year record of Earth surface imagery, setting a new bar for transparency in observing changes to the environment. However, Landsat is a moderate resolution sensor, better suited for monitoring broad trends than examining individual locations. The release of UrtheCast images on the GFW platform changes the game again, creating new opportunities to analyze critical information about specific environmental issues, including deforestation. GFW users can now track and verify deforestation with an unparalleled degree of detail. Complementing GFW's data sets and alert systems with timely high-resolution imagery opens the door to accurately monitor environmentally impacting activities, like clearing in the last of Cambodia's remaining primary forests for rubber plantations or illegal gold mining in Madre de Dios, Peru.
Cambodia Losing Primary Forests to Logging
Cambodia's primary forests, which used to cover 70 percent of the country, have been severely degraded by logging. Today, primary forest cover stands at only 3 percent. GFW's tree cover loss data from the University of Maryland shows that logging continues to fragment the last stands of Cambodia's intact forest.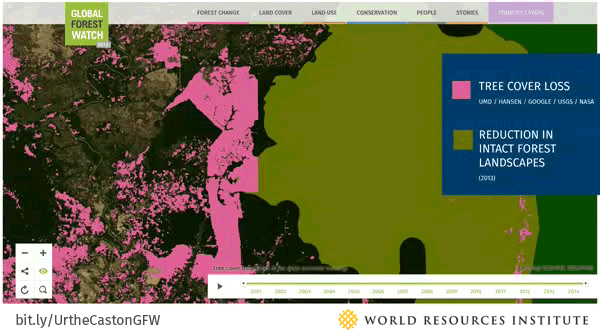 UrtheCast imagery confirms this trend and the danger to the remaining primary forest, as swaths of existing forest are converted for agriculture and plantations. UrtheCast imagery also provides a more up-to-date look compared to the standard basemap satellite images.
Illegal Gold Mining Degrades Forests in Peru's Madre de Dios Region
In the Madre de Dios region of Peru, illegal gold mining has been degrading forests since the boom in gold prices started in 2007. Logging and gold mining have reduced the area's intact rainforests into mercury-contaminated pools. According to the GLAD tree cover loss data on GFW, this area lost over 10,000 hectares of forest between 2001 and 2014, destroying nearly one-quarter of its tree cover.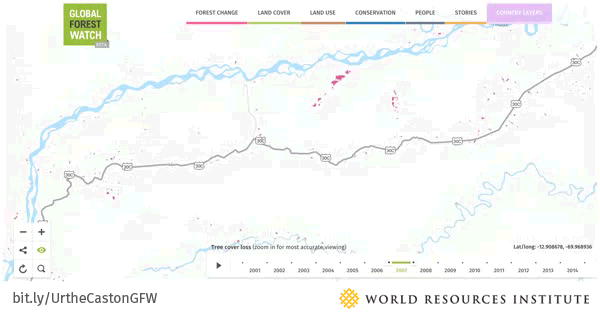 UrtheCast imagery reveals that the expansion of gold mining activities continues to encroach into the Tambopata National Reserve's buffer zone. The National Reserve is one of the most biodiverse regions in the world, sustaining a host of rare animals and over 20,000 species of plants.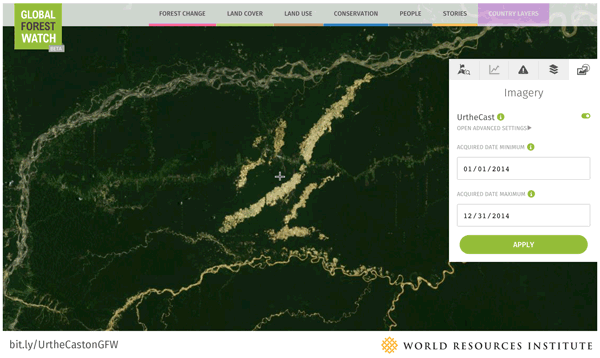 As the examples from Cambodia and Peru illustrate, the level of specificity provided by UrtheCast imagery help tell a much more complete story of the conditions of forests around the world. Today, many forest stakeholders rely on remote sensing technologies powered by satellite imagery to make better-informed decisions around forest management and conservation. Thanks to companies like UrtheCast, access to high-quality images continues to increase, as does our ability to monitor global forest change and put information into the hands of more stakeholders around the world.
Sign up for our newsletter for more updates.
---
BANNER PHOTO: Forests of Québec, Canada. Image captured by Theia, UrtheCast's 5-meter resolution camera onboard the International Space Station. (
UrtheCast
)
---